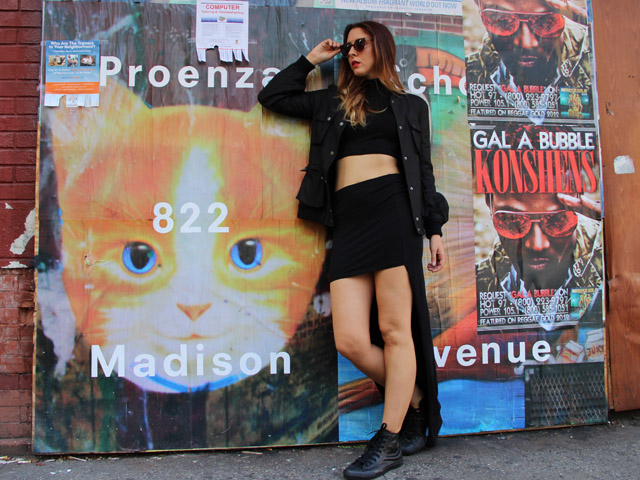 Opposites always attract. That's DJ NiRE's ethos when it comes to not only the genre-bending beats she produces or the eclectic music she spins at NYC hot spots like Le Bain, Santos, Highline and Le Poisson Rouge, but it's also her faithful approach to her personal style; which consist of a harmonious sartorial mash-up of vintage, designer, streetwear and menswear-inspired separates. "My sister was a huge style inspiration for me growing up in the '90s. When I was really young, she took me to stores like Unique, Patricia Fields, Smylonylon and Liquid Sky. It was a really vibrant and fun time in the city," says the Red Bull Music Academy alum, whose self-titled debut album, featuring a roster of female vocalists over her infectious dance and hip-hop beats, is due out this winter on Nature Sounds Records. "In the '90s fashion was much more about being an individual. Trends are such a different beast with the internet. It's so much more common for people to dress similarly today."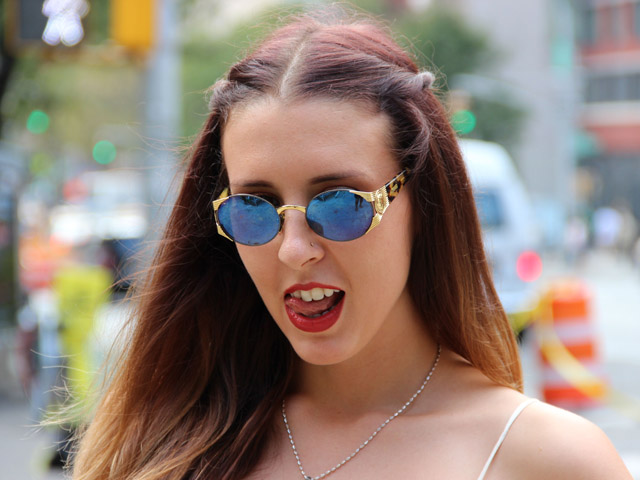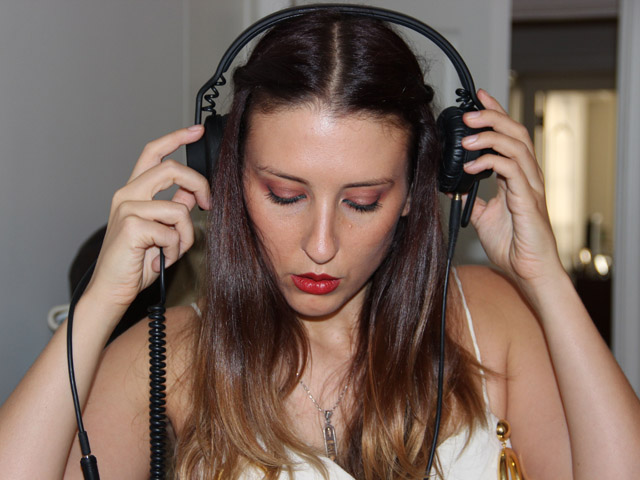 The secret to staying true to her original aesthetic involves not taking fashion too seriously and eschewing arbitrary style rules. "It's hard not to notice trends if you are into style and fashion in NY, but I only pick what I like," points out DJ NiRE, adding that she loves "designers who push the envelope and those who are inspired by the streets." Right now, the former art student is especially drawn to Mary Katrantzou's visually arresting printed collections. Although she's drawn to fashion forward designs, DJ NiRE also keeps her closet in Manhattan's Hell's Kitchen stocked with go-to-staples like button-down shirts, jeans, hoodies, sneakers and boots ("I'm a sucker for boots, flat or high-heeled.") that she pairs with her eye-catching pieces, such as her vintage hanging door knocker embellished Moschino top and her asymmetrical body-hugging skirt.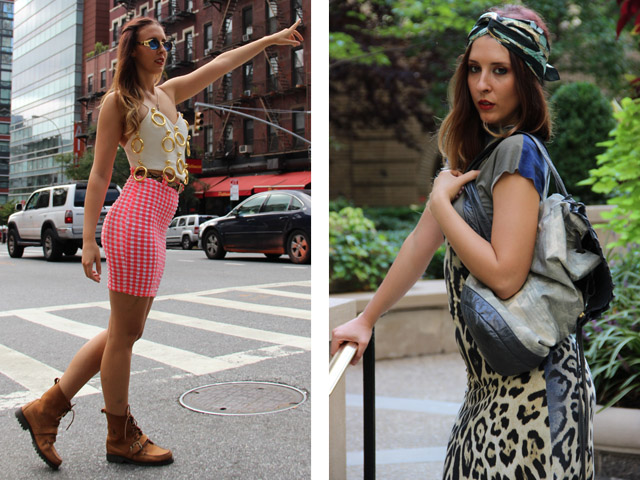 Left: "I love pulling from different references. I found this vintage Moschino top for $90. It's a fun top and the skirt is from this weird jewelry slash junk warehouse in L.A. The Polo boots tone down the girliness."
Right: "I use backpacks a lot when I'm working and this one stands-out."
"For day, I'm super casual and I love to wear men's clothes like T-shirts and pants. I'll wear the same clothes a lot but when I'm djeeing I like to switch it up with more sexy and dressed-up pieces, depending on the party," explains DJ NiRE. Comfort is paramount for this beat maestro whether she's putting together ensembles for a day of record shopping or an evening rocking her weekly radio show at NY's hip Jamaican diner Miss Lily's or curating the music for company events for high-end design house Dior and downtown label Alife. "I've learned that an outfit can look so banging but if you're not comfortable, it won't be a successful look." She may not be big on rules, but there is one she does abide to, "I don't do the girlie and frilly look ever, and I never wear pink." She admires Chloe Sevigny, Michele Lamy (Rick Owen's wife) and Bjork for their daring and inimitable style choices. "I think I'd like to dive into Bjork's closet, it would be like swimming in a day-dream."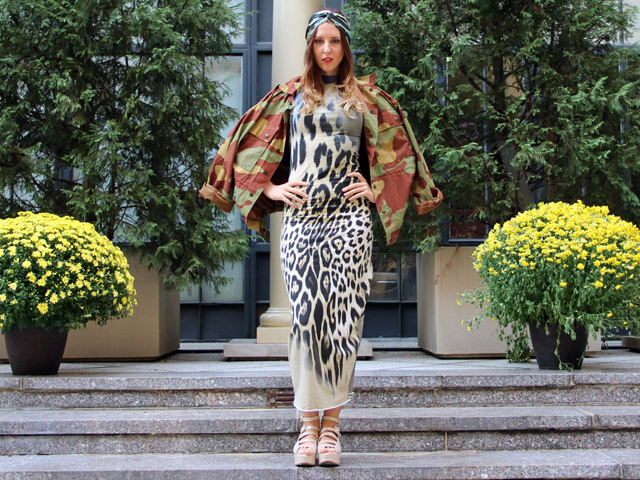 "I found this great Roberto Cavalli fabric at Mood Fabrics and I made this dress. If something I like is way too expensive, I'll try to make something similar. I like how these nude patent leather sandals have an anime look to them. I picked them up at a swap meet in South Central, LA."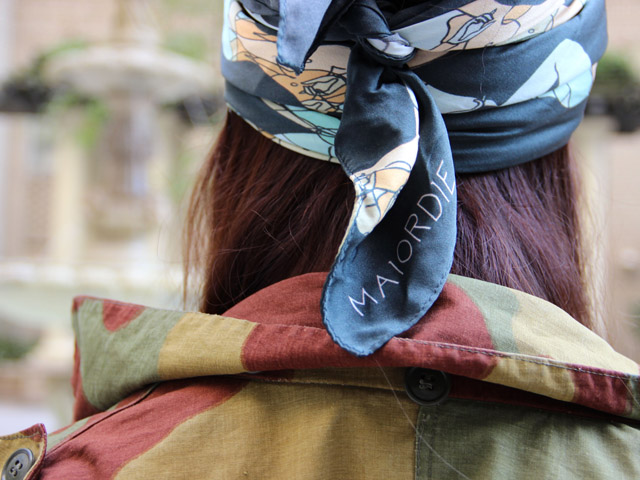 "This silk scarf is from my friend's line called Maiordie."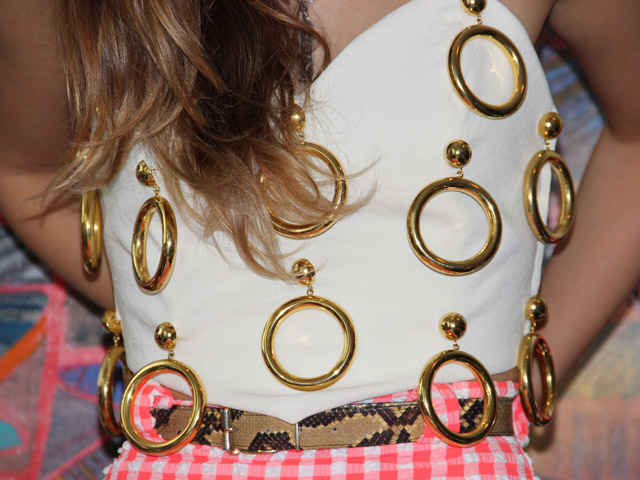 "My job allows me more freedom to incorporate fun into my wardrobe. My mood and what I have to do that day, or night, influence what I choose to wear."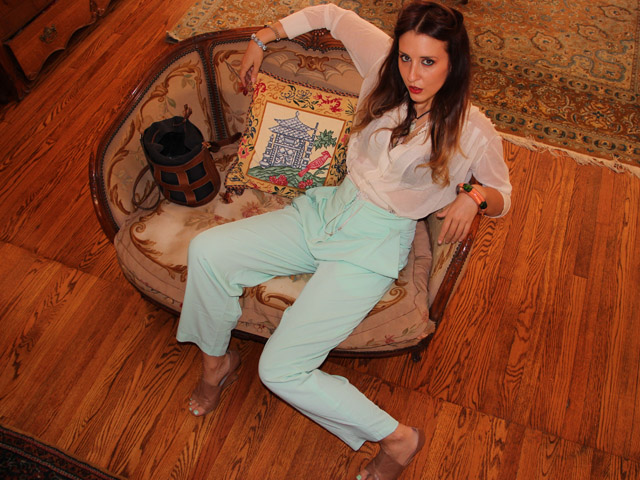 "Lately I've been wearing a lot of roomy and baggy pants. I'm a very impulsive shopper, but I am trying to be more thoughtful and only buy things I'll actually wear."
"I love necklaces and talismans, rings and bracelets – usually pieces that have a story behind them or some mystery."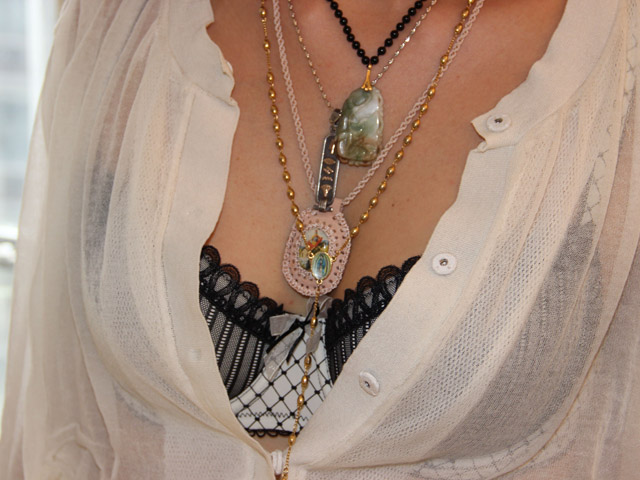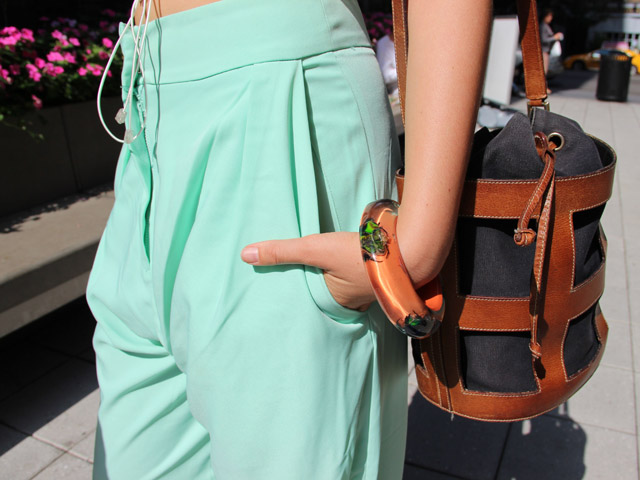 "I absolutely love this vintage Ferragamo leather cage bucket bag that I got on eBay. I rock it with everything. That's one of the pieces I get the most compliments on."
An equal opportunity shopper, you can find DJ NiRE on the hunt for distinctive clothes and accessories at a number of wide-ranging shops like thrift stores in Boston, NY Upper East Side consignments shops, swap meets in South Central, L.A., eBay, ASOS and one of her favorite boutiques, Opening Ceremony. "Intuitive, fun and comfortable" are some of the words she uses to describe her Style DNA. As for her good friend and rapper Nani Castle, who makes a guest appearance on the new album, DJ NiRE's dress code says it all. "She looks just how her music sounds: A mix of everything from grunge rock, '90s hip-hop to electro and modern hip-hop."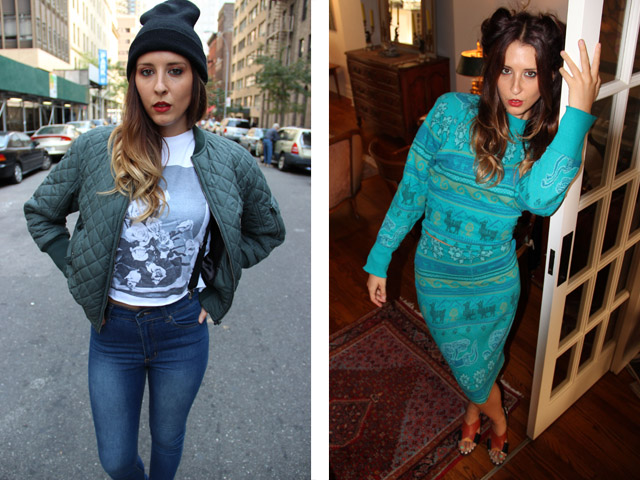 Left: "I call this my IRA (Irish Republican Army) look. These high-waisted Cheap Monday jeans, T-shirt from an artist in the Bay Area, suspenders and my Viktor and Rolf cropped bomber is true to my winter uniform."
Right: "When I found this dress in a Boston thrift store, it was a long Little House on The Prairie kind of dress. I cut it into a top and a form-fitting skirt. I love the different shades of blue.It's kind of a bizarre dress with mermaids, alpacas and a girl holding a mushroom all over it."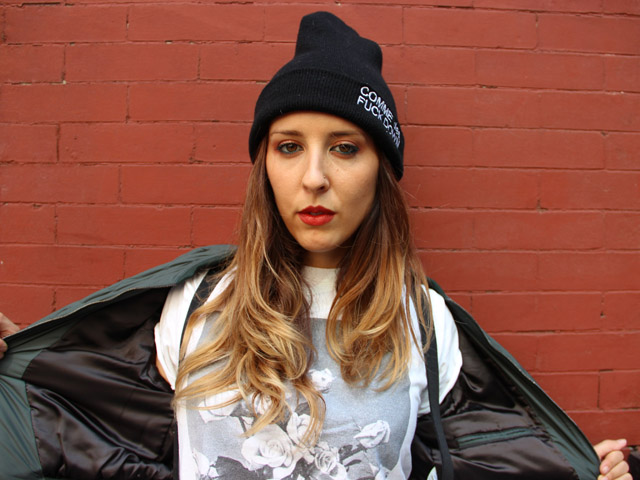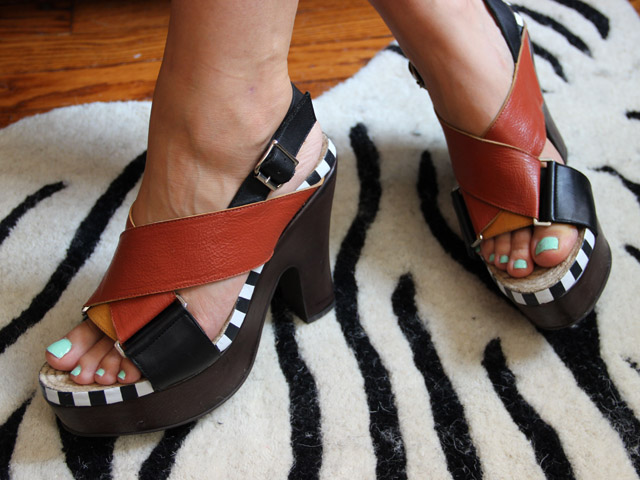 "I'm really into colors and I love this terracotta brown and black combo on these Marni shoes. I also love the mustard coming trough. The espadrille footbed is a cute touch. I can't do delicate shoes."
Here's a taste of DJ NiRE's music:
  -Alexandra Phanor-Faury

Alexandra Phanor-Faury is a married, Haitian-American journalist living in Brooklyn, NY. Alexandra has reported and written about music, fashion, art and celebrities for websites and publications such as i-D, Nylon & NylonGuy, People Magazine & People.com, Courrier International, BlackBook.com, Trace, Giant, Teen Vogue, Page Six Magazine and Bloomingdales' Little Brown Book.

Latest posts by Alexandra Phanor-Faury (see all)