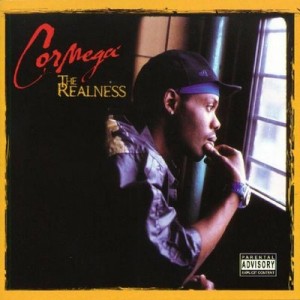 "One thing about the music industry it's two different realms. I love the music, I hate the industry. If I would have listened to the industry, I would have not believed in myself." -Cormega
Listening to Cormega talking about the complex relationship between commerce and art, you can't help but wonder about the nameless artists who weren't as fortunate as he was when it came to standing behind their work in the face of outside pressures. "There was no other choice but to do it for self," he explains.
Cormega first entered the hip-hop consciousness as a sort of mythic figure in Nas' "One Love" off the Queensbridge rapper's debut,Illmatic. Before we ever heard Cormega's voice or flow, we knew of him. Following his stint in jail, impressive turns on a slew of mixtapes, a verse on Nas' "Affirmative Action", a spot on Nas' ill-fated, super-group The Firm, and a highly coveted deal with hip-hop's premier label, Def Jam, Cormega showed great promise. The anticipation for his solo debut reached fever pitch. Unfortunately, none of the above would ever transpire for the Brooklyn born MC. A dangerous cocktail of industry politics and shady business dealings would find Cormega with no deal and his recorded debut, The Testament, shelved.
"I was so mad about my situation and at everyone who was holding me back that I made The Realness."
In 2001 his official debut, The Realness, would finally be released on Landspeed Records. Despite having been recorded in only one month, Cormega's seemingly rushed effort proved to be as good, if not better, than his scheduled Def Jam debut. The Realness was a fearless, poignant and enthusiastic middle finger to all the haters. Cormega had risen through the ashes to produce a classic on his own terms.
He came into our world with a big chip on his shoulder and who could blame him? Life had dealt the MC some blows and just when his career was about to take off, everything crumbled. But doling out bitter verses at foes wasn't the end and be all of Cormega, thankfully. On The Realness, Cormega pushes for more. His journey on The Realness encompassed a contrasting, aggregation of emotions from nihilism to nostalgia and back again. The album opens up with a ferocious intro announcing Cormega's arrival on the hip-hop landscape and closes with a touching ode to love ones who've passed away.
The menacing and gritty hood tales Cormega recounted could have come across like recycled street parables, but here Cormega proved that in the right hands such images can take on a new life and trigger an emotional response from jaded listeners. It's the moment where Cormega is most vulnerable and sincere that lifts this effort above the elementary rhymes of his peers. Lyrically, The Realness does not disappoint and with the help of Havoc, Alchemist, Ayatollah, Big Ty, Jay Love and Sha Self, Cormega's sentiments are perfectly matched with a patchwork of esoteric instrumentals that speak as loudly and vividly as Cormega's introspective lyrics. Again, Kevin's got the samples covered here: http://kevinnottingham.com/2009/01/01/cormega-the-realness/
Check out what Cormega has to say about recording this classic album.
-Alex
Written By Alexandra Phanor-Faury
Shot & Edited By Maria Sandoval
Photos By Marc Bushelle
Graphics, Illustrations By GMD Three

Latest posts by Alexandra Phanor-Faury
(see all)