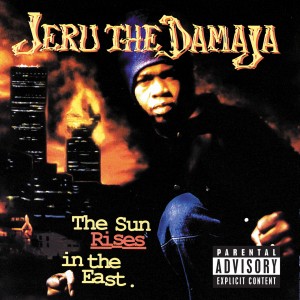 In the soundtrack to the movie of my life, the college years, Jeru the Damaja's The Sun Rises in the East would undoubtedly make the cut. For the start of my freshman year, this CD (remember those?) was in constant rotation swallowing my closet-sized dorm room whole with unadulterated, gritty New York hip-hop. It was just what the doctor ordered for a home sick, shy freshman from New York who spent much of her first month at school in her room blasting music to the dismay of my hall roomies who gravitated more towards the local DC sound of Go-Go music.
The Sun Rises in the East was like a comforting friend from back home, even if it couldn't walk with me on campus or eat with me in the overwhelming cafeteria, Premier's pounding beats and Jeru's vocal gymnastics were always  playing (thanks to my walkman. If you heard this album when it dropped, you know what those are).
In fact the first night I hung out with the crew of girls, who would later be some of my closest and dearest friends up until today, the DJ was spinning a number of songs off this album. He kicked off his Jeru set and as soon as the horns from "Da Bitches" came out of the speakers, as if we'd planned it, we all let out loud screams before heading in unison to the dance floor. I knew I had found my kind of girls.
I still listen to this album today, and I still love the hell out of it, not just cause it's attached to a period in my life but because it's truly well, a classic. I'm still amazed at the extraordinary chemistry Premier and Jeru had going on The Sun Rises in the East. Premier had already made a name for himself with Gangstarr and as the architect of some of hip-hop most impressive beats for a slew of MCs, before he recorded with Jeru. While  a good Premier beat can do wonders for most MCs, when the relationship is reciprocal, like with Guru, Nas, and Jeru, the result is magical. Here Premier was pulling away from the jazzy samples and loops he perfected with Gangstarr by stripping the sound and infusing a heavy dose of boom-bap break beats. This album was, in my opinion, some of Premier's finest work.
1994's The Sun Rises in the East finds Jeru exploring the tension between good and evil in a larger context and how it applies to his own life with a urgency that came from growing up too fast in East New York, Brooklyn. The album is overflowing with sonic details of urban life (sneakers hitting the pavement, sirens, train's snaking through the city) with instruments and samples taking on lives of their own.  You can find the original samples here.
It was evident from the time Jeru dropped the hip-hop anthem, "Come Clean" that this MC was contributing something new to the genre on the heels of West Coast hip-hop's dominating run. The single was sparse and odd. Is that a leaking pipe, I hear? It was unlike anything before it and it helped resurrect underground, East Coast hip-hop. Jeru destroyed the record with his fierce commanding flow, imagination, and mastery of the English language.
ClassicRhymes.com got a chance to hear from the MC who can "rock a rhyme with just statik" about recording his stellar debut. Check it out! Peace.
-Alex
Written By Alexandra Phanor-Faury
Shot & Edited By Maria Sandoval
Graphics, Illustrations & Photos By GMD Three

Latest posts by Alexandra Phanor-Faury
(see all)