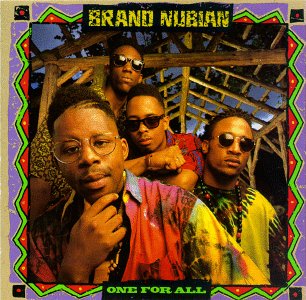 When Brand Nubian's debut One For All was released in 1990, post civil-rights, young African-Americans were in the midst of a re-awakening of Black pride and social consciousness, and Hip-hop, especially on the East coast, was the vehicle in articulating this new energy. Few MCs at the time encompassed the frustration, anger, righteousness and joy of being young and Black in the 1990's in an America awash in racial tension like New Rochelle, New York's Grand Puba, Sadat X and Lord Jamar on the visceral One For All.
Following in the footsteps of hip-hop protest music gods Public Enemy, Brand Nubian on their debut questioned the status quo, spoke out about the absurd hypocrisy of our social institutions, stuck their middle finger out to politicians, encouraged self-awareness, and like Eric B & Rakim embraced the teachings of the Nation of Islam.
They rhymed about these hot button topics over a dizzying patchwork of samples borrowed from rock, funk, reggae, folk, soul and jazz to create a sonic wonderland. One For All was produced by Brand Nubian themselves along with Skeff Anslem and Dante Ross, who signed the group to Elektra records. (At the time none of the samples were credited on the album, but today you can find the original samples compiled on Grits and Porgies.)
Who can forget the Roy Ayers "Everybody Loves The Sunshine" melodic sample on "Wake Up," or the hypnotizing bass from Edie Brickell and the New Bohemians' "What I Am" that birthed the classic "Slow Down"- hands down one of hip-hop's most recognizable intros.
Along with DJ Alamo, the guys on more than a couple of occasions squandered their studio time studying and picking apart whatever vinyl they'd unearthed. Keeping track of samples wasn't always easy.
Despite their strong ideologies, I never thought Brand Nubian's lyrics were dogmatic or preachy on One For All. It helped that the guys expanded their subject matter beyond the state of the Black community. Having fun no matter how shitty the world around you was inextricably tied to seeking knowledge and understanding onOne For All.
Brand Nubian had a talent for volleying between social consciousness and witty braggadocio rhymes seamlessly in one breath. It made them more accessible and down to earth than some of their contemporaries.
No real hip-hop head at the time was without this one on heavy rotation. One For All earned the then famed Source magazine five mic seal of approval. But only one year later the group had broken up with Puba going solo. Brand Nubian would reunite in 1998 and release a number of acclaimed group and solo efforts.
Nineteen years since releasing One For All, Brand Nubian sits down with ClassicRhymes.com to reminisce on the recording of the album.
Check it out! Peace.
-Alex

Latest posts by Alexandra Phanor-Faury
(see all)