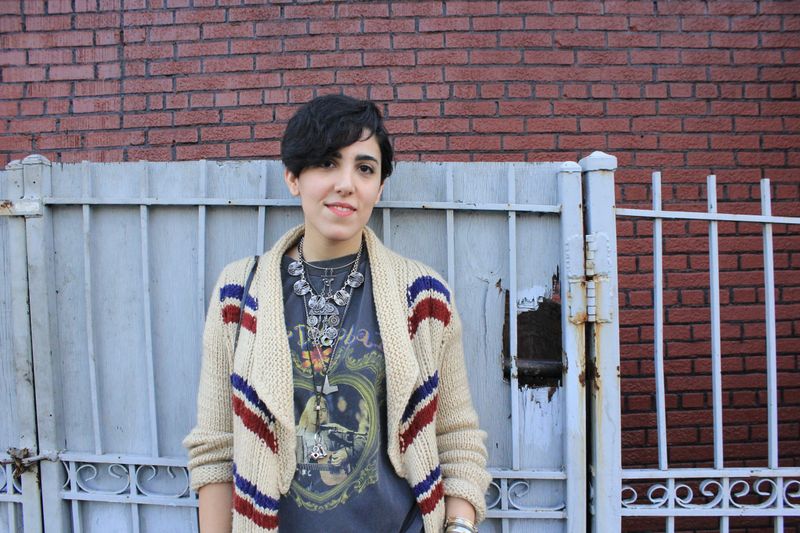 I've featured a number of ladies on this blog who love to shop in vintage and thrift stores and have a great eye for picking out some incredible pieces. Theses ladies build stand-out looks that hint to the past but are also decidedly modern in the way in which they are styled and teamed with current pieces. Their thrifty approach to style and fashion has always piqued my interest. One such gal whose style methodology I admire is stylist Stefany Mohebban. I discovered her blog, Pretty in Thrift, earlier this year and was totally hooked by her stellar take on style, her shopping advice and thrift  hopping adventures. I got a chance to chat with Mohebban about her obsession with thrift shopping and her amazing eclectic collection of rings and bracelets.
How did your love affair with thrifting develop?
I began thrift shopping in college. I didn't grow up with a lot of money, but I loved fashion.  I would often shop in my mom's closet (she did an amazing job at keeping a lot of her gorgeous pieces from the '70s and '80s), which in return developed my taste for vintage.  As soon as I began working I made it a point to look for more vintage pieces and I found thrift a great and inexpensive way to shop and create my unique sense of style.
You have a great eye for scoring awesome finds in thrift stores. What are some tips you follow when shopping?
Experience, patience and a creative eye all help when thrift shopping. I can scan a rack of clothing really fast, because I have developed an eye for cheap vs. expensive fabric, prints, color combos and textures.  It also helps to know what you like and what works on you because you can quickly eliminate silhouettes and colors which aren't flattering.  Most of all I try to have fun and be creative with what I find, because at the end of the day isn't that the point?
Where are some of your favorite stores?
I just wrote a blog post about my favorite vintage and thrift stores in NYC which will give you a great sense of where I shop (http://www.prettyinthrift.com/2013/03/a-nyc-thrifting-guide.html).  But when it comes to non-vintage fashions you will often find me at Zara, Tibi, Joe Fresh, Anthropologie, Helmut Lang and H&M.
I loooove your jewelry collection. How would you describe your collection?
My jewelry collection is heavily inspired by my love for travel and exotic places around the world. I haven't had the opportunity to go to places like India, Thailand, Bali, Morocco, Spain and I find that these pieces of jewelry serve as an escape to these beautiful parts of the world, which I will hopefully get to see for myself someday!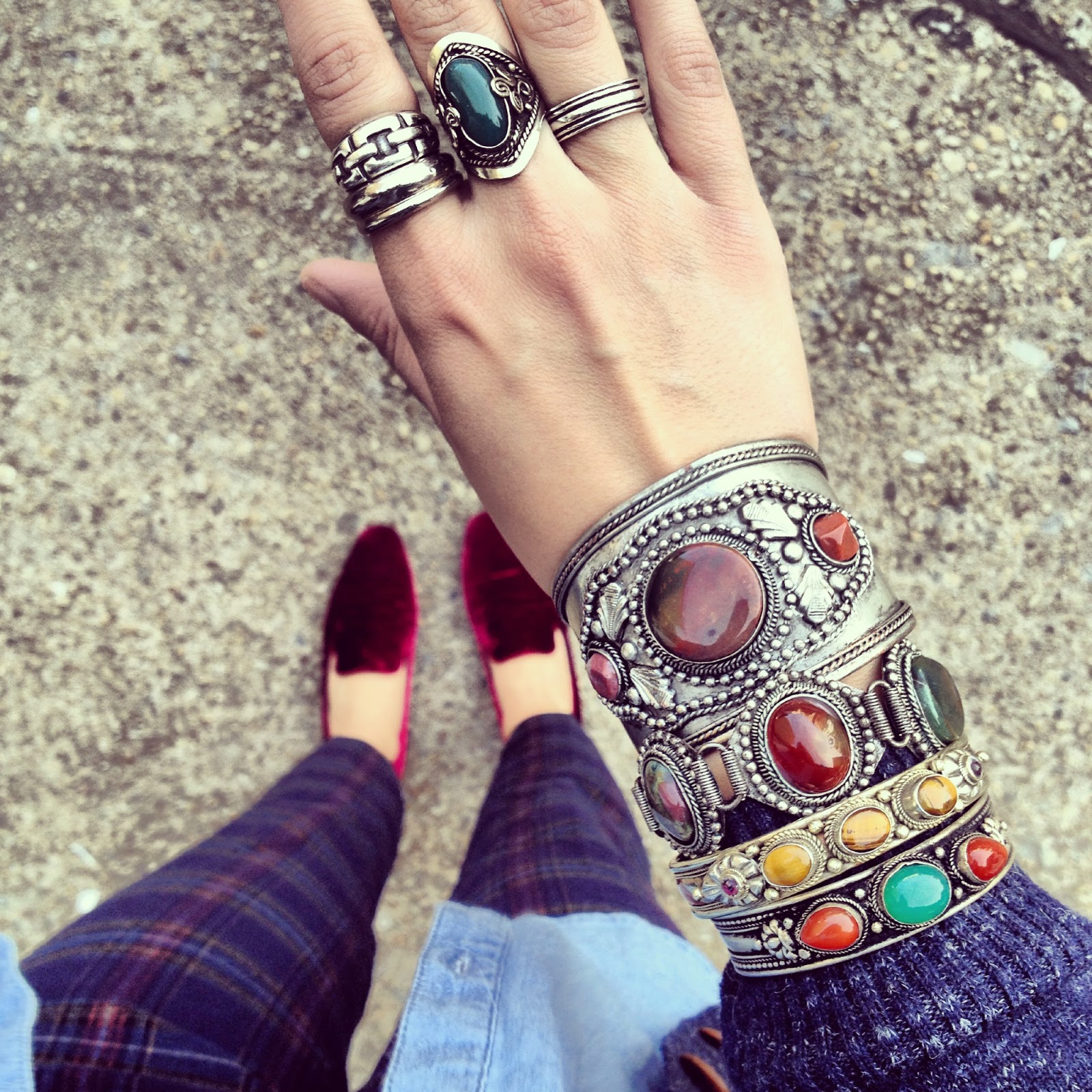 How many pieces would you say you own?
Over 100.  I am not the type of person to keep track of things like that but I do have a ton.  I'd say that most of my pieces are in heavy rotation so I don't feel guilty for owning them.  And yes, I could probably open up a store and fill it up if I wanted to.
I love admiring  your Instagram arm swag stacked pics. Are bracelets your fave?
I don't tend to play favorites when it comes to style related things. What I will say is that your arm is the easiest to photograph when you are both the model and photographer, which is why you see a lot more of that as opposed to my necklaces. I do have a lot of everything though and there are days when I don't wear so many bracelets but have more of a neck thing going on.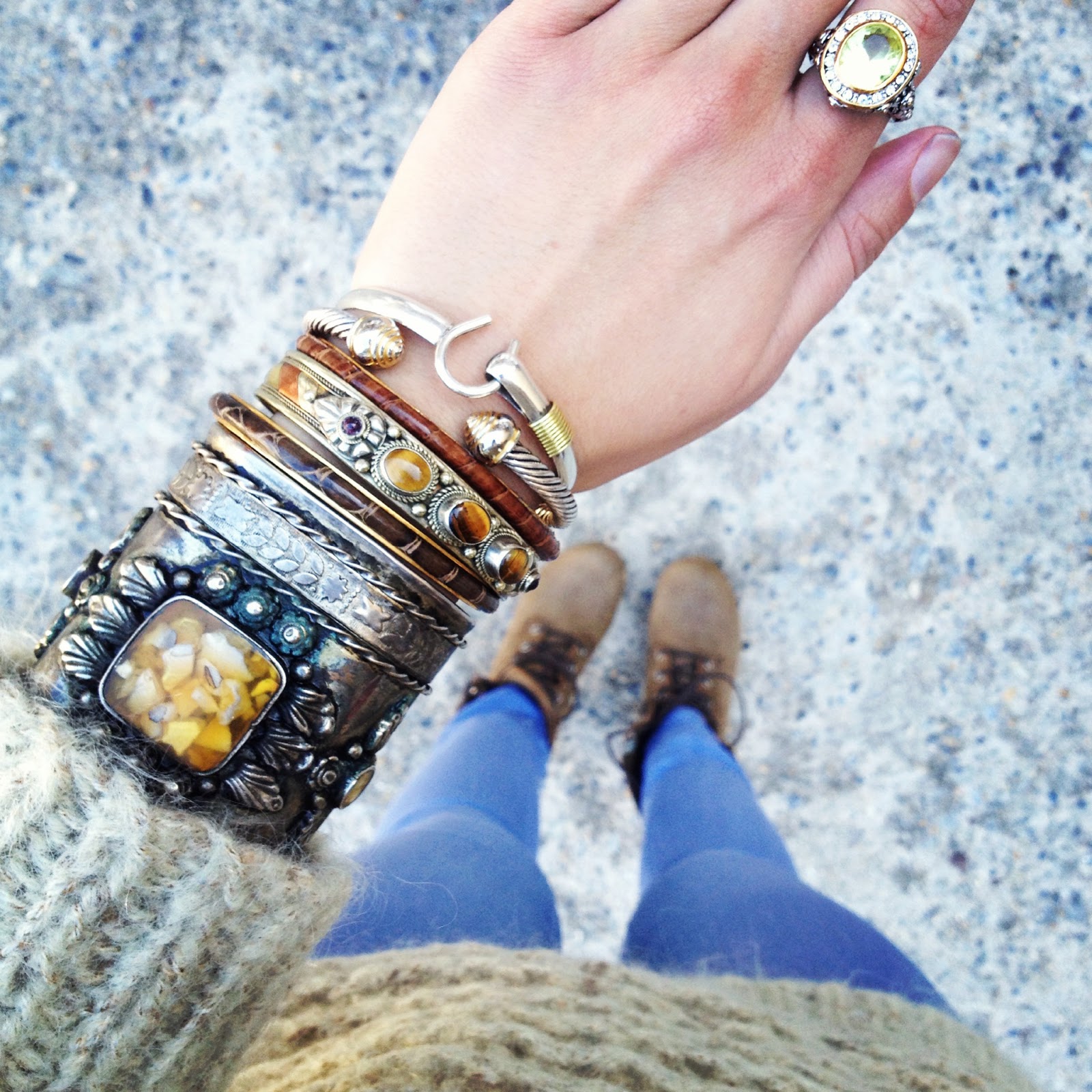 What pieces of jewelry are you drawn to? I've noticed a real Southwestern vibe to your bold pieces…
I absolutely love stone and metal combinations. I like the warm and cool and the juxtaposition of something organic and something industrial. I think I am drawn to things that have a dichotomy, that are multi-layered, because I think it's a reflection of who I am.  There are so many ways to describe my style. I can be feminine and masculine all at the same time, sweet but edgy, vintage but new too. So I like to exploit that layered quality when I choose pieces to wear.  And yes, I do love southwest or anything that has an ethnic flair to it. It eludes richness, culture and history. Although you see a lot of bolder pieces on my blog, some of my favorite pieces are simpler ones, maybe from childhood or that my mom has given me from her collection. The sentimental value of them makes them very special to me.
How do you like to best wear your jewelry?
I have days where I can't layer my pieces enough, and other times when my outfit is such a statement already that jewelry becomes more minimal.  It really depends on my mood and what I am wearing.  I always go for a complete look, so that my jewelry and clothes make a story.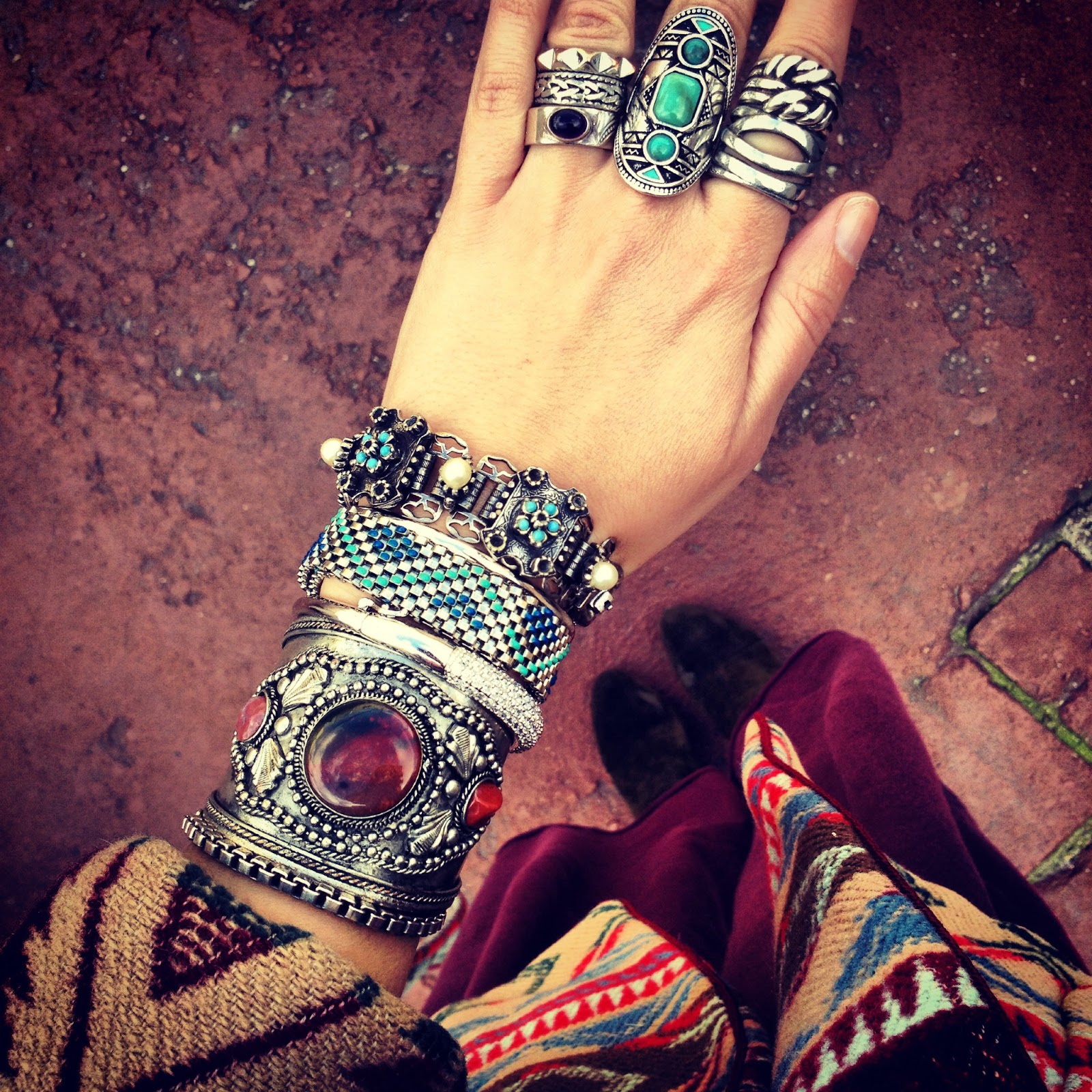 What's the most you've paid for a piece? What jewelry designers do you like?
I have more expensive pieces (from Tiffany's for example) I wear on special occasions.  Anything that I have bought for myself for everyday wear is probably no more than $20.  I have spent around $50 on amazing vintage pieces that I know are really unique and rare.  But most pieces are not very expensive at all. I am loving a lot of Pamela Love pieces recently (so edgy and cool), but to be honest I keep going back to some vintage classics, Caro, Sarah Coventry and Laurel Burch.  At the end of the day, I don't buy for the brand, but for the way it looks and makes me feel, so everything is game!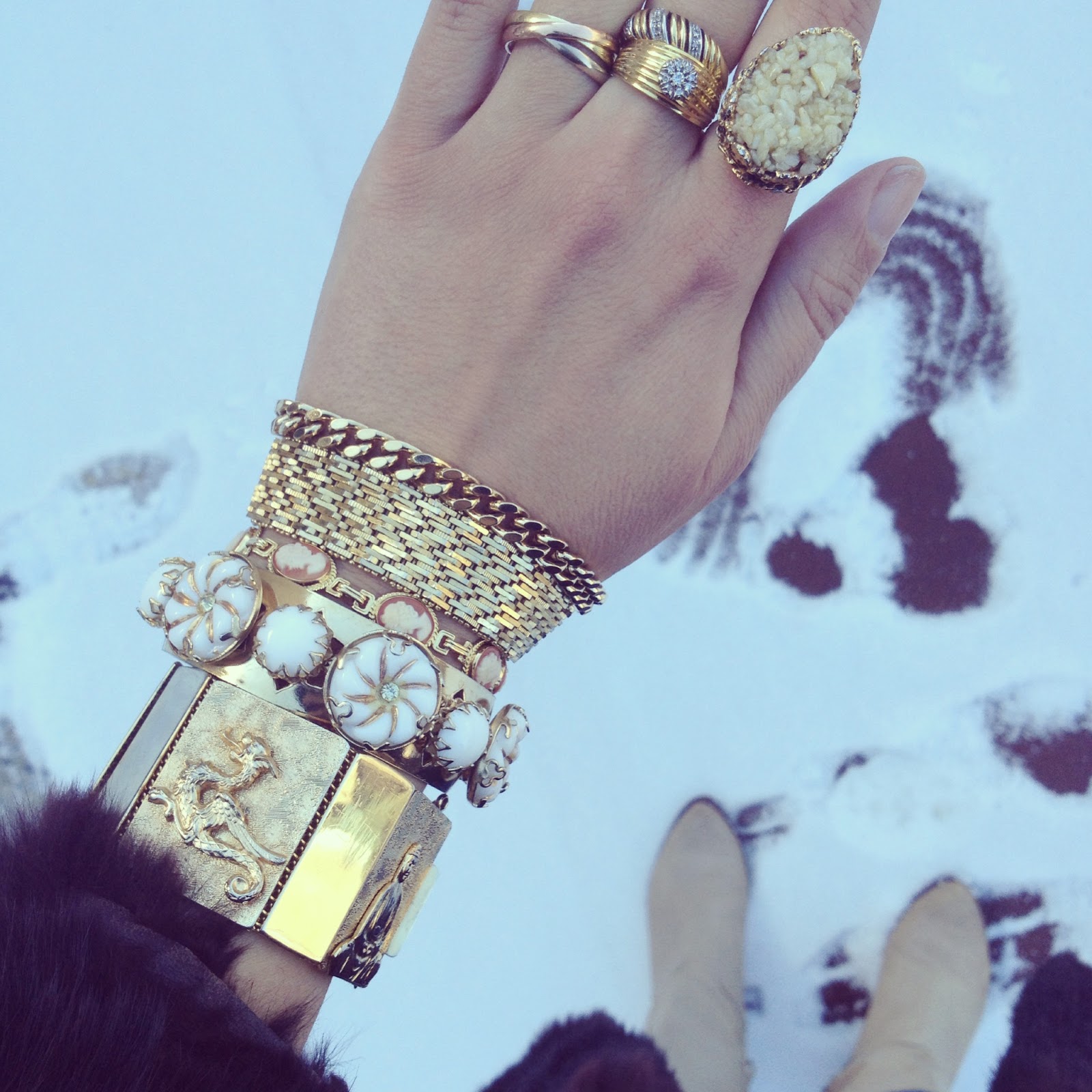 What are some of your most recent purchases?
I scored a few amazing silver cuffs at a Goodwill very recently which I have been wearing a lot. I have scoured some flea markets for dainty rings to add to my ring collection. I have a lot of silver rings that I love, but I am working on my gold collection.
Whose jewelry collection would you like to raid?
I have been following @Dylanlex on Instagram for a while and I love the way she mixes old and new pieces to create awesome necklace and ring combos.  We are similar in that way (old and new make for the most unique look) which is what's so cool about her.  I would probably go nuts looking through her flea market antique finds.

Latest posts by Alexandra Phanor-Faury
(see all)