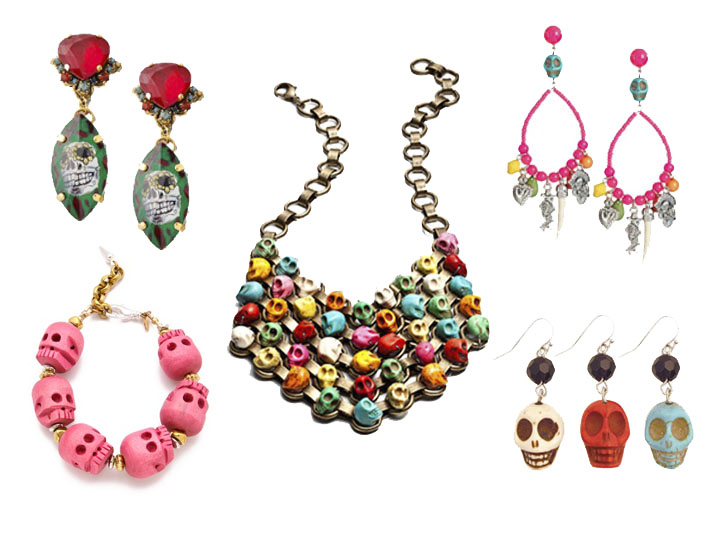 Skull motifs have long made appearances on everything from T-shirts, scarves and handbags. Usually associated with a goth or punk aesthetic, lately the cranium has been popping up in bold, colorful and dare we say sweet iterations. Jewelry lines like Anna Sheffield, Dannijo and Erickson Beamon have turned to Mexican sugar skulls, a traditional folk art from Southern Mexico used to celebrate the Day of The Dead, for inspiration. Here's a selection of sugar skull-esque earrings, necklaces and bracelets that will instantly add just the right dose of eccentric edge to this season's floral print craze.
 -Alexandra Phanor-Faury
Top Left: Erickson Beamon Eccentric Lady Land Earrings, Center: Dannijo DREW Necklace, Top Right: ASOS Earrings. Bottom Left: Bing Bang Calavera Skull bracelet, Bottom Right: Z Designs Stone Skull Earrings.

Alexandra Phanor-Faury is a married, Haitian-American journalist living in Brooklyn, NY. Alexandra has reported and written about music, fashion, art and celebrities for websites and publications such as i-D, Nylon & NylonGuy, People Magazine & People.com, Courrier International, BlackBook.com, Trace, Giant, Teen Vogue, Page Six Magazine and Bloomingdales' Little Brown Book.

Latest posts by Alexandra Phanor-Faury (see all)