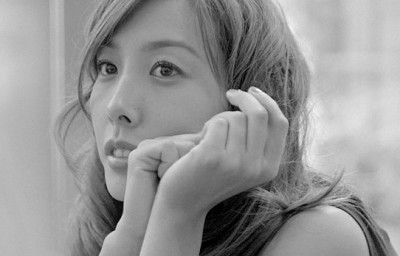 It's the day before the Billboard Music Awards, and Cynthia Sakai has been hard at work pulling pieces from her wildly popular jewelry line, Vita Fede (life & faith in Italian), to adorn the likes of Selena Gomez, Alicia Keys, Avril Lavigne, Ke$ha, and Jessica Alba for the big event.
"They are such a diverse group of women, but the beauty of Vita Fede is anyone can take our pieces and mix them into their own style," says Sakai over the phone from her L.A. office. The number of famous women photographed in her pieces read like a laundry list of who's who: Rihanna, Kristen Stewart, Jennifer Lawrence, Angelina Jolie, Nicki Minaj, Mindy Kaling, and Anne Hathaway, to name a few.
Vita Fede's Italian-made creations have amassed an army of celebrity du jour devotees any designer would kill for. And just imagine: these priceless endorsements were acquired without a powerhouse PR team behind the brand wooing these sought-after clients. Sakai's understated and timeless collection is enough to have celebrities contacting her office.
"Probably eight out of 10 calls or emails we get is about pieces they wore on a photo shoot," she notes. Like the time Victoria Beckham's assistant called from a magazine shoot to buy a ring Beckham just had to own.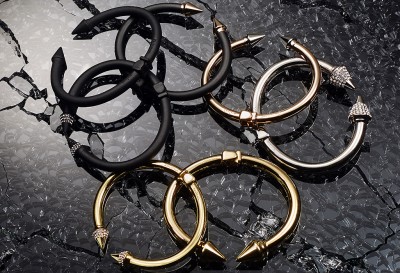 Sakai insists that she doesn't put more weight on her rich and famous fans than she does her average customers ("It's all exciting, really!'). She often searches Instagram's Vita Fede hashtags to see how people are stacking the different pieces, and often leaves comments.
"Social media has played a big role for us. It was really organic and nothing that we even planned," she says when talking about the company's substantial social media presence. "As opposed to magazines where an editor or a stylist curates the pieces, social media is just normal customers showing you what they like. It's real genuine."
But when she got an email about styling Gwyneth Paltrow for the Iron Man 3 premiere and the actresses' book signing event, she admits to being very thrilled at the opportunity to work with the red-carpet veteran. "I just love her and her style. She is so chic."
In the last two years, Vita Fede has been the first name in chic costume jewelry, leading the shift from the over-embellished designs that have dominated, to the clean and modern aesthetic that has now become de rigueur in fashion.
Although, when Saki first launched her line back in 2009, the feedback was less than welcoming for her brand of geometric accessories at a time when boho and vintage was the all the rage.
"People would ask why don't you make things with beads, strings, or embroidery. That just wasn't what I liked or would wear," she recalls.
In fact, the line's signature piece, the Titan, a hinged bangle with distinctive cone details, was deemed ugly by her Italian factory and outdated by her own business partner.
"When it came in, no one liked it or even noticed it for the first year." Fast forward to the last year-and-a-half, and the Titan has reached "It" status, eliciting "ooohs and ahhhs" from celebrities, bloggers, and everyone in between.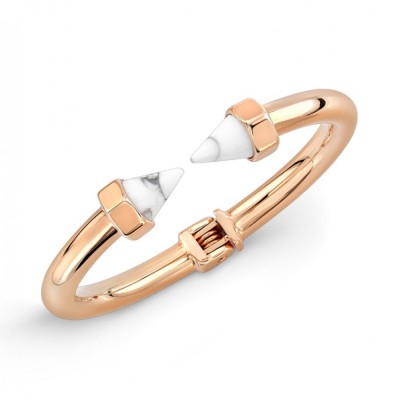 Vita Fede's pièce de resistance has since ignited a slew of knockoffs.  "I knew the Titan was very cool. It's a classic piece with a bit of an edge that works for all women." Sakai credits a button on her grandmother's vintage dress as inspiration for the successful design. The Titan has since evolved into a whole family, with a myriad of iterations that include crystals and onyx.
The Titan wasn't the first time Sakai – who launched her first accessories line when she was only 18 designing pretty cases to discreetly carry tampons – had a stroke of silhouette genius. Vita Fede was founded thanks to her unique ability to see beauty and retail potential in the unexpected.
"When I owned a showroom back in 2008, a friend gave me a bracelet from Italy and I just knew that I could sell it." Her gifted leather-and-chain bracelet was a ubiquitous tourist souvenir sold in Italy for years, but when she got her hands on them and added her personal touch – new colors and metallic hardware – the bracelets, which she named Vita, crossed over from run-of-the-mill to fashionable.
"We sold 10,000 of them in the showroom and they were featured in every magazine. I had no intention of starting a line, but people were always asking me what's next?"
Taking cues from the impeccably dressed Japanese women in her life such as her mother, who worked atFendi and was involved in opening Fendi stores in the States, her grandmother and great-grandmother, Sakai was determined to lend a sophisticated sensibility to costume jewelry with Vita Fede.
"They all used to have their ready-to-wear tailor made, so quality and longevity was really instilled in me," she points out. Her father, a former architect, no doubt had a role in Sakai's love of clean lines and sculptural shapes.
Her American L.A. roots, is evident in the wearability of her line. You can pair one of her bracelets or rings as easily with a cocktail dress as you can with jeans. She strays from designing complicated special-occasion pieces and leans more towards an effortlessly modern and sleek European style she adopted on her many trips abroad.
"I wanted to create a line that both fashion and classic girls could wear every day," she reveals. "Vita Fede makes a statement without being overbearing or in-your-face."
"I wanted to create a line that both fashion and classic girls could wear every day," she reveals. "Vita Fede makes a statement without being overbearing or in-your-face."
Nailing that anonymously unpretentious look requires the intricate labor of five factories in Italy, whom also work with elite fashion brands like Céline, Saint Laurent, and Givenchy, to produce Vita Fede's hand-crafted jewels. A single piece takes about six to eight weeks to bring to life.
Now that Sakai has succeeded in bringing craftsmanship back to costume jewelry, she is now set on eschewing the stuffiness of fine jewelry, and hopes to make it more relevant with her new upscale Black Label. The small inaugural collection is scheduled to launch in the US and Europe.
"When I go to a fine jewelry store, I still get that old, dated feeling of a tennis bracelet," she says.  "Our customers who like to stack their Cartier and diamonds with Vita Fede are a bit hipper. They are looking for something that is not too edgy but still very cool.  We are working with black and clear diamonds and pink, white and solid gold."
As for Vita Fede, the new pre-fall collection will consist "of a little more bling." Sakai will also be adding more earrings to the mix and introducing a new cut-out design, inspired by a vintage ring her mother wore in the '60s, that will highlight more skin. We can also expect evening clutches to complement the jewelry collection in the near future.
Vita Fede is quietly poised to take over the costume jewelry world. In between working on these three new collections, Sakai is in the midst of launching the European markets, opening showrooms in Milan, Paris, and London.
The company is growing at warp speed, but multi-tasker Sakai plays it cool under pressure.  As if her day of Skype meetings, checking in on the factories, pulling pieces for clients, and chatting with me for this interview wasn't enough, she casually mentions that she is also in the process of moving offices today.
"It's just in a day's work. I call it 'organized chaos.'"
Link
Blackbookmag.com – Life, Faith, & Jewelry: Meet Vita Fede Designer Cynthia Sakai

Latest posts by Alexandra Phanor-Faury
(see all)