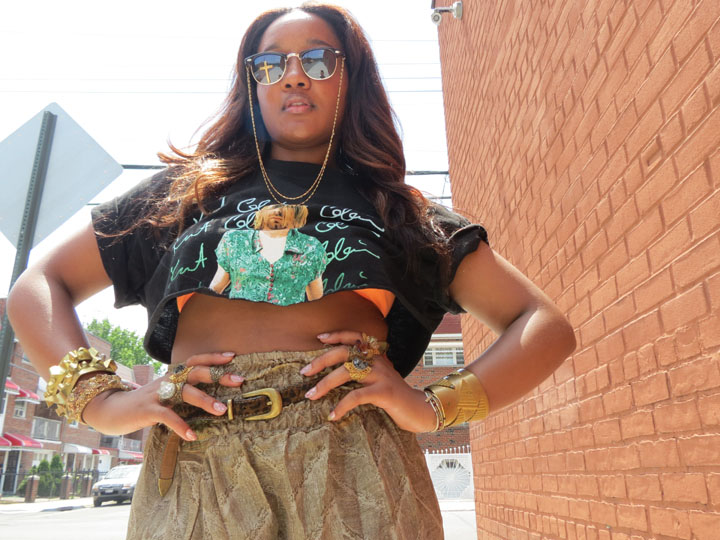 Heavy metal has always been dear to jewelry designer Samantha Smikle's heart. "I think metals are everlasting and so beautiful. I couldn't think of  ever designing without it," Smikle explains inside her Bronx home studio as she slips on a couple of her gilded decorative cuffs, bracelets and rings from her megawatt embellished jewelry line TNEMNRODA (pronounced "nem-roh-dah", adornment spelled backwards). Inspired by a hodgepodge of sources from actress Tracy Ellis Ross, designer Mary Kate Olsen to the Maasai women of Kenya and most apparent Egyptian metal-based jewels, Smikle's hand-made pieces demand attention. More is always more is the fashion ethos this 26-year-old lives by. "I think my jewelry lends itself to that girl who is fearless with her fashion and wants to make a big statement," Smikle says as she continues to nonchalantly pile on her jewels. "I can't ever go out without wearing jewelry!"
As a little girl, Smikle's attachment to charms and trinkets was first rooted in her Jamaican roots. "Jewelry is just part of the culture. It was always an event in my family when it came time to buy new jewelry. Most children start off wearing gold bangles as small babies," recalls Smikle, who loved wearing her bangles so much as a child, she never wanted to part with them until that is she literally could not. "Before I knew it, I had outgrown them and I couldn't take them off. My uncle had to cut the bangles off my arm." It wasn't until the summer of 2007, while interning for designer Elise Overland that Smikle started playing with the idea of designing her own jewelry. "She (Elise Overland) would send me to get metal pieces for her garments. I would always come across all these beads and pendants. I ended playing around with them and making these horrible beaded Chinese necklaces for my friends. That's what started it." However, it would be Smikle's evolution from crafty DIY–esque pieces to her now signature chunky baroque aesthetic that would strike a chord with customers and landed her a spot as a jewelry designer to watch by Time Out New York.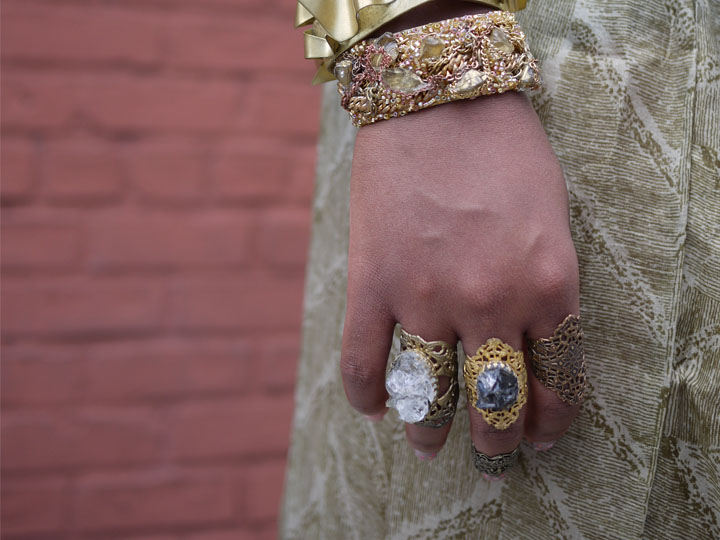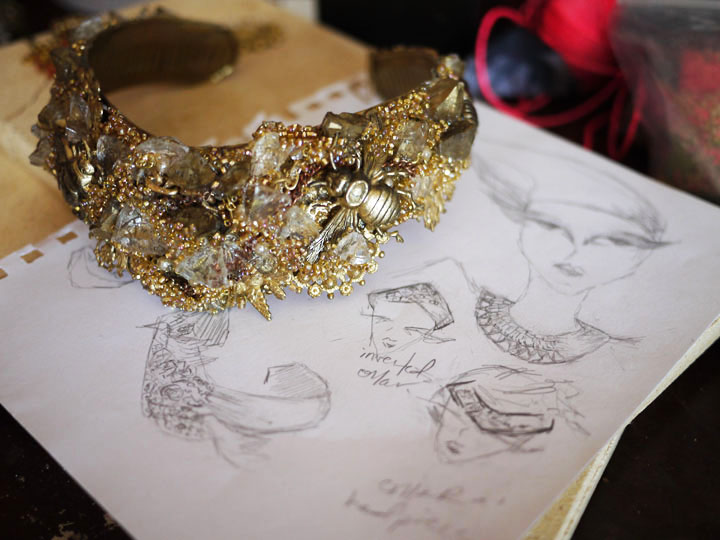 "I made the PYRAMIDS CUFF and I wore it everywhere. People were loving it and that gave me the confidence to keep going and to focus on metals." Soon the collection grew to include more opulent cuff styles, sunglasses drenched in bold chain details and rings fashioned out of her signature mixed metal with vintage shards of crystal sourced from her grandmother's old chandelier. Solestruck, the online shoe store, styled their Spring 2012 lookbook with exclusively designed TNEMNRODA regal accessories. "It was a great opportunity."
While the lure of metal is hard for Smilkle to shake, she's ready, if only temporarily, to step out of her comfort zone and try something new. This summer she designed her grown-up rendition of this summer's popular friendship bracelets; which have been selling out at New York's Blake Scotland boutique. "I've tried the whole nuts and bolt braided thing, but it just too crafty looking for my taste. I think combining the Japanese seed beads with the 24k gold plated beads was just so much more refined, clean and really more me."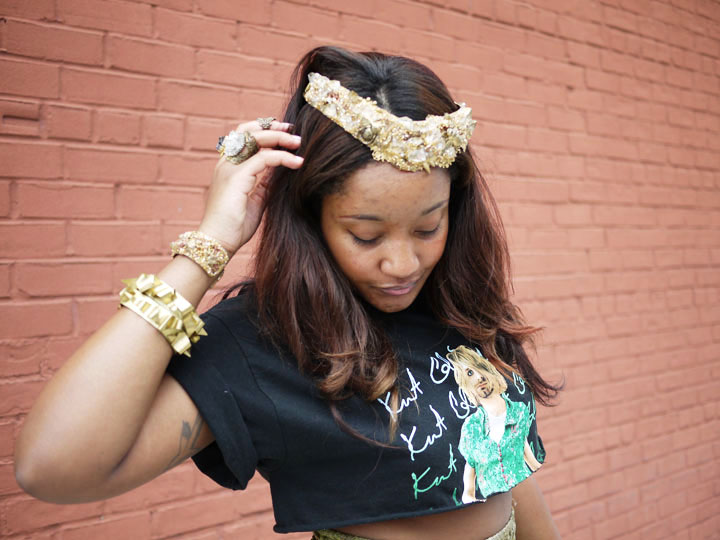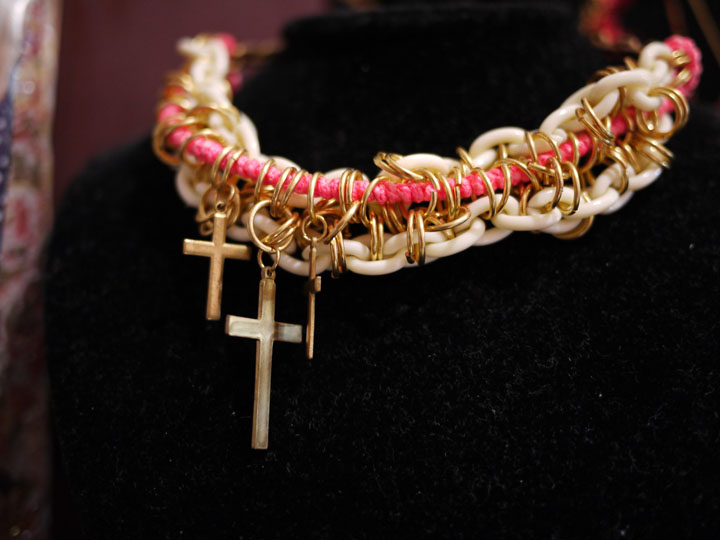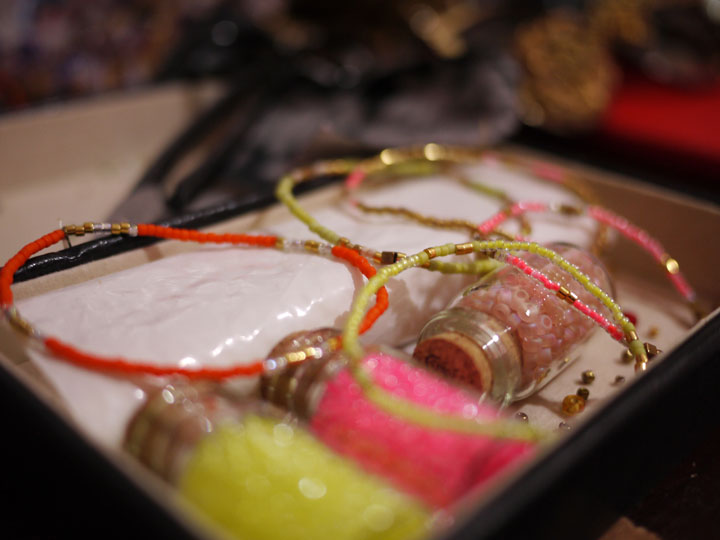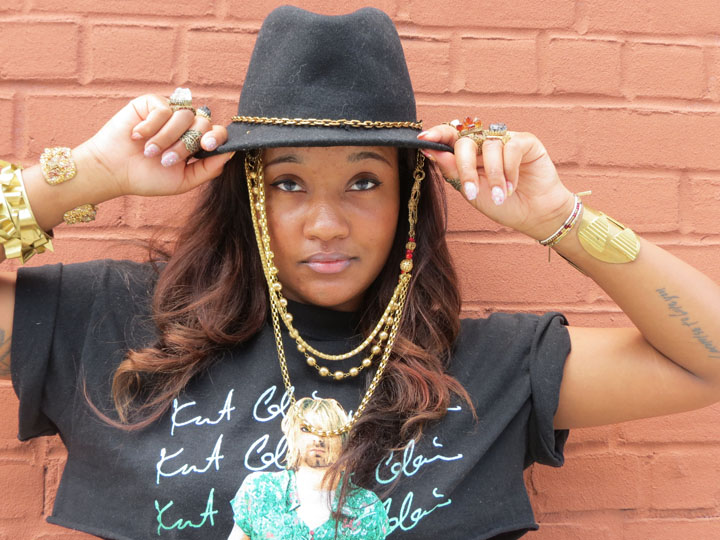 –Alexandra Phanor-Faury
Images by fringueuse

Alexandra Phanor-Faury is a married, Haitian-American journalist living in Brooklyn, NY. Alexandra has reported and written about music, fashion, art and celebrities for websites and publications such as i-D, Nylon & NylonGuy, People Magazine & People.com, Courrier International, BlackBook.com, Trace, Giant, Teen Vogue, Page Six Magazine and Bloomingdales' Little Brown Book.

Latest posts by Alexandra Phanor-Faury (see all)