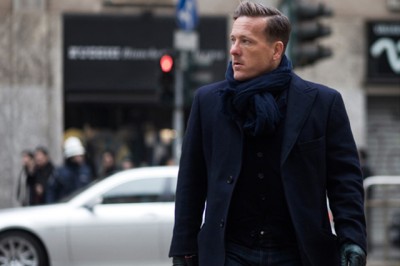 "I don't need a big important coffee table book right now," says Scott Schuman, the leading street-style photographer better known as The Sartorialist about his new book of photographs, Closer. Since launching his popular blog in 2006, Schuman has inspired a bevy of professional and novice photographers around the world to pick up a camera and hit the streets in search of stylish pedestrians. Schuman has not only been a creative muse for many within the blogger world, but his savvy and strategic business moves, which have won him coveted advertisers for his blog and placed The Sartorialist.com on the list of financially successful blogs, has many hoping to follow in his foot-steps.
Despite his numerous accomplishments, a CFDA Media Award 2012 (which he shared with fellow style blogger and girlfriend Garance Doré) being one of them, Schuman couldn't dream of releasing a pristine coffee table book. He was adamant about releasing Closer in paperback in hopes of encouraging readers to use it as a workbook. "I don't want it to be something people are intimidated by. I wanted people to be able to rip out pages and put them on their walls," says Schuman via cell phone during one of his daily outings in New York City searching for subjects to shoot. "I love the fact that he gets inspired by artists outside of fashion; I think he's bigger than fashion and that is very motivating to me," reveals Doré, who has a section in Closer dedicated to her easy, chic sense of style.
Similar to his first best-selling book, this second volume will feature photographs Schuman has posted on his blog and many special ones he's held onto especially for the book. Editing down his monstrous collection to 500 book-worthy images then proceeding to match them side-by-side is no small feat, so Schuman initially enlisted the help of his readers. "It was a great idea until I realized that not only is shooting these images personal but also how you lay them out is. That's just something nobody can really help me out with. I just have to go through the process."
We caught up with Scott Schuman to talk about his new book, the upcoming Fashion Week shows and street-style bloggers' focus on editors.
What can we expect from this second volume of photographs?
I got to go to much more diverse places this time around. The first book was the first three years of the blog, and in the beginning you have to go where people would send you. For the last couple of years, I've been able to take a little more control over my own career. I get to decide where to send myself on trips. I've got shots from Morocco, Savannah, Georgia or Dublin. That's on top of all the fashion capitals.
It's a big coup in fashion circles to be shot by you. What drew you to the subjects who made your two covers for Closer?
The young lady has such calmness to her in the photograph and such a direct gaze. What she was wearing looked beautiful and the way she has her hands looks very calm. Using this image for the cover was almost a no-brainer. It is such a strong image and she's very beautiful, but I think there's that beautiful ease that I love. I like the colors she is wearing and the darkness of the background. I knew right way this was the cover.
I feel that a lot of times we've lost the masculinity in men's fashion.
 I feel that a lot of times we've lost the masculinity in men's fashion. I love designer fashion from Givenchy or Jill Sander because they do beautiful work, but I don't know if it always portrays men in a masculine way that I'm particularly inspired by. I can understand how others are inspired. I'm inspired by those designers in an abstract way, but I think we've lost the masculinity of the '30s and '40s. This photograph [on the second cover] brings that back for me. I mean, there's a guy who looks great, his clothes fit amazing, and there's this sense of masculinity about him. He's cool and he's kind of a throwback. I think one of the reasons my site took off in the beginning, particularly in the men's section, is because of that element I brought. When you look at fashion magazines or ads with men it's almost like women's wear now. The ads are covered with a bunch of 22-year-old very skinny little boy models that many men, or women, can't relate to. Maybe young girls can relate to them. For those reasons, that picture just felt so right.
Your images are rooted in fashion. Do you consider yourself a fashion photographer?
August Sander was a strict photographer but because he captured such interesting elements of life at that moment, now a 100 years later you can't help but look at the fashion in these photographs. The only difference with me is I have a chance share a fashion experience for a contemporary audience with my photographs. People won't dress the way we do now and I think they will be able to find inspiration in my images 100 years later, but in a more abstract way. What life must have been like back then!
New York Fashion Week is coming up. There are going to be men and women vying for your attention. Do you ever experience awkward moments when people try to get you to take pictures of them?
I don't really have people who try to get me to take their picture. I don't always wear my glasses and I have a hard time seeing. Sometimes when I run into Garance [Doré] on the street, she'll say, "You look so mean." It's because I'm having a hard time seeing. The only awkward moments are when I run into people I've photographed in the past and maybe I don't want to shoot them this time around. It's usually those people who expect to be photographed and that's more awkward.
Your blog is one of the few that still highlight non-fashion industry folks. Most street-style blogs today are consumed with editors. What do you make of this focus street-style blogs have taken?

What I've done is continue to not just look at the front row but also the behind scene people, the fourth row and the fashion fans. I also enjoy shooting other photographers. There's something I love about the physicality of taking pictures. It looks beautiful.
I think it's just laziness. I have been doing fashion for a long time before the blog. I love going to see the shows and I do think the editors can be interesting, but that's just a part of the blog. In an odd way it's about the person, but it's about my abstract romantic ideas of that person. I never mention their name or what they do. For me it's much more abstract. It's completely out of my control that a lot of these editors, like Anna Dello Russo, ended up becoming individual stars. I understand why people look up to them, but I always got much more out of it when they were just an idea. I do love going out and shooting real people on the street. That's an area I've been pushing myself to more. If you look at the last couple of weeks of the blog, you really see some great New York moments. I know that's my point of differentiation in this world. I think the way Garance and I have evolved is we go to Paris for Fashion Week, but we are not obsessed by the shows. We might check out a different neighborhood or go to a store. We try to create it as if we are going on a trip to Paris to see shows, but there are other things to do too. That keeps me from being too excited about seeing any particular person.
Do the hordes of photographers at the shows make your job harder?
It makes it harder in the sense that it takes away from the specialness and the romance. If I saw Anna Dello Russo in a particular way, I was very careful to shoot her as I saw her in the right light and create a mood. Once she's taken off as a star, all the lazy bloggers want to just take a picture of her. It's doesn't matter if it's a good picture, they just want to report what she is wearing. We end up with a million bad pictures of her. It kills the romance, ya know? What I've done is continue to not just look at the front row but also the behind scene people, the fourth row and the fashion fans. I also enjoy shooting other photographers. There's something I love about the physicality of taking pictures. It looks beautiful.
Link
blackbookmag.com – The Sartorialist's Scott Schuman Opens Up About His New Book

Latest posts by Alexandra Phanor-Faury
(see all)