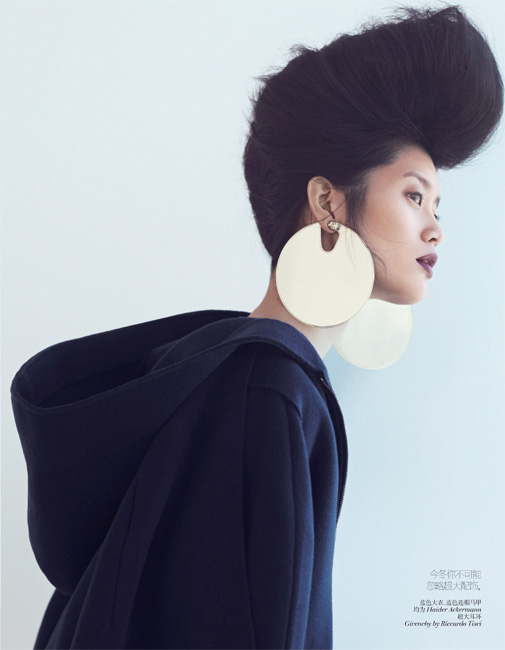 Earrings used to be my thing. I'm not sure at what point over the last couple of years I stopped investing any attention to adorning my ear lobs but I do know that these in-your-face Givenchy disk number are bringing earrings back – for me – in a huge way. This new yearning for these updated hoops comes courtesy of this lovely shot of model Ming Xi in Vogue China. 
This wasn't the first time I'd seen these earrings, but it was the first time the little voice in my head, the irrational one that speaks up when I absolutely, no question about it,  have to have an item, uttered those two words : Must-Have! Sounding more like a spoiled 8-year-old, but convincing nonetheless, that nagging voice convinced me that everything in my closet won't be half as cool without these ornate earrings swinging from my lobs. And guess what? I'm totally co-signing this very ridiculous premise!
I know, it's never smart to listen to voices in your head, especially those that beckon you to spend money, but it's too late! I'm now officially on the hunt for these daring earrings. I'm making calls and sending emails in hopes of locating them very soon so that I can gift them to myself for X-mas, of course!

Latest posts by Alexandra Phanor-Faury
(see all)