The last time I sat down with jewelry designer Anna Sheffield in her studio to talk about her metal based punk-inspired jewelry line, Bing Bang, was back in 2006 in her former Williamsburg, Brooklyn space. The contemporary collection, with its unorthodox pairing of sweet and tough was attracting lots of attention from buyers, consumers and the press. The trained blacksmith would go on to collaborate with Marc Jacobs, 3.1 Phillip Lim, Cole Haan and Target Go International. What started out as a hobby for the former fine arts student was turning into a serious business. A year after our initial meeting, Sheffield was honored with a coveted nomination for the CFDA Swarovski Award for Accessory Designer. Today, six years later, I'm sitting inside Sheffield's studio, in downtown Manhattan this time, listening to her attempt to truncate her company's many successful expansions over the years into a snappy sound bite. "Wow, it's been a long time. Ok, so let's seeee," she says, before pausing and then asking, "Where do I even start?"
See Sheffield's modus operandi usually involves playing around with a flood of ideas simultaneously and lucky for her (and us) she's never short on fresh ways to expand on her vision, so naturally it made sense that Bing Bang wouldn't be enough of a creative vehicle to satisfy her. "There are so many tiny iterations that can be done and something new that can be made. I never really run out of ideas," she says. Following the success of Bing Bang, Anna Sheffield Fine Jewelry was born and in 2008 Anna Sheffield Bridal followed.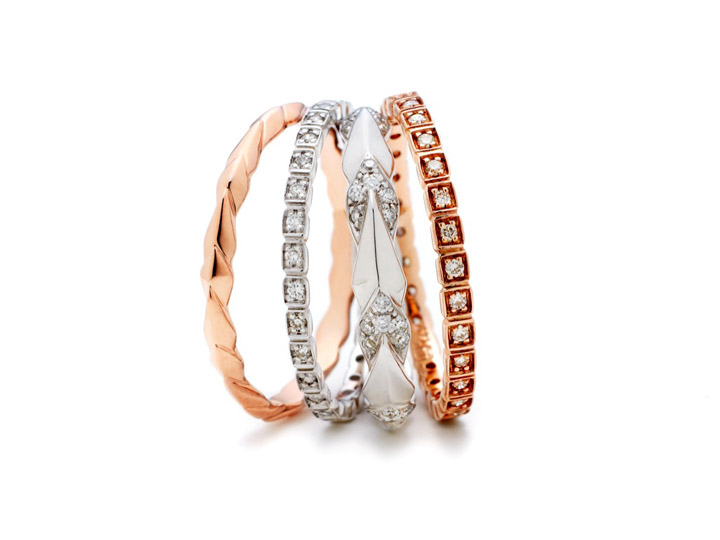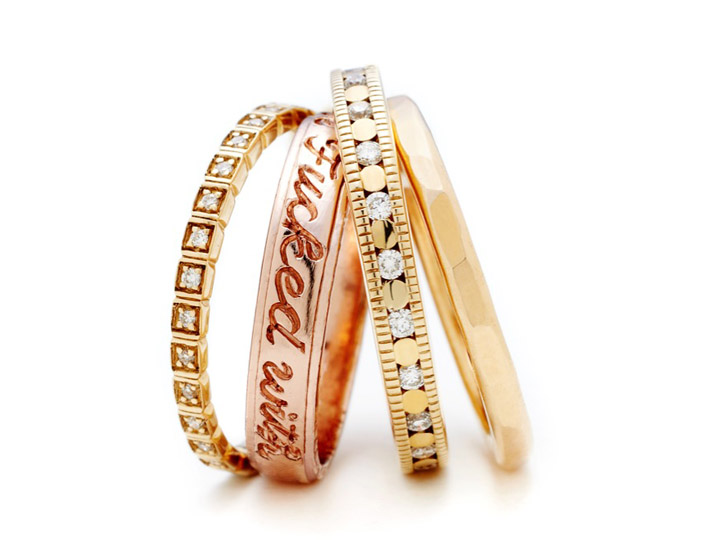 "I use a lot of charms, contrasting metal finishes and mismatched chains with Bing Bang. It's the youthful and more trend-oriented collection in the group. My Fine Jewelry collection is a bit more clean and architectural. Having the two brands satisfies my playful and grown up sides. The collections do inform each other," explains Sheffield. For instance, her signature skinny two-finger ring, a personal favorite of Sheffield's, gets a luxe restyling with pavé black onyx and champagne diamonds. Other standouts include the beautifully edgy sterling silver Eleonore cuff with inverted quartz and green amethyst gem stones, and the stunning Bea engagement ring with its eye-catching emerald cut black diamond. "It's just so fun to look at different gemstones and diamonds, " she enthusiastically reveals with a smile.
Sheffield's transition into the refined and bridal jewelry market doesn't mean her grown up lines lack the eclectic charm of Bing Bang. The New Mexico native's penchant for breaking the rules is still a running thread in her fine jewelry work.  "I wanted to try to flip the whole diamond aspect. How punk rock can I be about designing a diamond ring? I wanted to translate that to bridal but without sacrificing the design and the sentiment behind it," says Sheffield, who opted to work with mixed metal, rose and white gold. Instead of new cuts, she was drawn to antique diamonds for their funky and unusual proportions that give's the wearer instant cool. We love her idea of swapping the traditional exposed rock for a secretly hidden precious diamond inside the band. "I want to continue to grow the bridal brand. It's been phenomenal but who knows what else may develop in the future?"
Sheffield will undoubtedly continue to seduce us with her endless ideas.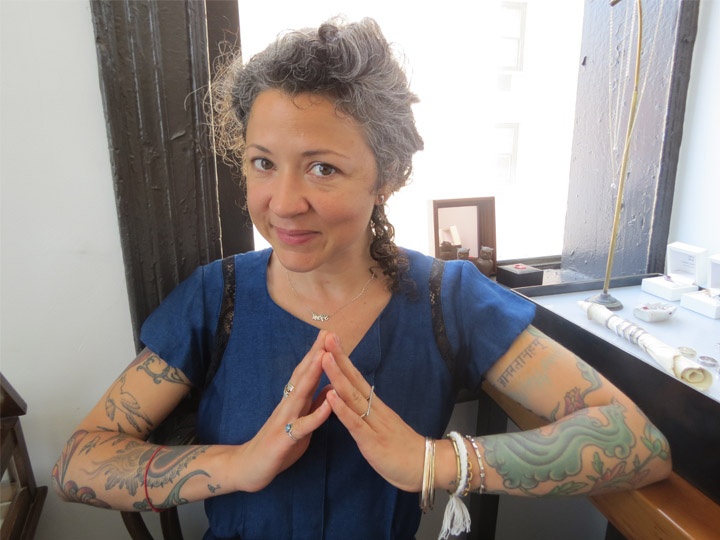 Anna Sheffield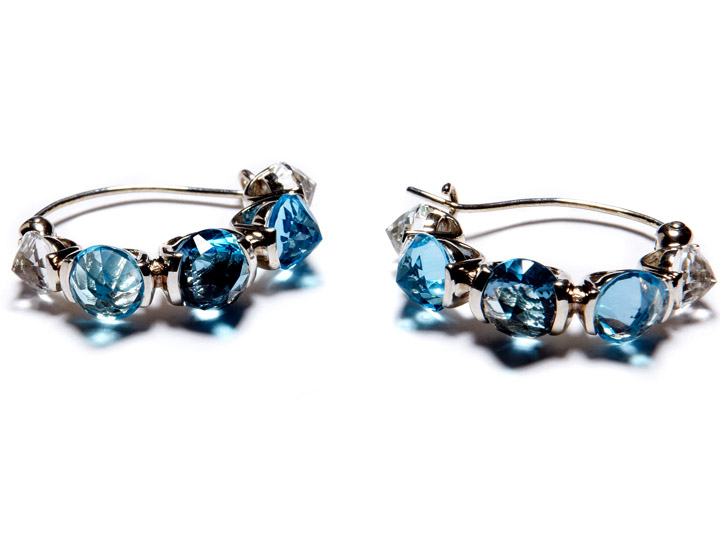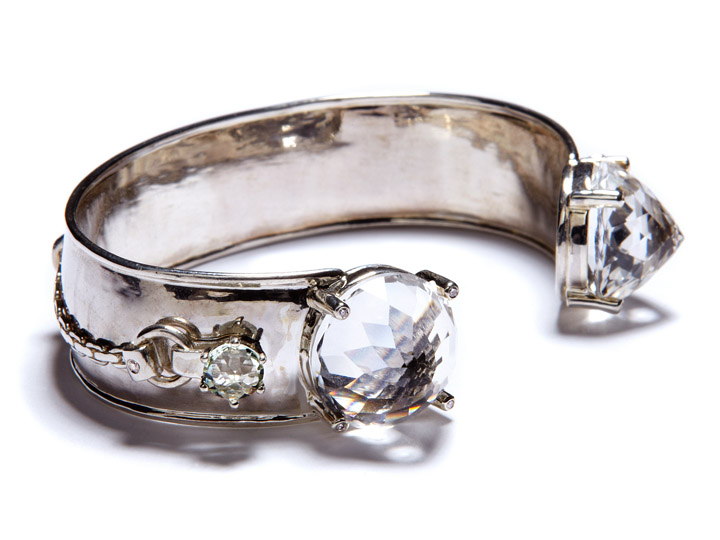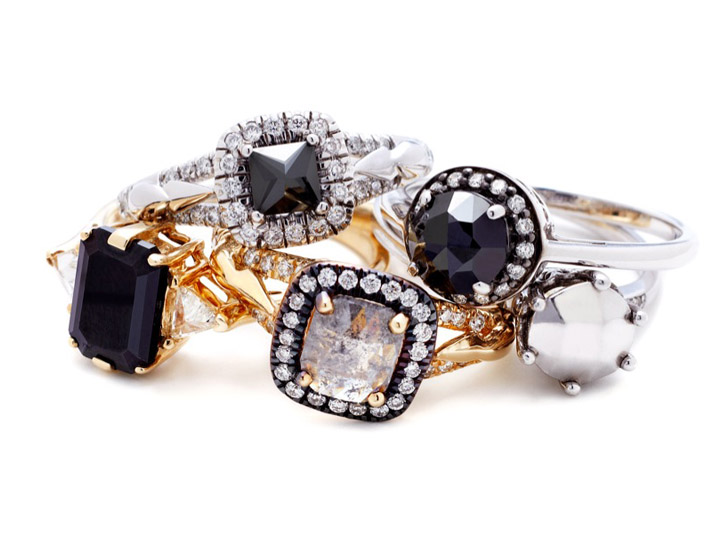 -Alexandra Phanor-Faury
Images of jewelry via annasheffield, portrait of Anna Sheffield by fringueuse

Latest posts by Alexandra Phanor-Faury
(see all)