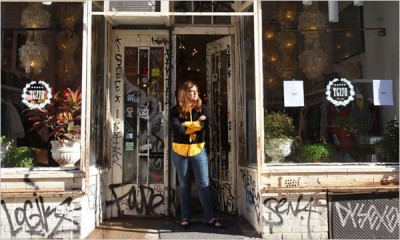 "It was kinda like when you find that perfect spot on the beach you want to put your blanket on," recalls TG-170 boutique owner Terri Gillis about the moment in 1992 when shet discovered her former Lower East Side storefront at 170 Ludlow. While there is no shortage of high-end boutiques peddling designer wears in the LES today, Gillis was the first to introduce fashion retail into the area, at a time when the LES was known more for its drug and crime scene than as a shopping destination. "When I first moved in, nobody wanted to be on Ludlow," recalls Gillis. "I remember when the SWAT team came to bust this notorious gang dealing heroin. They blocked off the whole street and there was a helicopter hovering over us." 18 years later, with the influx of bars and restaurants catering to unhinged bridge and tunnel creatures, neighborhood businesses shutting down, and exorbitant rents, Gillis' love affair with Ludlow Street has soured. On October 1st, she packed up her finely curated collection of ready-to-wear and accessories and moved her store further south to the less saturated 77 Ludlow on the corner of Broome.
Despite the daily drama surrounding the Virginia native when she first arrived in the former tenement-saturated area, Gillis—who was working as an artist, a part time library clerk at FIT, and a maid for Maria Shriver and Arnold Schwarzenegger ("I would go in to dust but it was never dirty")—thrived on the sketchy and destitute Ludlow. In those days, the neighborhood was teeming with fellow struggling artists. "As soon as I moved there, I loved all the people and I felt lucky to find a place where I knew I belonged and felt inspired," she says. The neighborhood was abundant with innovative energy and entrepreneurial spirit, and the diverse community would inspire Gillis to put down the paint brush and turn the $1200-a-month, 1400 sq. foot apartment into a workspace and artists commune first, before it became her store.
"I got to NY in '87 at the tail end of the art scene in the East Village. These were people I wanted to meet who were doing the kind of impressionist art I was into and who were also very into street culture." Frustrated with her paintings not being seen, she came up with the idea to design a line of baseball hats and T-shirts called Homeboy, inspired by the hip-hop street style of the time.
With the success of her small line, Gillis, who had no prior business or fashion experience, started selling her designs out of her makeshift storefront. Open first only on the weekends, she not only sold her creations, but also collaborated with local artists and designers, providing them with a space to sell their work on consignment.
"Terri gave lots of designers a venue in a time when their only choices were either department stores or very high-end stores."
Gillis became the unofficial LES mayor, with her apartment being transformed into a gritty, punk-influenced clothing store, gallery space and all around clubhouse where skaters, artists and fashion designers would congregate to exchange ideas, form friendships, and kick-off careers. "I met a lot of creative people," says Gillis of that time period. Chan Marshall, who later became known as Cat Power, worked in a café around the corner and would often hang out at the store. "Back then you did not need a lot of money to start a business. It was a business, but really it was more of a creative endeavor."
Gillis was way ahead of her time when she set out to focus the store around indie designers—especially New Yorkers—set in an unpretentious setting, a recipe that has since been reproduced by a slew of the city's boutiques. '90s emerging designers like Rebecca Dannenberg, Pixie Yates and Wendy Mullin of Built by Wendy were some of the first to approach Gillis about carrying their pieces in the store. "If it wasn't for them, there would be no store," she says.
"She was investing in the talent around the vicinity of the store," says Madwell Marketing Director Gigi Guerra, who worked at TG-170 for a year in 1994, and got her first gig in publishing at YM magazine when an editor came into the store. "Terri gave lots of designers a venue in a time when their only choices were either department stores or very high-end stores."
"The fact that she is still around says a lot," notes Mullin, who along with Pixie Yates held a fashion show in the windows of TG-170 in 1995 that brought out the locals and one famous early supporter. "Bill Cunningham rode up on his bike and took photos of the scene for a big spread in next Sunday's NYT." Says Gillis, "That was really cool. I remember Bill Cunningham telling me, 'I shoot fashion shows all the time and this is the best one, it's so fresh and alive.' That was pretty incredible."
TG-170's collection of colorful, unique pieces cut in unconventional silhouettes, amassed a loyal following of hip girls, stylists, editors, designers like Christian Lacroix, and celebrities like Drew Barrymore. "I always found the TG-170 attitude to be different from most other boutiques. We didn't personally aim to be immaculately dressed in the intimidating manner that is considered the standard in retail," recalls former shop girl and current Creative Director at American Apparel Marsha Brady. "Sometimes we had dirty hands and looked like we'd been sleeping in our clothes, which often times was true. We were messy in an approachable way, like Terri wearing a sweater completely covered in cat hair," says Brady, who also sold bags she designed in the store.
Over the years as the store grew, so did TG-170's block. It eventually prompted Gillis to find a new home for her store. "We started getting different clientele when the area became more of a party scene and all this construction started and never finished. I felt like we started to get a lot of people who were more into what Britney was wearing in Life and Style. They would have been just as happy going to Macy's," explains Gillis.
"This new generation of girls in their twenties are used to the H&M quality and prices. I'll have something beautifully made in the store: Beautiful fabric, seam, a silk lining, and great details. They are used to shopping for T-shirt dresses without any structure or lining, so they don't get why it costs more."
The birth of trendy, affordable chains like H&M and Forever 21 didn't help matters. "This new generation of girls in their twenties are used to the H&M quality and prices. I'll have something beautifully made in the store: Beautiful fabric, seam, a silk lining, and great details. They are used to shopping for T-shirt dresses without any structure or lining, so they don't get why it costs more. I'm like, It's not made in China, it's made in NY by a small designer who designs her own fabrics and it's not mass produced."
"When you've got these insane rents to pay, you sometimes have to push certain items to attract that person who isn't gonna throw down money for a hand-made fabric dress. It will take a while for consumer confidence to come back, but I hope we shoppers will decide to buy nice quality things that have sustainability rather than buying cheap stuff ," adds Hannah Kurland, owner of Marmalade Vintage, which used to be housed next to TG-170's old Ludlow location before she too was forced to move. She stopped by today to drop off some vintage shoes, ankle boots, and laced up oxfords to sell in Gillis' store, before heading to Marmalade Vintage's pop-up store on 174 Mott St., which she collaborated on with another casualty of the LES makeover, Zia Ziprin of Girls Loves Shoes.
"Paying $8000 was a burden, and now they wanted $12,000. They are pushing everyone off Ludlow. Max Fish is the last one left and their rent got raised to a crazy amount. If Max Fish closes, than that neighborhood is done." says Gillis. Ironically, she credits the raising rents for giving her the incentive to start over. "I really needed to get out and reinvent myself. I felt like it was getting too diluted. I think for a while I got away from my goals, just to fill up the store and make people happy. What about me?"
Now, happiness lives at 77 Ludlow in a charming glass box with plenty of sunlight, ornate shell chandeliers, a hand-dyed concrete floor, artwork from friends on the wall, seven racks of clothes, a shelf with bags, and a long table in the middle of the room for jeans, knits and t-shirts. "I love this new space. At first, I was nervous 'cause my old space was so big, but I think it's more intimate now. I like the new shoppers coming in. They are proud to live here and are very into the area, and they come with their kids. It's only been a month, so I'm still feeling it out. I love all the shopkeepers' taste in the area. I did not want to move into a cheesy area," says Gillis.
Although there is less foot traffic here, today the store is buzzing with activity, harking back to the good old days: Designers and brand reps stop by to leave their lookbooks in hopes of being sold in the store; a gallery owner who just opened a space around the corner comes by to introduce herself and check out a $500 stone ring; women are shopping, and everyone who passes the store makes an obligatory stop to praise Gillis' adorable three white Westies: Mojo, Daisy and Pinky. "These Chinese women in the area come in to play with the dogs. You can't do that on Madison Avenue. The store adds to the overall value of the neighborhood and I love the clothes," says neighbor and long-time TG-170 shopper Tsuchiko Mayata, while shopping for a month long trip to Japan.
This season, Gillis has accumulated coveted pieces like printed dresses, convertible dresses by Mociun, wrinkled silk shirts, and a boil wool coat by Hazel Brown. She is anxiously waiting for a shipment from Corell Corell, twins from Germany who specialize in textured scarves, jackets and chunky knits.
"I like clothes that are lived in and things that people are going to love to wear over and over. I think these clothes are versatile and stylish, but they are not trendy," says Gillis as she peruses the racks. "In a way I'm a weird retailer. I want them to buy the clothes, but I want them to make it their own. I'm glad people here get what I am trying to do, so it's exciting again."
Photo courtesy of the NY Times.
Link
Blackbookmag.com – Meet TG-170 Owner & Boutique Pioneer Terri Gillis

Latest posts by Alexandra Phanor-Faury
(see all)