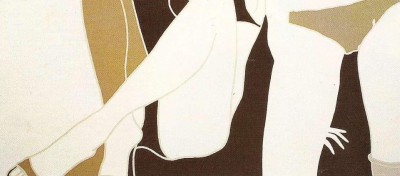 In October, as part of the Kaleidoscope exhibit at the Ingrao gallery in New York City, Law's eye-catching homages to the female form made their American debut. Working with high-gloss paint on aluminum, Law creates loving renditions of the body, from the indentations on the small of one model's back to the subtle roundness of another's belly. Fashionable props include stiletto heels, corsets, and knickers. "I find that as I draw, I fall in love with a different part of the body each time. There are endless perspectives one can take with the female form," says Law, who is best known for her fashion illustration work and collaboration on prints and sets with the FrostFrench label from 2001 to 2003.
It's basically private moments caught in paintings, just women enjoying being in their own skin.
Though reminiscent of 1950s pinups, Law's enigmatic portraits suggest a more intimate and playful interpretation of sexuality. "It's basically private moments caught in paintings, just women enjoying being in their own skin. It's not meant to be erotica at all." the artist says. In fact, 90 percent of the people who buy Law's work are women, and she wouldn't have it any other way. "I was really hoping that would be the case. I can only hope that women get that I love us," she explains.
But if it weren't for a trip to India in 1994, art would have taken a backseat in her life, Law says. "I was always in love with art, but I decided to study history. On my trip I began to draw everything in a kid's notebook. It was an amazing feeling." She returned to London and decided that before she pursued her dream of being an artist she would first have to clean house. "'I had to fight my way out of a terrible relationship. I wanted to be in an environment where people supported what I wanted to do," she says. With two sold-out London shows, a solo New York exhibition coming up, a number of commissioned work to complete, a supportive boyfriend, and a 3-year-old daughter to boast about, it's safe to say Law's fight for an uncompromising life hasn't been in vain. "Oh god, it's been an amazingly lovely and terrifying ride," she says.
Magazine Preview

Latest posts by Alexandra Phanor-Faury
(see all)