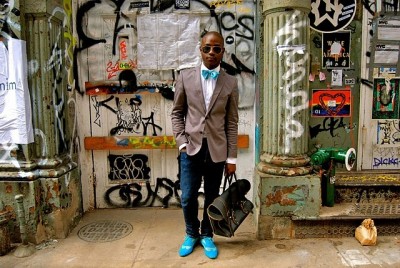 Known to his fans as dapperlou.com, 24-year-old Haitian-American style blogger Ludget Delcy relishes the idea of throwing people off with his personal style. It started back when he was a high school sophomore in Brooklyn, New York. Amidst a sea of velour sweat suits and Air force Ones, there was Delcy (pictured here), wearing crisp white pants, a blue shirt, white tie, and a black blazer.
Donning the kind of ensembles that were more Details than XXL, he was often greeted with puzzling stares and laughter as he walked down the halls of Sheepshead Bay High School. "Everyone would ask me where am I going so dressed up," he recalls with a chuckle, "I've always liked looking neat and well-dressed because it speaks volume about who I am."
For Delcy and a small defined group of black men in New York, specifically in Brooklyn, dressing like a gentlemen or a dandy is a way of life. They are defiantly veering from the saturated images of urban black man in the globally recognizable uniform of oversized silhouettes and casual attire. Delcy would never be caught dead swimming in his clothes; "I think the most unattractive thing is a man in ill-fitting clothes," he says. These polished black gentlemen, which also include not only Americans, but also Africans and Caribbean immigrants, approach wearing bow ties, tailored suits, cuff links, and pockets squares, with an equal amount of zest, meticulousness and self-pride. They possess an enthusiasm and commitment to style that rivals Congo's dandies, Les Sapeurs.
"Fashion is wearing Gucci and Prada and it's rubbish. It means you paid a lot of money to look good, but you really don't. Great style is what you see in Fort Greene."
"I've been to Paris and Milan and they are not doing anything that's so special. There are guys in Brooklyn that are killing it. A lot of them have a real affinity for it and strive to perfect it," points out Brookynite Jamiyl Young, who previously spent years working as a rep for Paul Smith, and credits his time at FIT for penchant for classic Americana pieces. "Fashion is wearing Gucci and Prada and it's rubbish. It means you paid a lot of money to look good, but you really don't. Great style is what you see in Fort Greene."
Indeed, Brooklyn's Fort Greene, a former haven for black artists which has been greatly gentrified in recent years, has become the nexus for this fresh new aesthetic in black men's style. In this bohemian neighborhood, people are expected to express their individuality. Take a walk in the area and it's clear that something exciting is taking place in the relationship between black men and their clothes. Whether it's dandified seersucker suits teamed with vibrant hued socks and brogues, or a tailored vintage Americana look of leather varsity jackets and chambray shirts with neck ties, not only are they showcasing their incomparably cool personal style, but, by extension, these men are redressing the monolithic concept of blackness and black masculinity today. They reflect a breath of identity, gender, and politics, but they all share a common obsessive interest in fine tailoring, fabrics, textures, the men of the Jazz Age, vibrant hues, and eye-catching details.
"I've been surrounded by examples of incredible black men and well dressed black men growing up," says Shantrelle P. Lewis, a curator at The Museum of Contemporary African Diasporan Arts. "The only image in the media you see is of them looking thuggish. I think the hip-hop style of saggy jeans and baggy T-shirts should be celebrated, but when that look comes to define us as a whole, that's when I have a problem." She tackled the topic of black identity and style in a captivating photography exhibit that examined this current crop of gentlemen. (Dandy Lion: An Articulation of a Re(de)fined Black Masculine Aesthetic closed on August 27.) "These Dandy Lions are saying, 'I'm going to articulate my own black identity and swagger.' "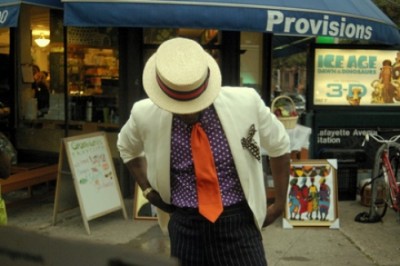 Dandyism for Africans in the diaspora has long been a means to carve out a dignified and distinguished identity at different moments in history. Akin to the afrocentric hip-hop movement of the '90s, this polished gentleman is becoming a rebellious marker of black pride. Both looks may be night and day, but the interest in representation and being individualistic is still present.
Author and Barnard English professor Monica Miller's poignant and historically rich book, Slaves To Fashion: Black Dandyism and the Styling of Black Diasporic Identity, traces the rise of the black dandy and the complex social meaning of clothing for blacks, from slavery to today. Miller describes how in 18th century England, some wealthy slave owners would flaunt their high social status by displaying their luxury slaves as mere objects, dressing them up like dandies and teaching them to sing, play instruments, and sometimes even read and write.
"At the same time this is happening in London, there are tons of other Africans used as labor," Miller says. "There are few black people in England at that time, so a limited number of blacks dressed fancily in an aristocratic manner was somehow seen as a limited phenomenon or maybe a joke. In the US, because there is so many more black people, one in fancy dress is so much more threatening. It was as if a slave was stating with their clothes that they have other aspirations." Despite black dandyism being portrayed as a negative in the States, the look continued to thrive in the '20s, '30s and 40's.
One defining element of the black dandies is their ability to appropriate the Victorian and European classic aesthetic and juxtapose it with their African identity. This fusing is at the heart of today's modern day black dandy in Brooklyn, Europe and Africa.
"Today's dandy definitely looks at English bespoke culture, but it's completely different because of the details and the vibrant color patterns, which is associated with the fabrics coming out of West Africa,"
"Today's dandy definitely looks at English bespoke culture, but it's completely different because of the details and the vibrant color patterns, which is associated with the fabrics coming out of West Africa," explains Miller. "This is a neo-modern post-African person who clearly understands himself as part as the global world and is singling that cosmopolitan history and modern Africanism. I think it's fascinating because it's not in a way that's really flip, it has intelligence to it." She points to Outkast's Andre 3000 as a perfect example.
Pulling off this look isn't as simple as just wearing a suit off the rack. It has as much to do with an appreciation for fashion, as it does history. "It involves more of an interaction with what you are wearing. It's something you have to learn. There are things like tying a bow tie, different cuts of pants, fabrics and so forth," says photographer Kwesi Abensetts, who has spent years capturing these men in Brooklyn. He hopes his contemporary images as part of the Dandy Lion exhibit will encourage men to reference the black gentlemen of the past and take more risk with their style.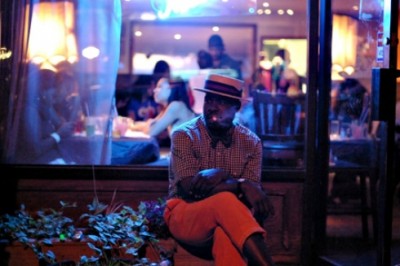 "This isn't anything new. Black people have been doing this since the jazz age and the great depression," says street fashion photographer Karl-Edwin Guerre whose bright and bold tailored concoctions regularly land him on street style blogs and websites like Jak & Jill, Style.com and Vogue Italy. "One of the reasons for my style maturing was looking at a photo of my father, and then I remembered I never saw my father wear a pair of jeans, ever," "Just having style and not understanding where it's coming from and how to put thing together doesn't necessarily make for something pleasant to look like. A true dandy is not a gentleman who calls himself a dandy, it's the public who views him as a such."
While Young, Delcy, Guerre and Abensetts all agree that they've spotted many fashion victims who've missed the mark trying to emulate this look, they all agree that it's refreshing to see more black men broadening their style repertoire beyond the confines of hip-hop fashion, which very much still reigns supreme. "There's this 'casualisation' that's taken over in America," says Young. "Nobody cares anymore and Hip-hop at its core is the extreme of that. I mean at the NAACP image award you have Lil' Wayne with his shorts hanging off his ass. Damn, you can't even get dressed up for the image awards?"
A similar sentiment has been expressed by a number of black politicians, urging young black men to pick their pants up by going as a far as proposing banning the look. For photographer and web designer Jamala Johns, who shot Young for the Dandy Lion exhibit, both styles can, in fact must, co-exist. "You need one to have the other, right? This is a beautiful reaction to the done to death hip-hop look. As a woman, I love seeing black men on the street carrying themselves like gentlemen. It inspires me to step it up."
Website Preview
Link

Alexandra Phanor-Faury is a married, Haitian-American journalist living in Brooklyn, NY. Alexandra has reported and written about music, fashion, art and celebrities for websites and publications such as i-D, Nylon & NylonGuy, People Magazine & People.com, Courrier International, BlackBook.com, Trace, Giant, Teen Vogue, Page Six Magazine and Bloomingdales' Little Brown Book.

Latest posts by Alexandra Phanor-Faury (see all)