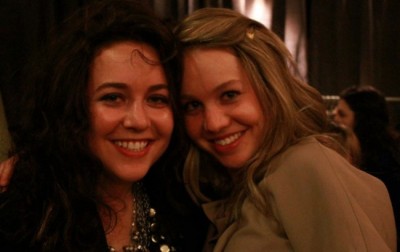 The world of fashion can be a daunting landscape to navigate, especially for women who don't necessarily fit into the industry's rigid standards of beauty and style. For Orthodox Jewish sisters Chaya Chanin and Simi Polonsky (née Gestetner), finding runway looks that adhere to the important Jewish laws of modesty has never been an easy feat, especially since the laws (or tznius) vary from one community to the next. The road to fashion bliss has been a bumpy, frustrating one littered with hits and misses for Chaya and Simi, who are both Australian but now call Brooklyn and Cleveland home, respectively. The sisters have perused endless racks of clothes that either leave little to the imagination or, when they meet the laws of modesty, lack serious personality and flair. Their frustrations proved to be the inspiration behind their unique Brooklyn pop-up consignment shop, The Frock Swap, which caters to the sartorial needs of Orthodox women who are both stylish and religious in equal measure.
"There's this misguided perception that all religious women have no idea how to dress, that they all wear the same dark colored bag-like clothing, revealing no skin but their faces,"
"There's this misguided perception that all religious women have no idea how to dress, that they all wear the same dark colored bag-like clothing, revealing no skin but their faces," explains 25-year-old Simi who favors an androgynous aesthetic of loose-fitting pieces paired with structured jackets in natural tones and, of course, black. Her favorite designers are Dries van Noten, Balenciaga, Jill Sandler, and Prada, and she counts Vogue's Grace Coddington as a style icon. But this fashion misconception about Orthodox Jewish women and style doesn't just end with outsiders. "Many of us just don't know how to look fashionable and modest," says 27-year-old Chaya, who describes her style as more bohemian than her sister. Her current wardrobe staples include a vintage lace dress she picked up in Australia that she dresses up with a tux blazer or down with a leather jacket and booties. The mother of two continues, "Some [Orthodox women] weren't exposed to fashion or thought they had no options. They don't know where to start. Ten years ago most of the religious stores on Kingston Avenue [in Brooklyn] carried the same black, denim, and pleated long skirts."
Every six weeks for the last year, the sisters have stocked their shop, located in a Crown Heights flower shop, with modest pieces from in-demand designers like Chloe, Prada, Alexander Wang, Bottega Veneta, Ports 1961, and Stella McCartney. The Frock Swap's mix of low- and high-end consignment pieces (minus pants and minis) at discount prices have attracted the style-conscious Orthodox women growing in numbers in parts of Brooklyn. "Where in the Jewish religion does it endorse women looking and dressing badly? In some areas like Crown Heights and the Five Towns, fashionable Orthodox women may even be the norm!" says Simi. "In other areas, such as Williamsburg or Lakewood, New Jersey, the majority of the women dress more conservatively in comparison. We believe that a Jewish Orthodox women can abide by the Jewish law and still look great."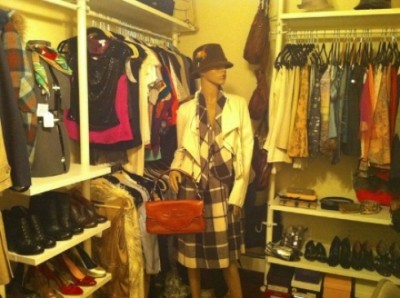 Getting their hands on drool-worthy designer goods is as easy as asking their well-dressed girlfriends to sell some of their older pieces, which ensures that The Frock Swap is filled with amazing clothes and — most importantly — appropriate silhouettes. "All of our inventory is carefully selected and in beautiful condition," Simi says. "We like fashion to be available to all, so we have clothing that ranges anywhere from 20 dollars for a great vintage T-shirt to 1,500 dollars for a leather Chloe bag." They have about 200 consigners at the moment and 500 pieces in stock.
For Toby Fehler, a 26-year-old surgical nurse from London, every visit to New York must always include a stop at The Frock Swap, which she discovered after seeing one of their sales advertised on Facebook. "There are plenty of designers who create skirts that cover the knees, tops that cover the elbows and collar bone," she says. "Chaya and Simi provide a place to shop for quality items that are already modest as well as high-end. It saves us girls the time having to sift through the rails."
Ever since they were little girls growing up in Sydney with their mother and Rabbi father, Chaya and Simi were always playing stylist to their friends, helping them shop for outfits to wear to bar mitzvahs or on Jewish holidays. "It gave us a lot of pleasure to help them look and feel good," remembers Chaya. They quickly developed a reputation as the fashion girls. Shopping, as unnerving as it may have been for Orthodox young girls living in a beach town, was a favorite pastime for the sisters who loved going to consignment shops for deals as teenagers. They began experimenting early with different tricks to fit their favorite looks within the guidelines of modesty – adding a contrasting fabric at the hem of a summer dress to lengthen it, for instance. "We'd find a strapless dress and first we started off by layering a t-shirt underneath, which most of time doesn't look good," Chaya says. "It looks like you are trying to make the dress modest. We then found cool vintage looking cardigans that we belt. Now, we are both very into blazers, and we throw those over any dress that is short sleeve or sleeveless."
With their undetectable wigs and designer wears, both Chaya and Simi look like any other stylish woman in her twenties. But there are moments when even a very chic modest look will have you standing out, such as in a dance club where barely-there tops and skirts are the norm. "If there are five girls together in a club with no elbows showing — even if we have party dresses on — that's noticeable," Chaya reveals. "That's not really our scene. We'd rather go to lounges in Williamsburg or in the Village where it's more laid back and not too much about pretty girls in miniskirts." She adds that it's still challenging to find the right pieces for her wardrobe. "Sometimes you want to have that distress jean look and you can't do that. That's when you have to experiment." A great pair of jeggings does the trick: Chaya likes to wear them under a sweater dress paired with a leather jacket and a statement necklace to finish her look. "As fashion evolves, we have to keep finding new ways to cover up."
"Jewish Orthodoxy has evolved over the times, as has fashion within Orthodoxy," Simi explains. "Some religious areas have not embraced modern trends. The Frock Swap caters to all of our customers."
Simi and Chaya share helpful styling tips and offer advice on perfecting modest ensembles that hint at sophistication and style, although the definition of modesty can sometimes vary depending on what sect of Judaism a woman belongs to. Some Orthodox women believe even if the basics are covered up, the spirit of modesty is lost when the frock is loud or too attention grabbing. Therefore Simi and Chaya make sure they work within each customer's personal comfort level. "Jewish Orthodoxy has evolved over the times, as has fashion within Orthodoxy," Simi explains. "Some religious areas have not embraced modern trends. The Frock Swap caters to all of our customers."
Photographer and filmmaker Yocheved Sidof, who lives in Crown Heights and loves printed dresses and bold jewelry, has known Chaya and Simi for years and was very excited to visit their shop. "There's a definite advantage to shopping somewhere where you know you can wear most of what you encounter. Most of the orthodox shops for women can be conservative and expensive. I feel comfortable saying to them that I love a skirt, but it's a little too short for me. They are sensitive to that and they don't try to push it on you."
Link
Blackbookmag.com – Brooklyn-Based Pop-Up Shop Brings High Fashion to the Orthodox Community

Latest posts by Alexandra Phanor-Faury
(see all)