One of my favorite vintage stores in Brooklyn is Seven Wonders in Greenpoint. What makes this boutique so special? First, it's one of the few vintage stores in New York where you can still score great blouses, dresses , skirts, accessories and shoes at low prices ( all under $100) – a notion that's almost unheard of in New York today.  Second,  owner Melissa Blumberg not only has a great eye for cool vintage pieces from the '40s to the '80s, she keeps Seven Wonders' racks, creatively fashioned from plumbing pipes, fully stocked all the time with amazing finds she's unearth on her regular trips to estate sales. There's always something new. Third, despite Blumberg's massive inventory, she takes the time to tightly edit down what hangs on the racks to keep the place from looking jam-packed and overwhelming to the shopper. As I often mention to her and friends, shopping at Seven Wonders is like looking through a friend's closet. Any girl, and a super sweet one at that, with a soft spot for Southwestern prints and jewelry, cropped pants and silk shirts is a friend of mine.
Blumberg took some time out from hunting for sublimely quirky pieces across the country to try on some her current favorite pieces in the store for us.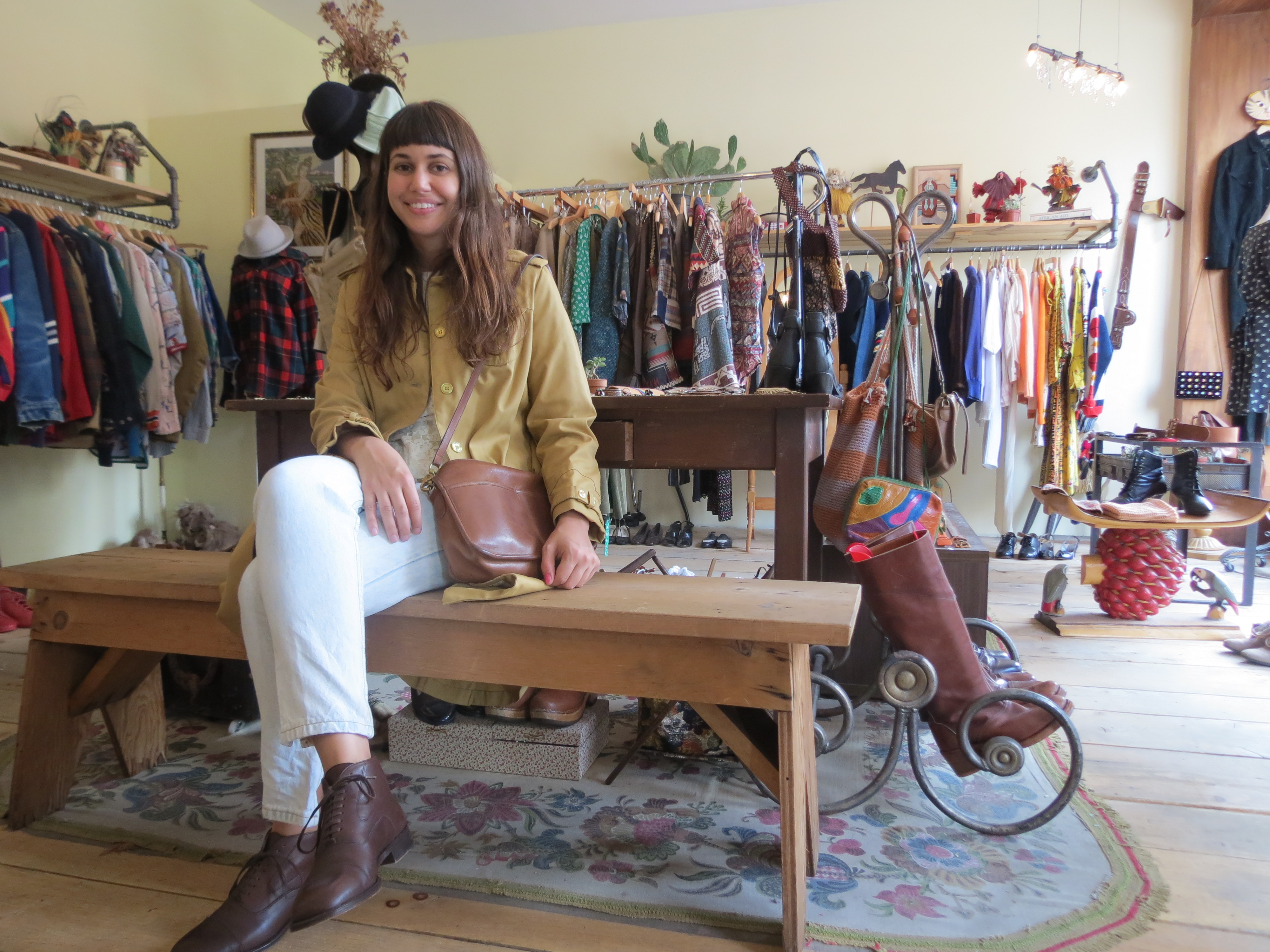 "First of all, I love vintage Coach bags.  They are classic, classy, beautifully made and perfect every day purses. Most of my clothes are pretty casual but the Coach purse adds an effortless sophistication.They just look good, come in so many colors, shapes and sizes and they don't say Coach all over them! I like the light colored pants and top in contrast with the chocolate brown coach boots. Everyone needs a classic trench and this tan 60's British mist camel colored one is almost golden and has a gold buckle and buttons that make it stand out."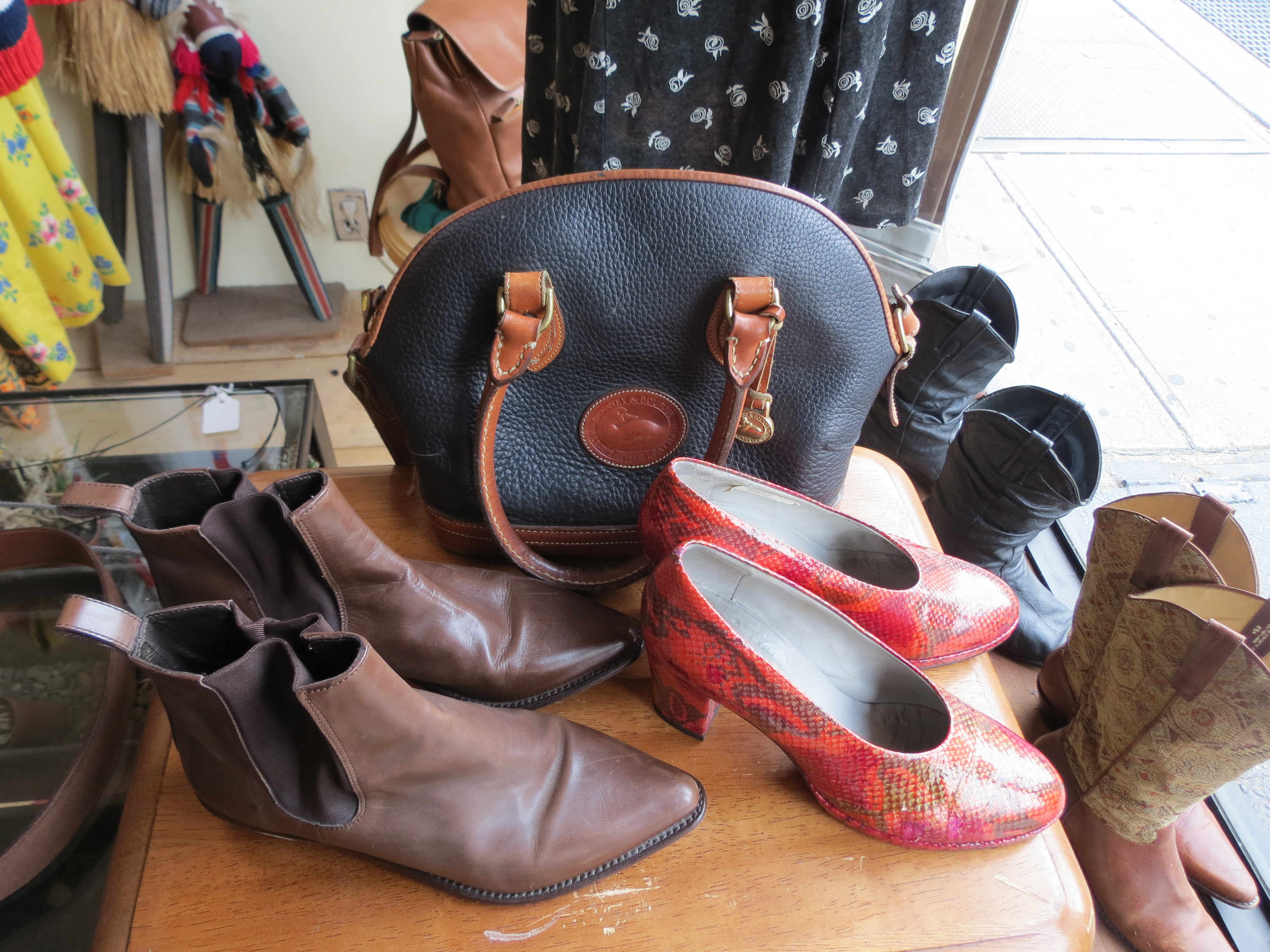 "I am also a big fan of the vintage Dooney and Bourke purses.They are great for a rainy day because a lot of them are waterproof! I can't get enough of these amazing 1950's snakeskin pumps!"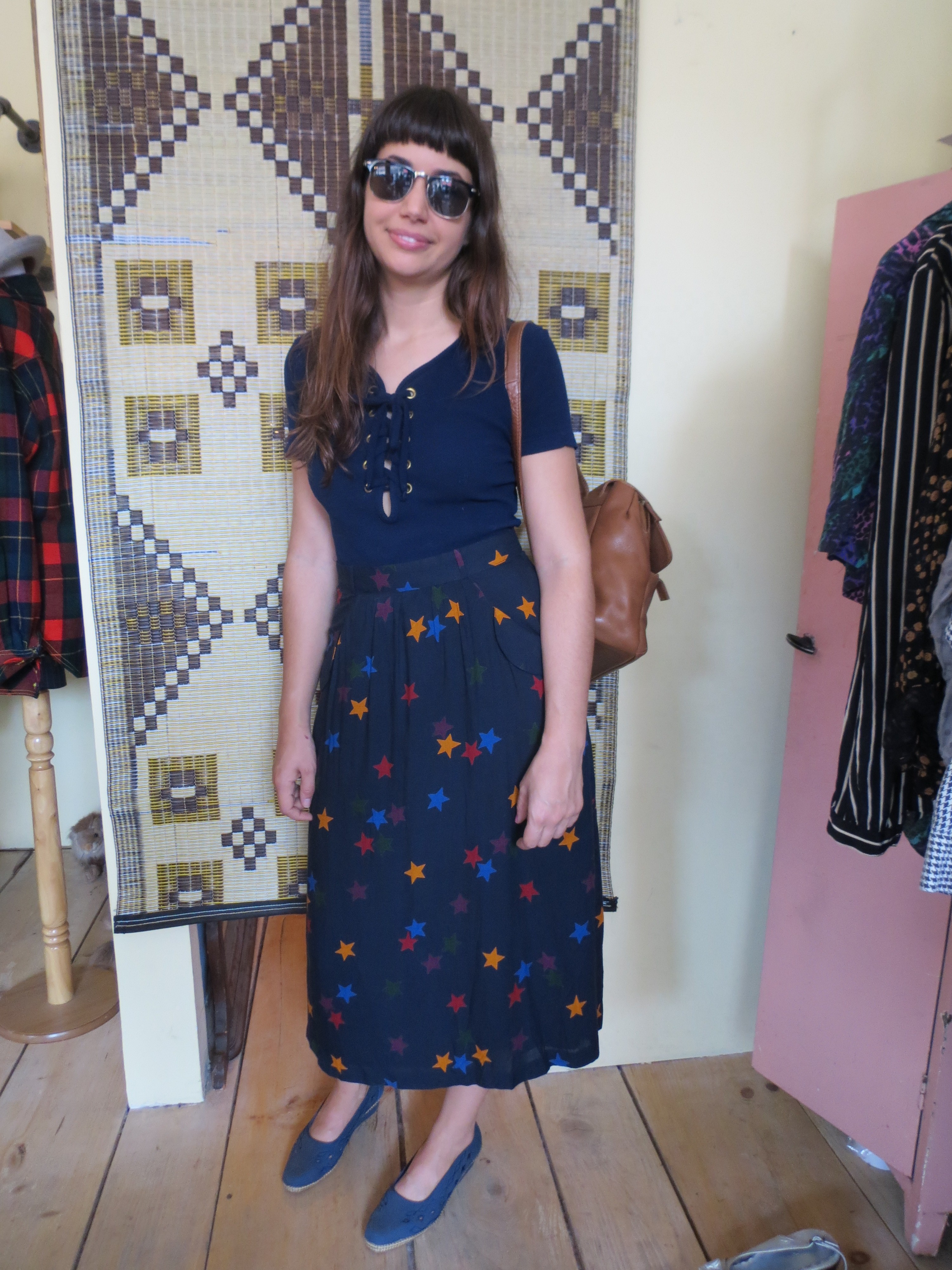 "I love this navy maxi star skirt. It's so playful. The '70s lace-up bodice on the navy body suit makes the long skirt look more youthful and the flurry of colorful stars don't hurt."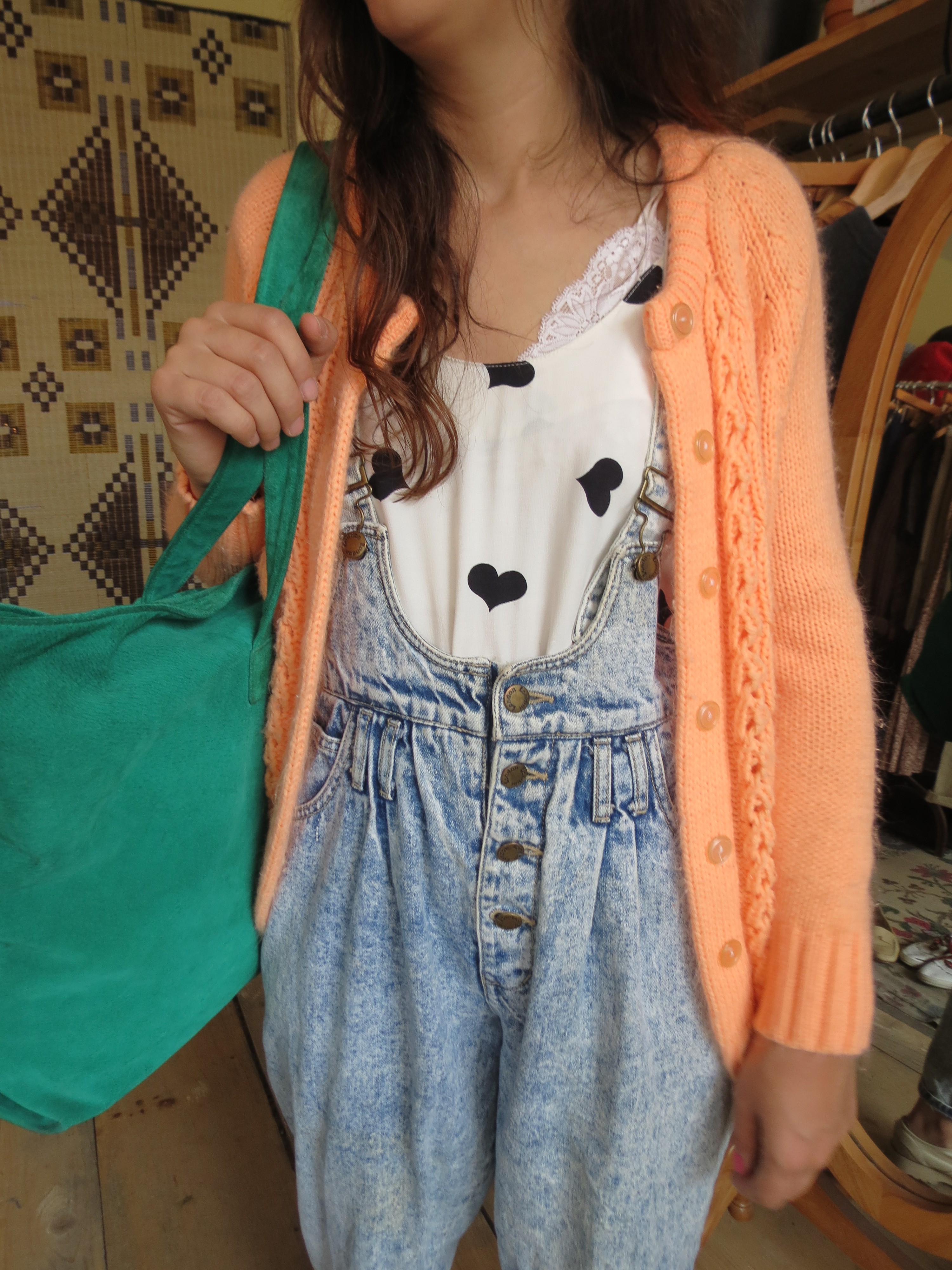 "I think overalls are great for a casual day. Just throw them on over anything and they add interest to an outfit. I like to layer a chunky sweater over them. I love these acid wash ones because they are so '80s. These overalls are really fitted in the waist and tapered at the bottom, so they don't feel frumpy.I also love silk blouses. They are as versatile for as Coach bags. I can still wear my jeans and look nicer in a silk blouse. Everyone needs a good overnight bag and this '70s jade green suede bag is fantastic. I think it's easier to get away with brighter and bolder colors in suede leather than in smooth leather. The texture of suede is warmer."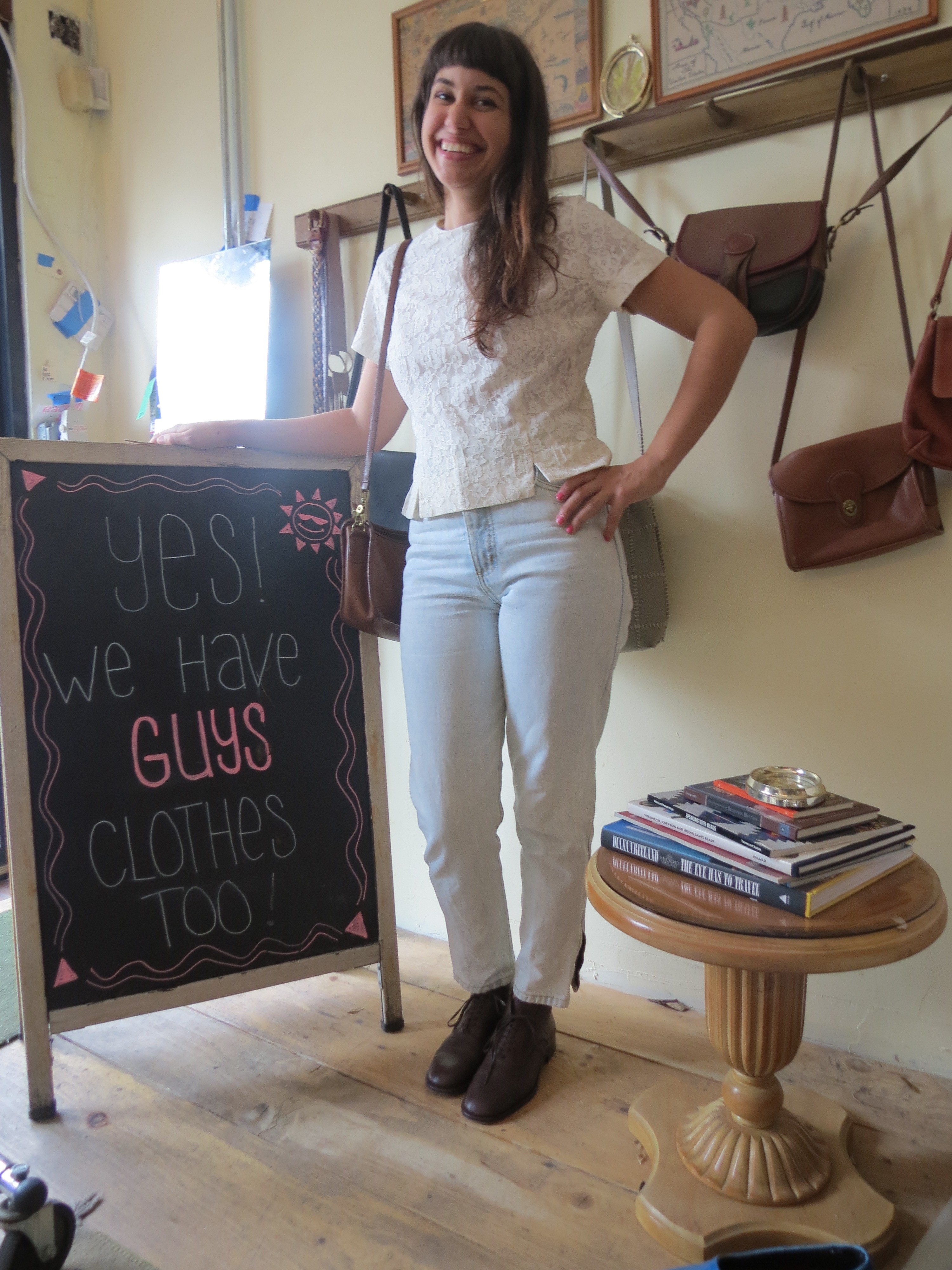 "I've always liked cropped and tapered pants and jeans. I like to show off my socks and shoes. This 1940's blouse buttons down the back and is lightly lined so it's still a bit sheer."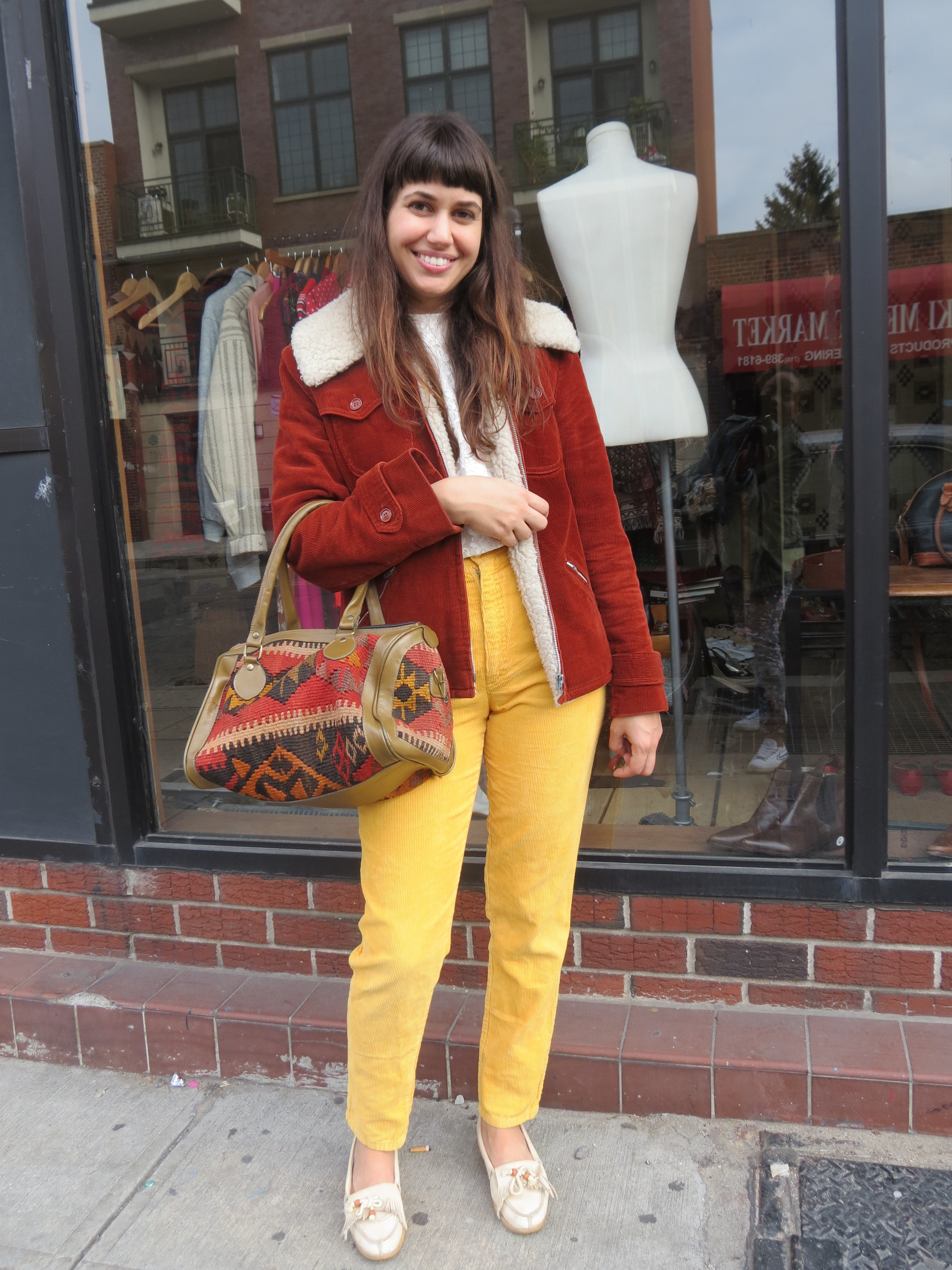 "The winter is all about textures.  They are fun to mix and match. I love corduroy an these mustard cord pants are so cute to me. I love a fun colored pant and Esprit just had some really great fitting cuts. The corduroy Utex jacket is classic '70s.  The big shearling collar and furry inside makes it a practical and cozy choice. I love the Turkish printed carpet handbag.  I am always drawn to woven prints.  I love the way they age and the colors fade in the sun.  I think fading in fabrics add a lot of interest."
It's pretty much impossible for me to walk into this store without buying something. This bracelet and bag had my name written all over them: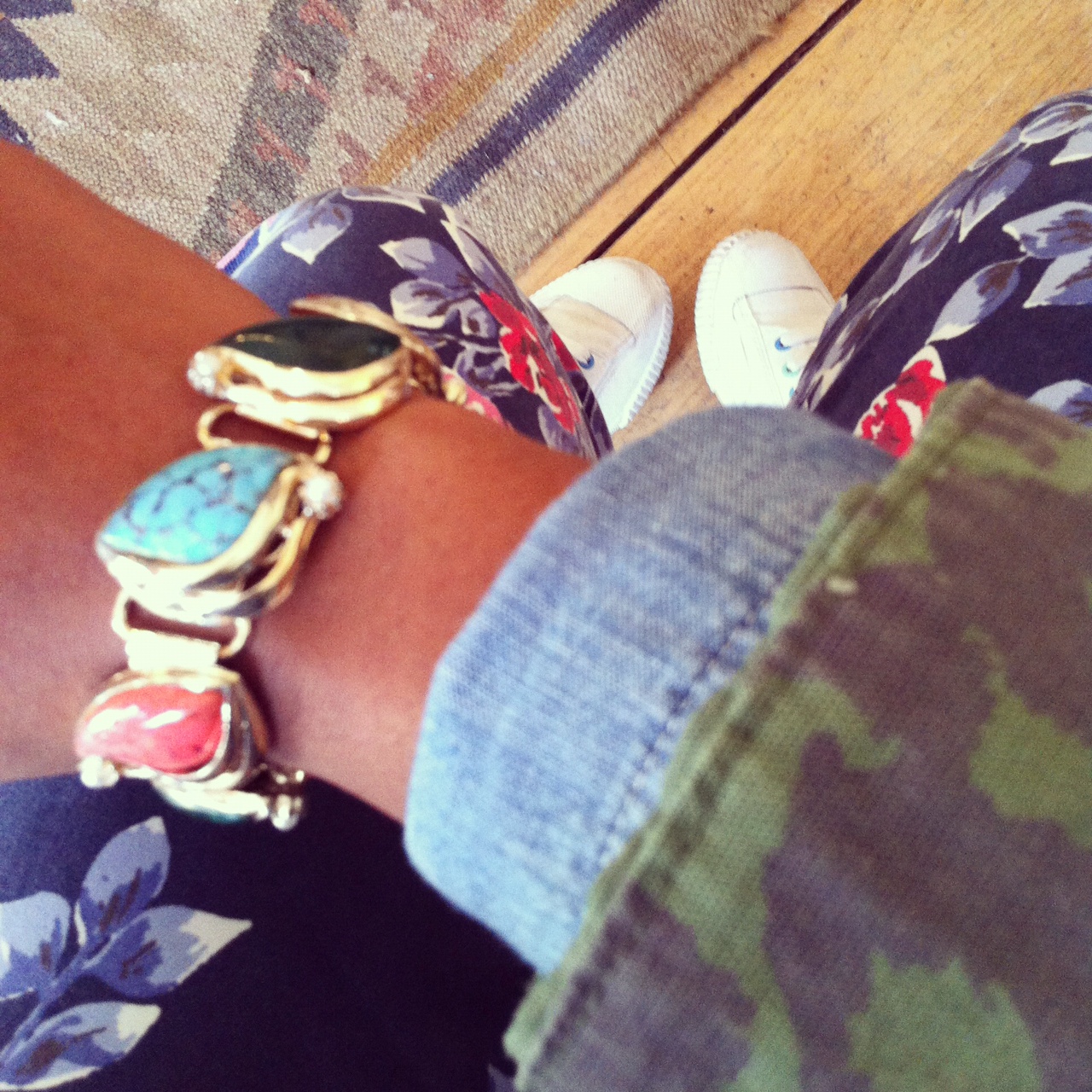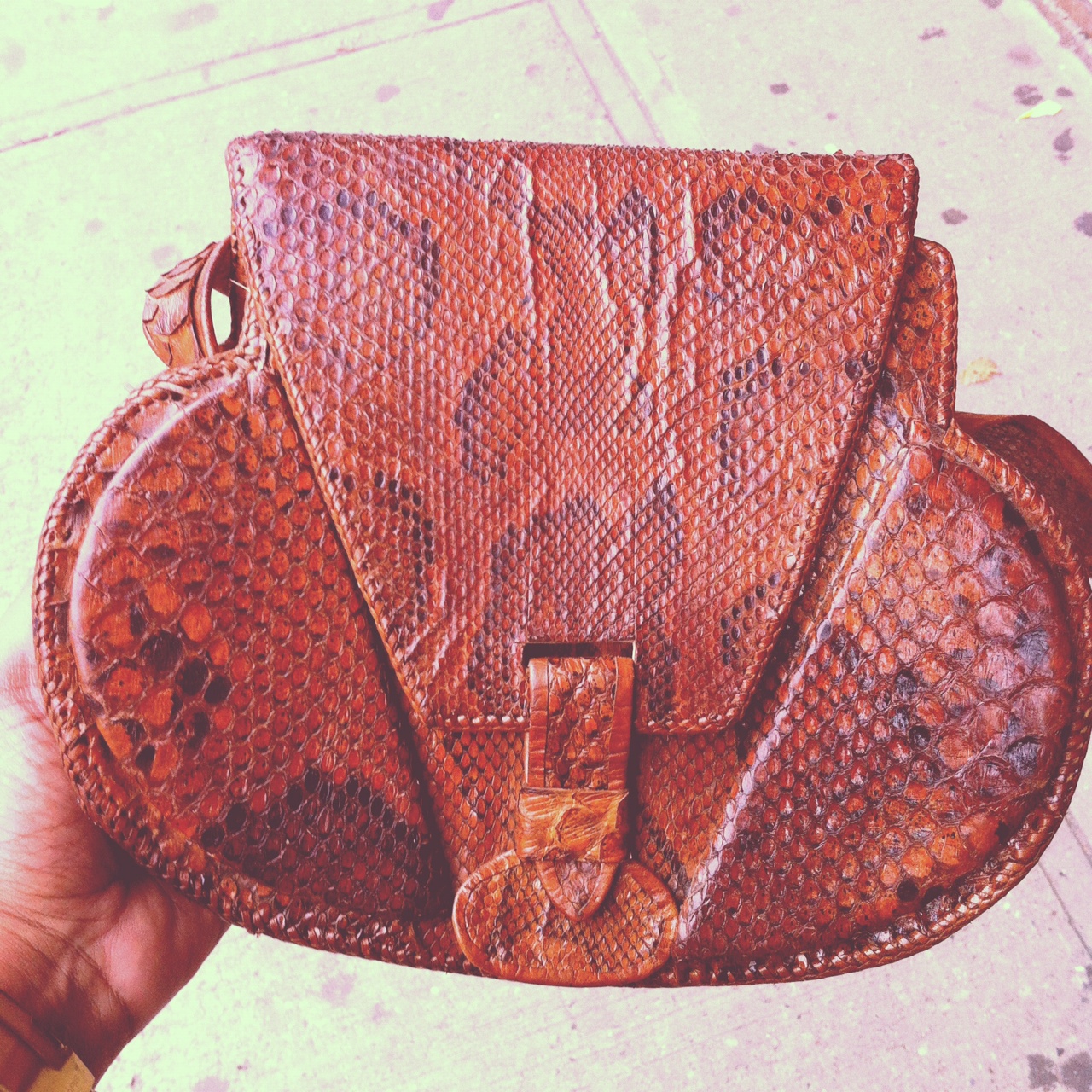 Alexandra Phanor-Faury is a married, Haitian-American journalist living in Brooklyn, NY. Alexandra has reported and written about music, fashion, art and celebrities for websites and publications such as i-D, Nylon & NylonGuy, People Magazine & People.com, Courrier International, BlackBook.com, Trace, Giant, Teen Vogue, Page Six Magazine and Bloomingdales' Little Brown Book.

Latest posts by Alexandra Phanor-Faury (see all)