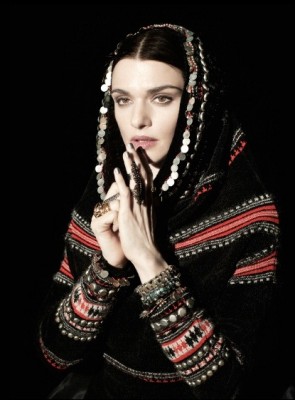 Why can we not stop watching Rachel Weisz? Sure, her breathtaking beauty is easy on the eyes, but it's the vulnerable, often broken characters she so effortlessly inhabits that keep us glued to the screen. Weisz has never chosen the easy golden-paved path that so many Hollywood starlets follow to fame and fortune. Instead, Weisz keeps us constantly guessing with roles as varied as Tennessee William's Blanche DuBois and as Jackie Onassis in the upcoming biopic being directed by her husband, Darren Aronofsky.
"Choosing a role is like choosing a friend," explains Oscar winning actress Rachel Weisz. "Why would one do something boring when they can pick something more interesting? What does it mean to really be a human being? I'm interested in that. You don't want to be friends with someone who is just one thing. We are drawn to complexities."
Weisz has been adept at choosing a multitude of complicated women to be "friends" with on screen, from the thrill seeking librarian in the action-packed Mummy films to The Constant Gardener's murder victim Tessa Quayle, who is unraveled slowly in heartbreaking flashbacks and which won Weisz the Oscar for Best Supporting actress. Inhabiting other people's personalities has always been an integral part of Rachel Weisz' DNA. Since she was a little girl, growing up as the daughter of a Hungarian father and an Austrian mother in North London, the lure of adopting someone else's life has been alluring and intoxicating. Weisz's wild imagination and empathetic nature has allowed her to shape and breathe life into some of film's most compelling, versatile characters.
Playing against expectations, Weisz has successfully steered her way through blockbuster films, indies, and awe-inspiring stage performances. Weisz, who at 40 still has the wide eyed, innocent face of a young ingénue, has spent her entire career searching for interesting characters to become, so it's no surprise that she thrives best when surrounded by captivating personalities, whether at fashion events or at a bar in her East Village, NY neighborhood where she lives with husband, Darren Aronofsky, the director of The Wrestler, and their four-yearold son, Henry. Unlike most Hollywood stars, Weisz chooses New York over Los Angeles. "I find Hollywood really toxic," she once said.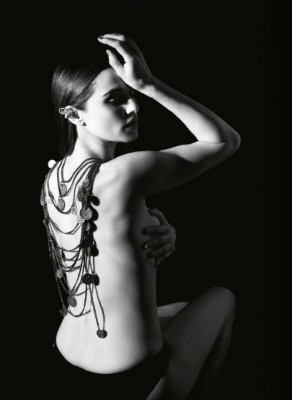 Like the actor herself, New York is raw, uninhibited and buzzing with energy. While porcelain white skin, Brooke Shields' thick eyebrows and a Betty Paige dark mane command attention and earned her modeling gigs for Revlon and Burberry, Weisz's inner-life is what keeps us mesmerized with her. Her emotive hazel eyes have told thetales of countless, complicated characters from a grieving mom to a prostitute to an activist and Egyptologist. "Probably one of the greatest portraits of a woman is Blanche DuBois [from Tennessee William's Street Car Named Desire]," Weisz declares, beforeexpanding on the statement. "She was incredibly sex driven, impossible, cruel and so many things. I like finding what's wrong with someone." Weisz's portrayal of Blanche on the London stage won her the 2010 Laurence Olivier award for Best Actress.
"I miss her terribly," she sighs, as if talking about a long lost best friend. Luckily for Weisz, the challenging parts keep pouring in. Perhaps one of the most high profile and daunting roles of her career will be playing Jackie Kennedy in Jackie, a movie to be directed by Aronofsky. She won't be the first actor to tackle Jackie O (Jeanne Tripplehorn portrayed her last year in the award winning Grey Gardens TV movie), but the former first lady is an iconic American heroine who people see as the closest thing the United States had to royalty. "I'vealways admired her from afar," Weisz admits, realizing the weight of the role and the scrutiny people will place on her performance. "I think it's a very respectful story and a beautiful portrait of a brave woman." In the upcoming The Whistleblower she plays Kathryn Bolkovac, a peacekeeper in post-war Bosnia who outed the U.N. for covering up a sex scandal.
"I'm not like that in real life. I'm very passionate about my work, but I'm not willing to risk my life for it," she admits in her British accent. "That fascinates me. What makes a person give up their life for something they believe in? I'll say anything you like to stay alive. My nature and my job is to tell stories and dream."
I'm proud of the work I've done in Hollywood as I am equally proud of independent films. I don't have snobbery about it.
Although like a true actor's actor
, Weisz only ventures to Los Angeles for work, don't expect to hear her whine and moan about the public's insidious fascination with celebrity culture. She is not one to give the now ubiquitous monologue on the trappings of Hollywood stardom. "I'm proud of the work I've done in Hollywood as I am equally proud of independent films. I don't have snobbery about it. I love getting dressed up for the red carpet to promote a movie. That's just the reality of the business, and I'm not above reality." And Weisz dresses up well, favoring dresses by her close friend, designer Narciso Rodriguez, who dressed her when she won her Oscar and accompanied her and her husband to the Vanity Fair party afterwards to celebrate. It's that complex, yin/yang, yet down-to-earth essence that endears Weisz to us.
Despite being beautiful, smart, talented and witty, Weisz never appears out of reach – she finds the human thread that connects audiences to every part she plays. While she may take the craft of acting seriously, she isn't beyond poking fun at her charmed life. "It's such an absurd thing to be doing," she confesses of the life of a movie star. "Getting dressed and pretending to be someone else." And as long as Weisz keeps putting on the clothes and getting in and under the skin of interesting characters, we will always be watching.
Link

Latest posts by Alexandra Phanor-Faury
(see all)