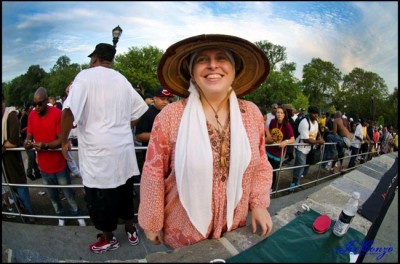 When hip-hop publicist, event promoter, and DMC USA CEO Christie Z-Pabon moved to New York in 1996 from in Perryopolis, Pa, she had one goal: attend as many hip-hop shows as she could. Growing up in the '80s, Pabon's access to hip-hop culture was limited to buying whatever 12-inches were available at National Record Mart, and staying up late on Sundays listening to Sly Jock on WAMO, the only station that played hip-hop. Pabon  daydreamt about attending the famous Bronx park jams, but would often have to settle for the next best thing. At the school dance, there was this gym teacher who was the DJ, and he would play Sugar Hill Gang and Run DMC," says the 43-year-old Pabon. "In a mostly white small town it was crazy and he would bring B-boys to the dances."
Sitting in a booth at the City Diner on the Upper West Side, Pabon continues, "When I moved to NY, I went straight to the Universal Zulu Nation (one of hip-hop's first crews) Anniversary in Harlem. I had no one to go with, I didn't know where I was going, but I was not going to miss it. I was so happy to be there and I got to meet such great people and saw all these legends. It couldn't get any better."  One of the legends she met was Puerto Rican performer and choreographerJorge"PopMaster Fabel" Pabon, whom she married in 1997.
Pabon got her first taste promoting in Pittsburgh, where she threw one of the city's first hip-hop parties while in college. But it was in New York that Pabon thrived as a grassroots ambassador to the genre. Following a short stint as a mental health specialist in the Bronx, Pabon, with the help of her friend and 1996 DMC US Champion DJ Swamp, landed a job in 1998 at DMC working sales. "I always loved scratching and the complete production of DJ battle routines, so DMC was a perfect fit. Of any of the pioneers, DJs are the most influential."
Pabon would later be in charge of organizing the famed DJ battles. The two years Pabon spent at DMC were the most exciting in turntablism, and  Pabon organized some of the most important battles to take place in the US, including the first and only time the DMC World Finals were held in the US in 1999.
"Christie has put on some of the best hip-hop events and DMC competitions I've ever been part of," says 1988 DMC World and USA Champ DJ Cash Money.  "When it comes to having knowledge of the history, I can't find anyone with more hip-hop running through their veins."
"Christie has put on some of the best hip-hop events and DMC competitions I've ever been part of," says 1988 DMC World and USA Champ DJ Cash Money.  "When it comes to having knowledge of the history, I can't find anyone with more hip-hop running through their veins." It's Pabon's serious work ethic and professionalism that bring crowds to her events, and DJs to her stages. "I've known Christie for 17 years now, and she always puts quality before popularity when it comes to selecting DJs for her events. She is a true activist who respects the craft of DJing," says B-boy and DJ Forrest Getemgump.
"You want it battles to be a platform where DJs can showcase their talents without all the drama. That means making sure battles are fair, listening to the DJs' complaints, and investigating their concerns. I picked up from my parents that you do things honest, right, and 100%," says Pabon.  "As a woman, you have to do things 150% better than any guy. That's the difference between me and someone who thinks it's just a job. They don't think about it first thing in the morning."  Pabon eats, sleeps and breathes hip-hop, athough, she finds it critical to clarify where her allegiance lays. To Pabon, hip-hop and rap, although used synonymously, are like night and day. "If I'm talking about hip-hop, I'm most likely not talking about rap, because I don't work in that industry. Hip-hop is a culture that consists of the MC, dancer—which is not breakdancing, it's popping, locking, rocking, b-boying and b-girling—  DJing in all its facets, and graffiti or aerosol art. When I speak about the culture, I'm talking about these four fundamental elements," explains Pabon, who left DMC in 2000 to organize battles on her own, but would later return in 2008 to become CEO of DMC USA, a position she still holds today.
It was during her hiatus from DMC that she and Fabel launched the "Tools of War Grassroots Hip-Hop Newsletter." For over ten years, the weekly e-newsletter has served as a guide to local and international hip-hop events. Whether it was back in Pittsburg, or when she first came to New York, finding out about good hip-hop events has been a lifelong pursuit. "I've made it my business to know what's going on," she says.
T.O.W. Newsletter features a tightly edited selection of underground hip-hop events, from book readings in New York, record swaps in the UK, or concerts in San Francisco. Events are hand-picked by Pabon and her husband from a number of submitted event listings. "You're not going to catch me listing the next Lil' Wayne concert. The unifying thread is you have to have a quality DJ on your bill, or I probably won't be interested. It sounds so snobby, but I can't list everything," she says. In addition to events, the newsletter also delves into activism, with listings for protests and community meetings dealing with issues such as police brutality, women rights, and Muslim rights. Pabon, who was raised Catholic, converted to Islam shortly before tying the knot with Fabel, who is also Muslim. "To me, fighting for your rights and hip-hop goes hand-in-hand."
"Hosting Christie's events have to be some of the most rewarding work I've done in hip-hop," says Grandmaster Caz.
One of "Tools of Wars" most talked about and anticipated events is the free, all-ages True School NYC Summer Park Jams in The Bronx and Harlem, which Pabon has been organizing since 2003. They are hosted by the Cold Crush Brother's Grand Master Caz . "Hosting Christie's events have to be some of the most rewarding work I've done in hip-hop," says Grandmaster Caz. "It's a labor of love and not always easy, but Christie pushes on and forward." Attended by hip-hop enthusiasts from all over the globe, the weekly jams are Pabon's way of recreating the outdoor parties she sorely missed out on in the '80s. "To finally have done events in The Bronx, the magical spot for jams, is incredible for me."
The park jams have been a big success with visiting hip-hop fanatics, and the communities they are held in, and Pabon and Fabel are both adamant about keeping them clean. That means no profanity, racial slurs, or cursing on the mic. "I can't think of any other events where it's clear on the flyer and press releases that we don't want anyone drinking or doing drugs at the jams," says Pabon.  "It's a strong statement that some don't like. If people are getting drunk in the hot sun, they are more likely to fight or have accidents, and I've worked way too hard to make this happen to lose it all."
Next summer will mark the tenth year for the park jams, and the list of legendary DJs who have spun there is a rolodex of hip-hop vets: Kool DJ Red Alert, Grandmaster Flash, Luvbug Starski, Kool DJ AJ Scratch, and the man who ultimately inspired Pabon's devotion to hip-hop's early years, Afrika Bambaataa.
"When I bought Bambaataa's 'Renegade of Funk' 12 inch, I was drawn to the message of peace, unity and community of the Zulu Nation. It was ingrained in me so much that I had this Teena Marie rainbow colored utopia idea of hip-hop," says Pabon, who admits that she was idealistic and naïve back then.  "I would get out in the world and realize I was open to liking everyone, but maybe not everyone was open to liking me." She learned a hard lesson at a Brand Nubian and Chubb Rock Concert in '91 in Pittsburg. "Some people were making it rain ice cubes all around me. I was bummed, but I just figured they just didn't know what Bambaataa was up to. It never made me want to turn my back on hip-hop."
That sobering experience stayed with Pabon and she vowed to always make everyone at her events feel accepted. Judging by the international and racially diverse audience, she's succeeded in bringing a global hip-hop community together to party in The Bronx and Harlem, and pay respect to the veterans of hip-hop.
"If you know about the history of how the media focuses on white people in the industry, you don't want to be that white person people make a big deal about when other people are doing just as important work."
.Pabon has always shied away from the spotlight, pferring to focus on the larger mission: "Keeping the culture alive," as she tells it.  "People don't understand just how much she goes through to make these jams happen. It took a lot to get her on the mic, so she can let people know who is throwing these events," says her husband. Still, Pabon doesn't want anyone to misinterpret her intentions. "To be white in hip-hop, in what I do, isn't always to your advantage. Maybe in the rap industry, being the next white rapper is a big deal. If you know about the history of how the media focuses on white people in the industry, you don't want to be that white person people make a big deal about when other people are doing just as important work."
Her modesty and humbleness is what draws people to Pabon in an industry where promoting oneself can overshadow preserving the culture. "A few more Christie Z's in this industry would be great, but unfortunately there's only one", says Grandmaster Caz, "and she's ours!"
Link
Blackboogmag.com – Meet Christie Z. Pabon, the Hardest-Working Woman in Hip-hop

Latest posts by Alexandra Phanor-Faury
(see all)