Áslaug Magnúsdóttir, co-founder and CEO of Moda Operandi, the first and only luxury shopping site that allows you to purchase looks straight-off the runway only days after the shows, took some time out from her current hectic fashion week schedule to share her thoughts on the Spring 2013 collections, the stand-out trends and her personal shopping list for next spring.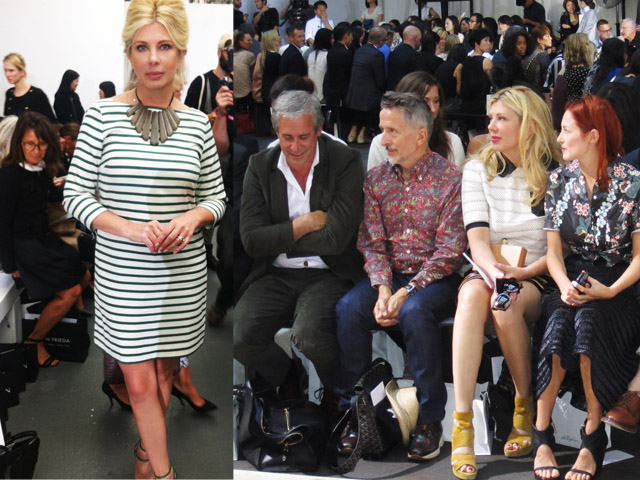 Left: Áslaug Magnúsdóttir at the Antonio Berardi Spring 2013 show, Right: Magnúsdóttir sitting pretty in the front row 
How would you describe the mood for Spring 2013 at NYFW and what trends are you personally looking forward to wearing next Spring? 
I would describe the mood for Spring 2013 as feminine and luxurious with lots of leather, sheer fabric and jewel embellishment.  I loved the patchwork detail presented by Proenza Schouler and Ostwald Helgason, the ultra-feminine Jason Wu collection and the amazingly modern striped sixties suits and dresses from Marc Jacobs. I would describe my style as feminine but with an edge. I am particularly excited about the stripes, the patchwork and the jewel embellishment.
Patchwork: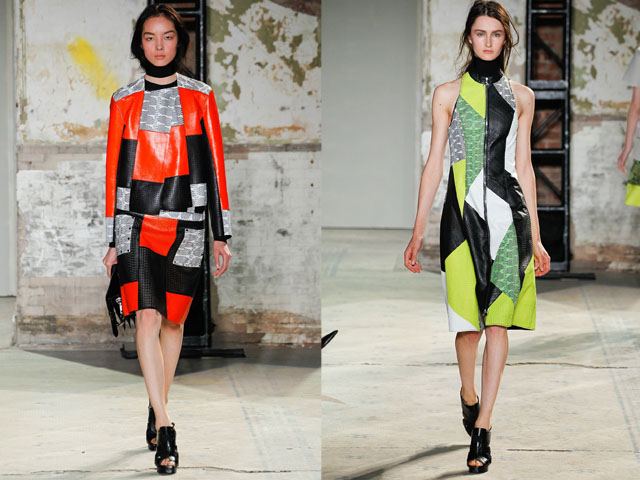 Proenza Schouler Spring 2013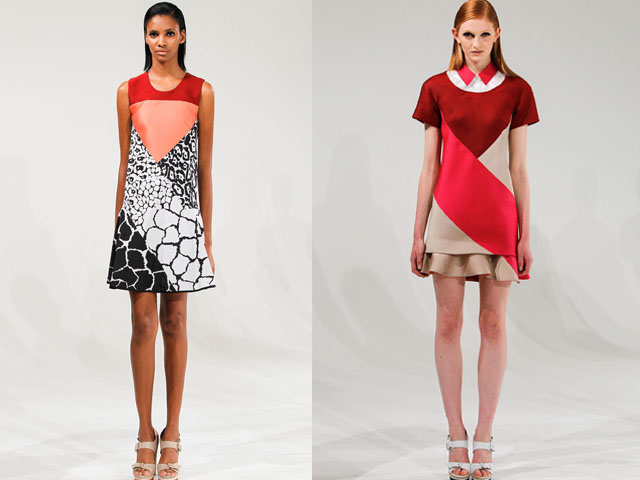 Ostwald Helgason Spring 2013
Feminine frills: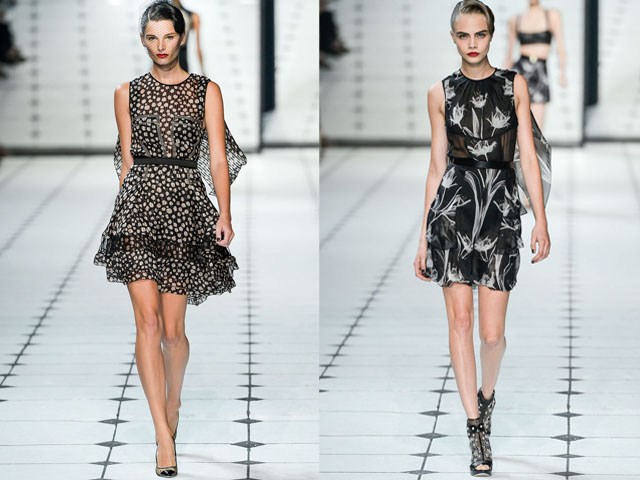 Jason Wu Spring 2013
Stripes: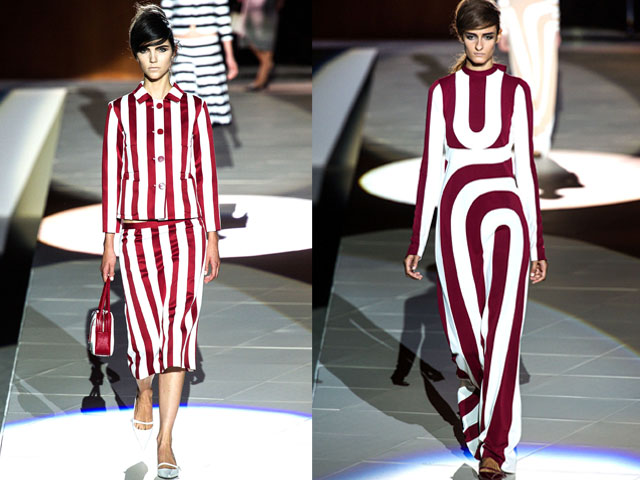 Marc Jacobs Spring 2013
Jewel embellishments: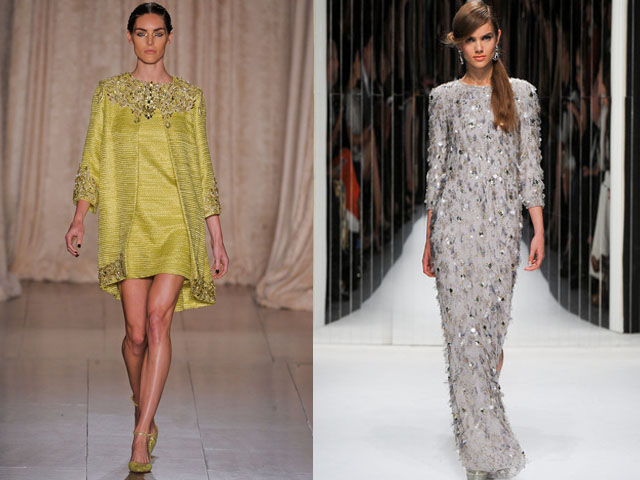 Left: Marchesa Spring 2013, Right: Jenny Packham Spring 2013
What pieces from NYFW are you coveting for next spring?
A blue and white patchwork style dress from Ostwald Helgason, Proenza Schouler  gladiator style boots and a Marc Jacobs striped dress.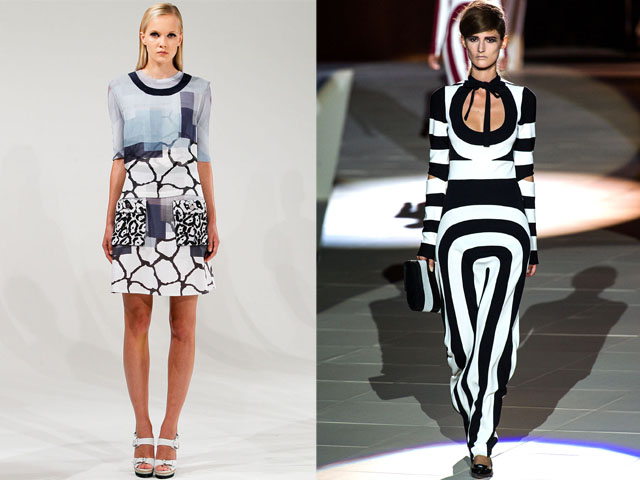 Left: Ostwald Helgason patchwork dress for Spring 2013, Right: Marc Jacobs graphic dress for Spring 2013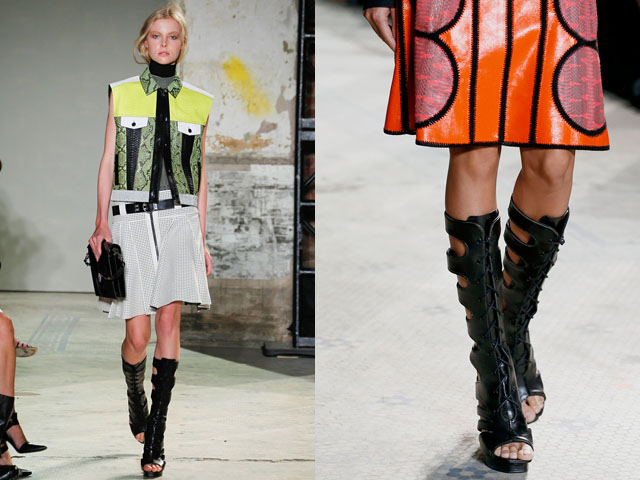 Proenza Schouler gladiator boots for Spring 2013
Attending the shows is a big part of your job at Moda Operandi. What are you looking for when attending a show? 
I look for collections that represent a strong and interesting point of view, and for unique pieces that reflect great design and that have the capacity to inspire. Our customers have a broad range of distinct personal styles and they really love having access to the best designers from around the world to have the ability to buy and secure exceptional pieces that may not be offered anywhere else. For that reason, we feature a good mix of established and emerging designers with varying points of view.
How soon do the collections from this past NYFW become available on the site?
We've been able to offer our customers the ability to pre-order from select collections immediately after the runway show, but most collections are available on the site as soon as two to three days after the show. Pieces arrive for the season they were designed, but the average wait time for customers is between 4 and 6 months.
There's been a lot focus on disposable clothes for some time now. Do you see things changing with customers putting more of an emphasis on quality today?
Fast fashion offers a completely different value proposition that what we offer. Our consumers tend to define value as access to great design vision and construction.  They approach shopping as collectors who are curating an ultimate wardrobe of pieces that they plan on keeping forever.
Who is the M'O shopper?
Our customers come from all over the world because we have the ability to ship worldwide. Typically, she's a savvy shopper who appreciates the craftsmanship and vision of designer pieces, but who may not necessarily have the time or ability to get to fashion shows herself.
What caught your eye at London Fashion Week Spring 2013?
London Fashion Week just wrapped and there was a lot of vibrant color and edgy feminine designs. I loved the collections of many of the designers I saw including Mary Katrantzou, Matthew Williamson, Jonathan Saunders, Peter Pilotto, Antonio Berardi, Christopher Kane,  and J.W. Anderson. In Paris and Milan, there is so much I am excited for and it includes Valentino, MGSM, Alberta Ferrety, Carven, Isabel Marant, and Rochas.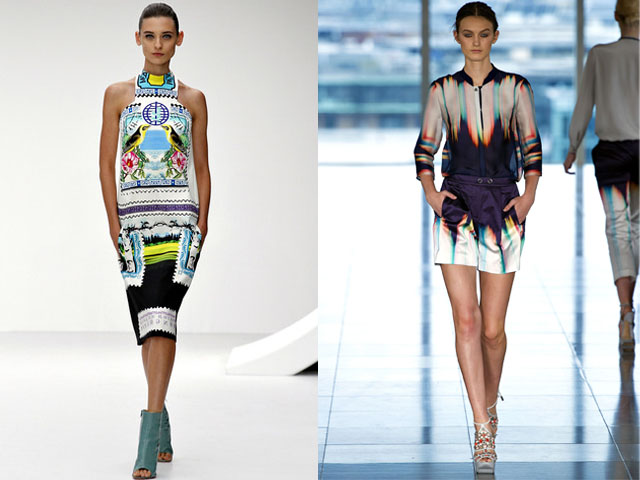 Left: Mary Katrantzou Spring 2013, Right: Matthew Williamson Spring 2013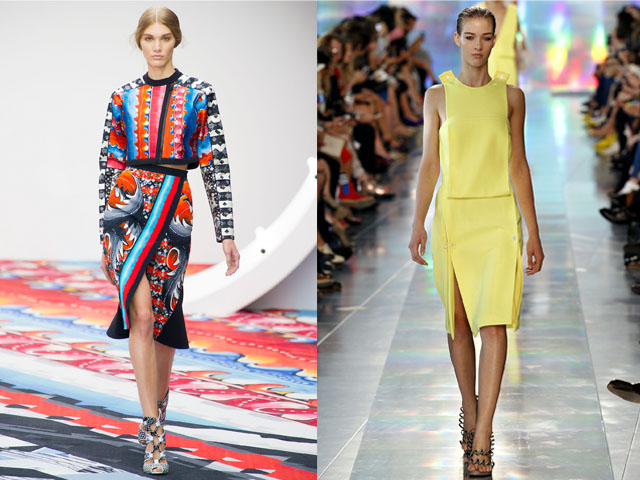 Left: Peter Pilotto Spring 2013, Right: Christopher Kane Spring 2013
-Alexandra Phanor-Faury

Latest posts by Alexandra Phanor-Faury
(see all)