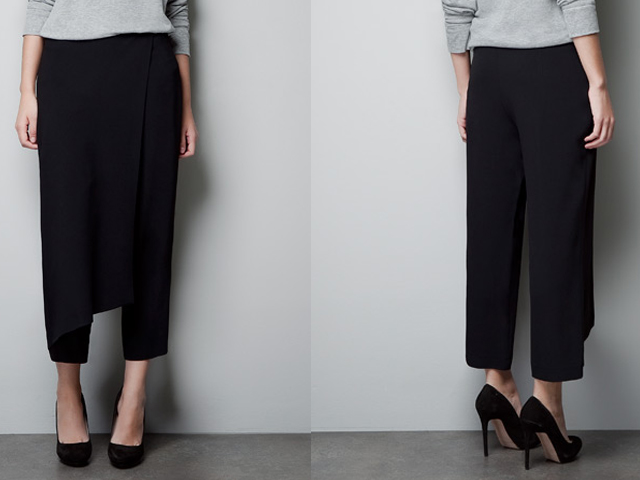 Let it be known that today, January 9th 2013, is the day my luck, my terrible luck, changed for the better. No, I did not win the lottery, find a bag full of cash in a paper bag on the subway or even win a week's worth of free soup at my current favorite lunch spot Hale & Hearty. All things that truly are markers of great luck, but after a month of trying desperately to get my hands on these Zara Studio Trousers, they are mine, finally! This morning, like every morning as of late, I logged on to Zara.com to check on the availability of these pants and was ready to be greeted with the usual, "sold out, bitch! Try again" or "you know you can't fit into an x-small, so don't even think about it!"
Today the fashion Gods blessed me.Not only are they not sold out but they are available in every freaking size. All of sudden my day was turning out to be a very good one. As you can see, it doesn't take much to make me happy.
I've been feigning for these dressed-up sari inspired trousers ever since I first spotted them on Zara's lookbook. The moment I laid eyes on them I loved them so much my head was spinning with delight. The bohemian slash minimalist and sleek vibe of these pants was totally working for me. It's an easier way to pull-off the skirt over pant look I loved at the Spring'13 Lanvin and Givenchy collections. It didn't take long for me to start concocting different outfits in my head.
And at $89.90, I knew these babies HAD to be mine! Unfortunately, I wasn't the only one coveting them. At first the more they were sold out, the more I craved them. Surprise, surprise, right? Although, just last week I convinced myself that such a popular pair of pants would certainly mean that the chances of me walking into a room and taking part in a "who wore it best" contest was inevitable. I was getting comfortable with the idea of letting these pants go until a friend chimed in about how she has yet to see anyone wearing them. And I quickly agreed. I mean, I really haven't spotted them on anyone. That was all the reassurance I needed to get back on pants watch duty.
Things were looking a bit bleak until I finally, finally scored them this morning! Now, let's see how these actually look on. Hopefully they won't be cut in some odd way that will crush my dreams. But before I even get a chance to try them on, I'm already wishing I could own them in white too.

Latest posts by Alexandra Phanor-Faury
(see all)