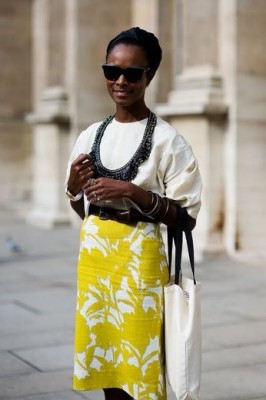 While there may be an endless supply of pretty faces decked out, with the help of stylists, in head-to-toe au courant, designer pieces making the red carpet and party rounds, to catch our eye here at ESSENCE.com, one must approach fashion with a truly individualistic approach, have savvy personal style, be adept at interpreting trends to make them her own, have an understanding of what looks good on her frame and, by all means, she must possess impeccable taste.
Finding someone like that these days can be rather difficult in a sea of style copycats, so you can imagine our giddy, school girl excitement when we discovered Shala Monroque…
The stunning social jet-setter, art enthusiast and editor-at-large of "Pop" Magazine possesses a high-level of sophistication and elegance with a dose of eccentricity that is rarely seen and sorely missed in today's fashion landscape. Monroque first piqued our interest at the Paris Fashion Week S/S 2010. And how could we miss her? Among a sea of severe black and leather ensembles, there was Monroque front row at every show in a riot of eye-popping hues, prints, textures and statement necklaces textures. We love her willingness to stray from the pact with confidence. It's no wonder this editrix made Vogue's top ten best dressed list. Comments reach a fever pitch on The Sartorialist street-style blog every time her photograph is featured. There's no doubt in our minds that Monroque is surely on her way to taking the fashion world by storm–both as an editor and as a style icon.
The now-famous spotting of Monroque outside the Miu Miu S/S 2010 show in head-to-toe Prada has come to define Monroque's style pedigree. This is the image that got bloggers and fashion insiders professing their love for Monroque's coveted style and touting her as fashion week's breakout star. The pencil, flower printed, yellow Prada skirt paired with a simple brown leather belt and elaborate, tribal-tinged bejeweled Prada heels from F/W 08, beaded statement necklace and her signature chic turban says polished, urban sophisticate.
Nevertheless, we love that she opted for a simple, cloth tote instead of a designer handbag to complete her stellar look. It's those small, offbeat details that add layers to Monroque's phenomenal looks and proves she's not into taking fashion too seriously. And though we would love to own her enviable wardrobe, it's her shinning confidence  that has all of us paying close attention.
Link
Essence.com – Closet Envy: Fashionista Shala Monroque

Latest posts by Alexandra Phanor-Faury
(see all)