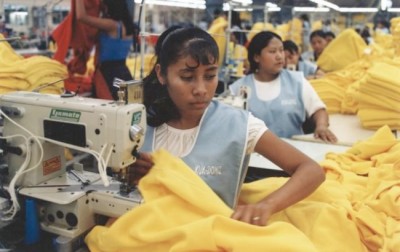 Public interest in the campaign against sweatshops hit an all time high in the '90s following the news that high-profile brands like Nike and Gap were using sweatshop factories that paid women and children mere pennies to produce their merchandise. The anti-sweatshop movement, along with widespread public pressure, would ultimately force these companies to reevaluate the working conditions in some of their facilities. Although the fight for a sweatshop-free world may have evolved and strengthened over the years, it seldom makes the front-page news—that is until a major brand or celebrity is an offender. "It's sad, but if you can implicate a name that is known to the public in this messy issue you can get attention," says Robert Ross, a Clark University Sociology professor whose book, Slaves To Fashion, takes an in-depth look at the death and re-birth of U.S. sweatshops in the 20th century. "Every once and a while, we people who are concerned about these matters break through the crust of apathy and get a little airtime."
And that's exactly the case with the recent shocking reports on the multiple labor violations at Apple's Chinese manufacture, Foxconn, the lawsuit filed against Alexander Wang for alleged labor law violations by workers, and the Human Rights Watch investigation into the working conditions of the factories where the Kardashians' clothing line is produced. "Sweatshop" is once again a buzz word, and the anti-sweatshop movement is taking full advantage of this renewed media attention on worker rights to continue to push for systematic change, galvanize the ever-increasing segment of socially-conscious consumers, educate those unfamiliar with the cause, and air out the industry's dirty laundry. The collective mood right now among activists is one of hope.
"The best way to protect worker rights is to ensure they have control over what they do and are paid a fair wage."
"I think right now we are seeing a push for more transparency because of all the current bad press that has come out," says Green America's Fair Trade Campaign Director, Elizabeth O'Connell. "Factories and brands need to be held accountable for exploiting their workers." Through consumer action campaigns, Green America works to advance environmentally and socially responsible business. "The best way to protect worker rights is to ensure they have control over what they do and are paid a fair wage." Hershey's chocolate is Green America's latest target, thanks to their unfair labor practices and forced child labor in West Africas.
The concept of empowered factory workers is an unheard notion in sweatshops around the world where the basic rights of workers (mostly women and teenage girls) are disregarded. Violations such as dangerous working conditions, child labor, forced and unpaid overtime, discrimination against union members, and a lack of living wages have been documented at factories across Asia, Central and South America, and the U.S. In this globalized economy, companies facing pressure to meet quarterly earnings have strived to keep costs down by working with the cheapest factories regardless of their labor practices. This profit-boosting but socially irresponsible model has become the norm at the expense of factory workers.
The International Labor Rights Forum, a non-profit, non-governmental organization that organizes for the rights of workers around the world, featured several familiar brands in their 2010 Sweatshop Hall of Shame. Abercrombie & Fitch, Hanes, Pier 1 Imports, L.L. Bean, Ikea, Wal-Mart, and Kohl's all earned their spot on the list for being uncooperative in addressing a number of violations by their suppliers that include poverty wages, unsafe work conditions, illegal suspensions for union members, and child labor.
Since most companies don't own the factories from which they outsource their goods, and because the labor laws in these developing countries are hardly enforced, the brands often claim ignorance to conditions on the ground or simply dismiss the allegations. For Liana Foxvog, The International Labor Rights Forum's Co-Director of SweatFree Communities, indignation and unawareness are lazy excuses. "Many top brands are using hundreds of different subcontractor factories," Foxvog explains, "but at the same token they stay in touch with all these factories to go over updates on designs and product quality control. They can also handle communicating the labor expectations."
We saw this dance of naïveté famously play itself out on national television back in 1996 when Katie Lee Gifford appeared on The Today Show to deny any knowledge that her Wal-Mart fashion line was being produced in a sweatshop by teenage girls in Honduras, as revealed in scathing report by the National Labor Committee. NLC's Charles Kernaghan, who has perfected the art of publicly confronting designers and companies about their factories' shady labor practices, questioned Gifford on air and made the TV host cry. A vow from Gifford to support labor rights and a campaign against sweatshops with President Clinton quickly ensued.
Sure, there are those companies that after being exposed are persuaded to investigate the charges and implement changes in their supply chain. Take, for instance PVH, the parent company that owns Calvin Klein and Tommy Hilfiger. In 2010, a fire at one of their factories in Bangladesh, which also supplied Gap, JC Penney, North Face, Target, and Abercrombie & Fitch, killed 29 young garment workers who were padlocked inside the factory and could not escape the blaze. Just recently the company signed a memorandum of understanding with several labor rights organizations and unions in the U.S., Canada, and Europe to create fire safety standards for their factories and fund independent monitoring. It takes more than one company at a factory, however, to make any real changes to workers' wages and conditions. Each factory produces goods for many brands at one given time, so unless all the brands get on the same page when it comes to supporting worker rights, these small changes won't have a significant effect.
"There are companies who get pressure all the time and they never change. They become larger targets of what is wrong with sweatshop labor," explains Harvey Epstein, Community Development Director at the Urban Justice League, which offers free legal services to low income New Yorkers. In 2003, UJL represented a then 19-year-old garment worker who worked at Southeast Textiles S.A., a factory in Honduras producing P. Diddy's Sean John t-shirts for 90 cents an hour. She complained of mandatory pregnancy tests, non-paid overtime, and verbal abuse at the Southeast Textiles S.A. factory. Following an avalanche of bad press, Sean John made improvements to that specific factory. "The pressure brings light to the problems, but it has to be an internal decision about caring for people around the world or else it's just talk," adds Epstein. "The strongest guarantor of decent conditions is a strong union. These companies have to get off the anti-union horse. The apparel industry is under six percent unionized," says Robert Ross.
Even Nike, one of the very few apparel companies who freely disclose all the factories they use and are praised for adopting policies that support worker rights, continue to come up short, despite being touted as an example for other companies to follow. Just earlier this month, 107 workers at a factory where Nike apparel is being made fainted due to poor ventilation and exposure to chemicals. So how meaningful are codes of conduct if they are public relations moves? This is why independent third-party monitoring of factories are crucial to see beyond the smoke and mirrors. Even then, factory management has been known to falsify their books and coach their workers on what to say to inspectors.
All this makes shopping with a conscience an overwhelming experience. We are bombarded with labels that let us know that our chicken is organic and our light bulbs are green, but what about our gadgets and clothes? Author Kelsey Timmerman wasn't satisfied with shopping blindly and wanted to know exactly where and in what conditions his favorite T-shirt, underwear, jeans, and flip-flops were made. Timmerman travelled to China, Cambodia, and Honduras to visit the factories his clothes were manufactured and, most importantly, talk to the workers who all complained about wages.
"The garment industry does something that's really important; they go to places where there is a lot of poverty and they provide jobs," says Timmerman who documented his travels in his book, Where Am I Wearing? "We need a garment industry that pays people what they are worth. There is a reason why a mother in Bangladesh will work for 24 dollars a month: she has no other options. We are not gonna shop our way into a better world, but we can start by being engaged consumers."
Perhaps one of the most successful anti-sweatshop campaigns to date in the last ten years has been spearheaded by college students across the country. United Students Against Sweatshops has been instrumental in pressuring universities to sever their ties with brands that utilize sweatshops to produce their collegiate apparel. "The issue of sweatshops is especially relevant to college students because of the unique leverage that students have over multi-national apparel brands. We had tons of influence to affect the behavior and labor rights practices and policies of these brands," explains Teresa Cheng, USAS's International Campaigns Coordinator. Launched in 1997 during the height of the sweatshop scandals, USAS has since gotten a large number of universities including Duke and Cornell to break lucrative contracts with many brands. In fact, the Worker Rights Consortium, an independent labor rights monitoring organization, founded in 2000 by university administrators, students, and international labor rights experts, joined forces in 2009 with leading supplier of collegiate gear, Knights Apparel, to create a factory that will produce 100 percent sweatshop-free clothes to be sold on college campuses. Alta Gracia is unlike any factory in the world. Based in the Dominican Republic, Alta Gracia is the only factory in the garment industry that makes workers' rights and labor laws a major priority in the work place.
"We've exposed the age-old myth that corporations like to espouse about how you can't pay a worker a living wage and can't respect their right, if you want to compete in the global apparel industry to be a big fallacy,"
"We've exposed the age-old myth that corporations like to espouse about how you can't pay a worker a living wage and can't respect their right, if you want to compete in the global apparel industry to be a big fallacy," adds Cheng. Alta Gracia garment workers are the only ones in the world compensated with a real living wage, nearly three and a half times the prevailing minimum wage in the Dominican Republic making it possible for them to send their children to school, build a home ,and pay their bills. The management even encourages workers to unionize. "How awesome would it be if you knew that every single day what you did for a living had the ability to make a life-changing difference in the lives of people?" ask Joseph Bozich, CEO of Knights Apparel. "That was the motivation behind Alta Gracia." Alta Gracia manufactured goods have won the support of not only college students across campuses around the country, but also high-profile retailer Barnes &Noble; which aggressively market the line in their stores.
"Every month we provide unfettered access to third-party labor rights group," reveal Hodge. "They audit our books and records and they meet with employers. It's not like they come once a month to check up on things. They might be there today or tomorrow. There's complete transparency." Alta Gracia has become a learning tool for the industry at large. Students and labor rights activists and organizations have made regular trips to the factory to see this incredible model at work. Ironically, the space in which Alta Gracia is now housed used to be a sweatshop: BJ&B, which produced college logo hats for brands like Nike and Reebok. The workers were fired for organizing a union to challenge poor working conditions. Pressure from USAS won the workers their jobs, back but not before these high-profile brands pulled out their orders in favor of non-union factories.
"We've never seen a factory that has given us the right to organize freely and have a say in our conditions, has given us dignified work with a living wage. We don't have this intense emotional psychological pressure from management, which makes working easier and better," says Alta Gracia garment worker and union secretary general, Maritza Vargas who previously worked at BJ&B. "It now feels great to be appreciated and to work hard knowing we are making enough to build a good life for our families. This is a dream all workers have and it's wonderful that it's been realized."
Link
Blackbookmag.com – The High Price of Haute Couture

Latest posts by Alexandra Phanor-Faury
(see all)