Isabel Marant designs the kind of clothes that women want to live in. Since launching her coveted ready-to-wear line in 1994, it has come to define the cool and fuss-free approach to dressing synonymous with chic French girls. After discovering the label a few years back on international blogs, Aliya Armorer was hooked. As Armorer's enviable collection of IM pieces grew, so did her fascination with the label and its designer. She set out to pay homage to the line with a blog in 2011, the marant philes, focusing on everything IM. Not only does she share her love for IM, we get a peek inside this 33-year-old speech therapist's amazing wardrobe in which she pairs her swoon-worthy IM staples with go-to pieces from Acne and All Saints for a look that's a winning combination of ease and style. Thanks to Armorer, her fellow avid IM enthusiasts can stay on top all IM related news. She spends hours searching the web and international magazines for interviews with the designer, runways shots and street-style photos of people around the world wearing the designer.
Fringueuse caught up with the lovely Armorer to talk about her favorite topic: Isabel Marant, of course!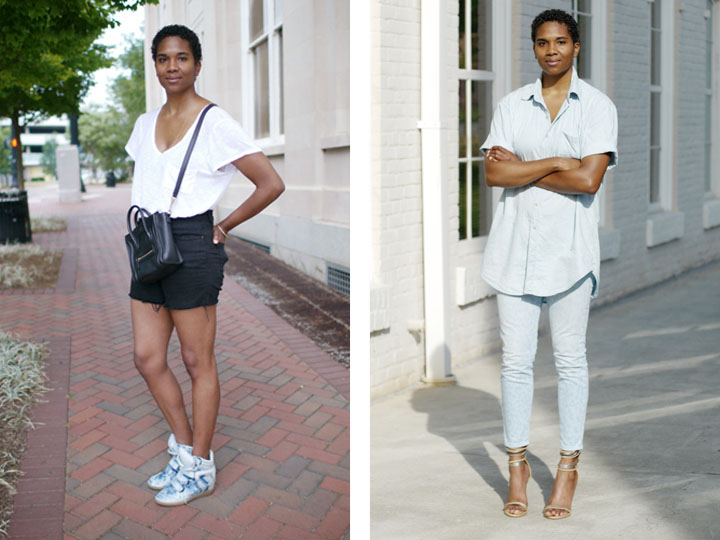 Right: Aliya Armorer wearing Isabel Marant Beckett tie-dye sneakers, Left: Aliya Armorer wearing Isabel Marant Rios sandals.
How did the idea for your blog come to you?
My friends kept telling me to start a blog, and I didn't want to just have a personal one so I thought more about what I liked to see in other blogs. I really love street-style photography and would get so inspired and excited to see different people wearing Isabel Marant so I thought that was a good focus for mine. From there, it just grew into talking about other aspects of her brand as well (e.g., interviews, news, etc.). I knew I wasn't the only person who would be interested in that information or seeing others wearing her stuff so I started the marant philes in December 2011. It's such a great feeling to have readers comment on how much they like Isabel Marant and seeing other women wearing her pieces. I feel like we're a little community.
What is it about Isabel Marant's designs and aesthetic that appeals to you in such a strong way?
I think she really assesses what a woman wants to wear and is very thoughtful in all the details of her designs. So from the silhouettes of her shoes to the way she oversizes her jackets, or even the prints and textures she adds to jeans, they really speak to me. It's what I'd like to wear everyday. I just naturally agree with her idea of what a woman really wants to wear.
What was the first item you purchased from Isabel Marant?
Her Dicker boots!
What are some of your favorite pieces by her and why?
So many to choose from, but my absolute favorite shoe is her 'Amely' boot. There's also this wool top and skirt combo from her Fall 2007 collection that I would've loved to own. So many of her designs become favorites like her current SS12 lace tops (Luz, Rosalie, Raf). I just think they're perfection!
Is there a piece you wish you would have gotten your hands on? or regret you never purchased it?
The 'Amely' boot. I really wish I had bought them when I had the chance. I didn't realize back then how fast her stuff can sell. You have to be on top of it.
How many Isabel Marant sneakers do you own? We've spotted you rocking a number of different styles and we are green with envy.
Haha, four pairs! I went a little crazy for Spring (my favorites are the tie-dye Becketts).
What do you think is her best collection so far?
Wow, that's a tough one to answer. I think 'best' can be so subjective so I could tell you my favorites so far. I really loved Spring and Fall of 2011.
How would you describe your personal style?

I would describe my own style as simple with clean lines and casual in an interesting way. I think Isabel Marant's aesthetic fits in because I'm always trying to find clothing for everyday wear that is stylish, feminine, and unassuming. Other designers and brands I love are Alexander Wang, Acne, Celine, All Saint and Free People.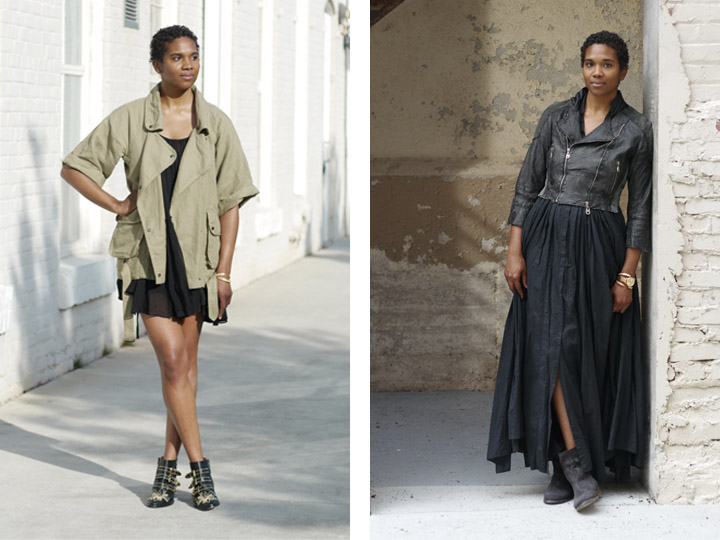 Left: "Here, I'm wearing Isabel's Ulyse jacket, an All Saints Spitalfields dress, and Chloe Susanna boots.  This jacket is so versatile and a nice way to give me layers in the warmer weather without adding bulk."
Right: "I'm wearing a Doma leather jacket, All Saints Spitalfields dress, and Isabel's Jenny boots.  I wanted to give this dress a little edge so I paired it with the leather jacket, but I also wanted it to be more casual so a flat boot did the trick."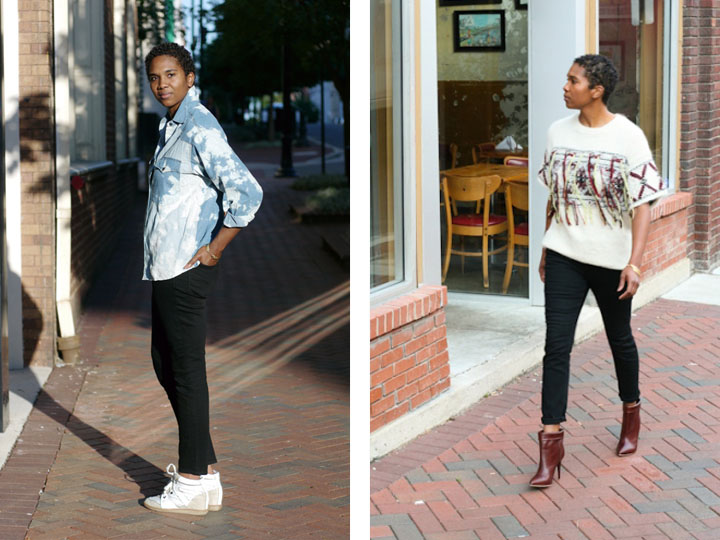 Left: "I loved Isabel's Maggy tie-dye shirt from the moment I saw it. I just loved the drastic splotches of tie-dye so I kept the rest of my outfit, making it the main focus.  I'm also wearing Madewell jeans and Isabel's Betty sneakers."
Right: "This was my first outfit post, and I'm wearing Isabel's Yanka knit, Madewell jeans, and Loeffler Randall booties.  Again, I wanted to keep the main focus on her knit because it has this beautiful, different texture with the hanging threads.  Since her knit adds a bit of bulk, I added more height to my silhouette by wearing the pointed toe booties with a heel."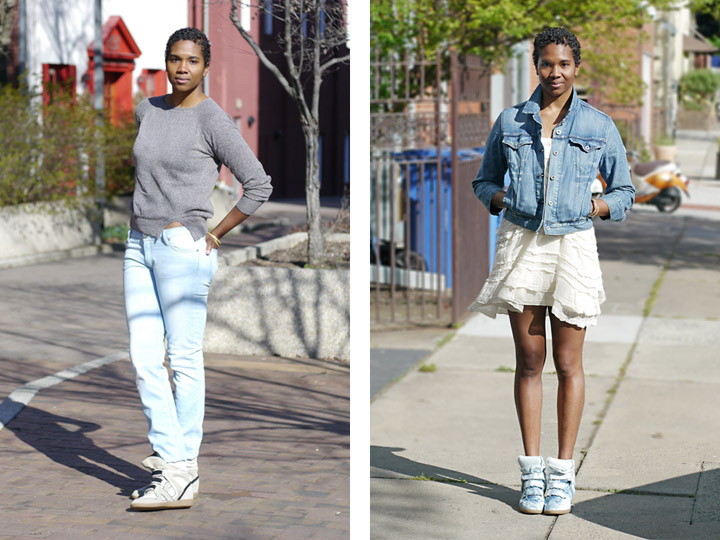 Left: "Here, I'm wearing an Isabel Marant knit, Acne jeans, and Isabel's Willow sneakers. I love these sneakers! Everything about them is exactly what I was looking for in a sneaker (without even realizing I was looking for them).  It just clicked!"
Right: "This is one of my favorite outfits wearing a Levi's denim jacket, Free People dress, and Isabel's tie-dye Beckett. These sneakers were a limited edition so I was so happy to get a pair.  They're perfect!"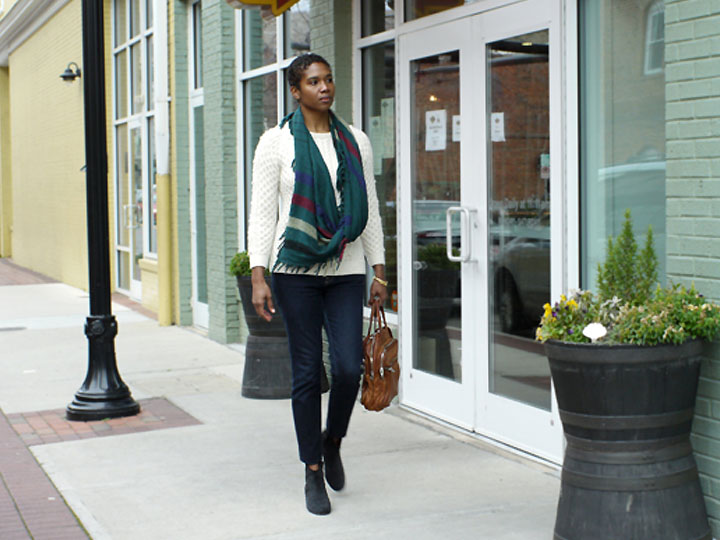 "Here, I'm wearing a knit scarf and boots from Isabel Marant, J Brand jeans, and an Alexander Wang bag. I love this scarf and just wanted to show more of its print. Simple, stylish, and comfortable are usually the words running through my head when I'm getting dressed."
-Alexandra Phanor-Faury
Images via marantphiles

Latest posts by Alexandra Phanor-Faury
(see all)