"I reach for my signature pieces time and time again because I love getting the most out of my clothes," says Grasie Mercedes, a born and raised New Yorker who moved to the West Coast  to pursue her dream of acting, on her daily wardrobe necessities. Since settling in L.A., the Latina beauty has racked up a ton of commercial spots, a handful of acting parts on the small and big screen, and Mercedes also flexes her comedy chops doing sketch comedy with Top Story! Weekly and performing with an improv group called Triggerfinger. With a packed schedule that also includes an on-camera hosting gig on her very own fashion web show, Style Me Grasie Presents on LookTV and running a personal style blog, Style Me Grasie, Mercedes relies on her every-season staples to keep her looking cool and chic 24/7 for everything from auditions to fashion events.
"A military jacket, red pointy pumps, high-waisted jean shorts and anything with a print or pattern are my go-to pieces. I think these pieces perfectly reflect my upbringing and background," reveals Mercedes, who describes her personal style as fun, vintage, chic, urban and easy.
She opens up her closet to show us how she mixes her four prized signature essentials into her everyday wardrobe and reveals her round-the-clock cool styling secrets. "I get a kick out of styling pieces I've had for years in a new way that I've never tried before."
MILITARY JACKET: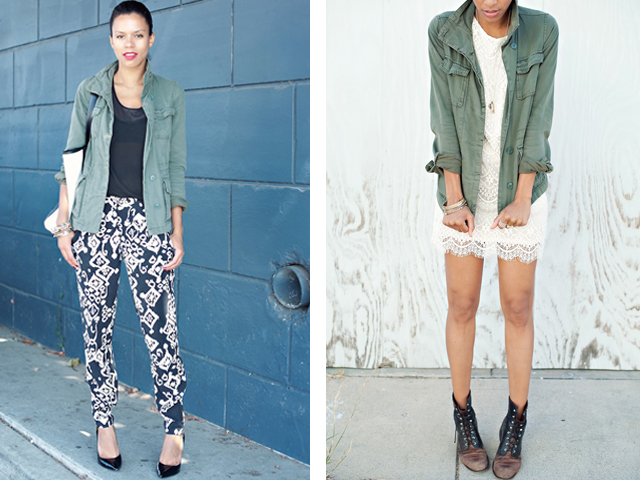 "Military feels very N.Y. which is where I'm from. I love my military jacket because it goes with everything and adds a bit of urban flair," explains Mercedes. She loves to contrast the toughness of her beloved army jacket with dressier pieces. Here, she teams her jacket  with a black and white printed pant, a whisper-thin black t-shirt and classic pointy black pumps for an easy but pull-together look. A pretty lace mini-dress gets a perfectly mismatch tomboy re-styling paired with her trusty military jacket and two toned laced-up boots.
PRINTS: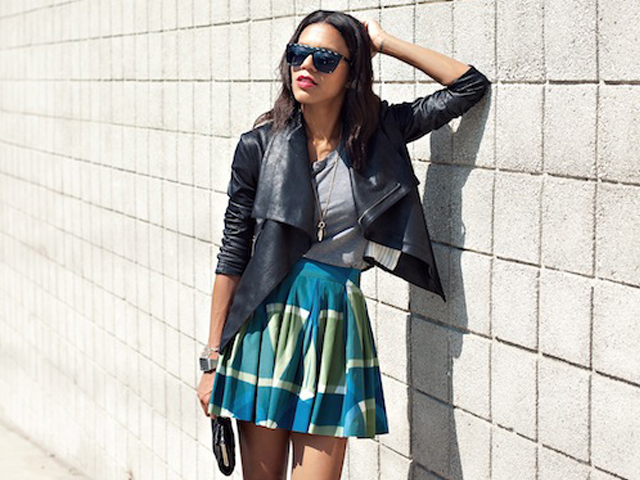 "I'm obsessed with patterns and prints, and I incorporate them into my wardrobe regularly," she says. "Monochromatic looks are great but usually I add some sort of interesting detail to my looks." A graphic and colorful skater style skirt adds a vibrant twist to the perennial stylish combo of motto jacket and mini-skirt.
RED POINTY PUMPS: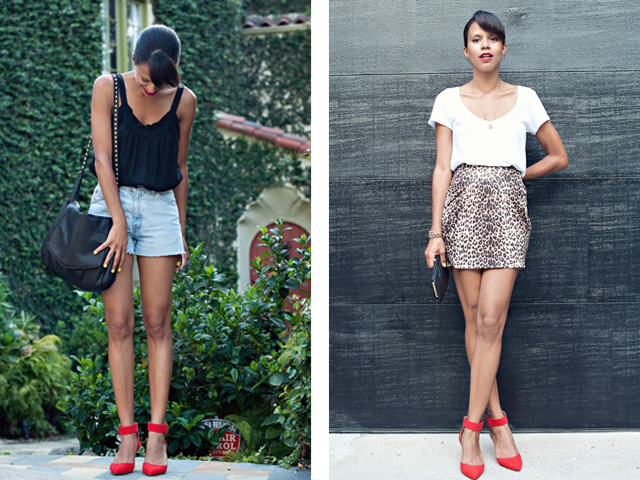 Mercedes shows us just how much cooler every outfit can look with scene-stealing red pumps. "Red shoes are the greatest, whether in the form of pumps or flats, they add the perfect pop of color," she points out. Case in point: these two no-fail chic looks that can easily transition from day-to-night and look relaxed in an effortless way. When the L.A. temperature drops, she plans "to pair the red pumps with dark denim skinny jeans."
HIGH-WAISTED DENIM SHORTS: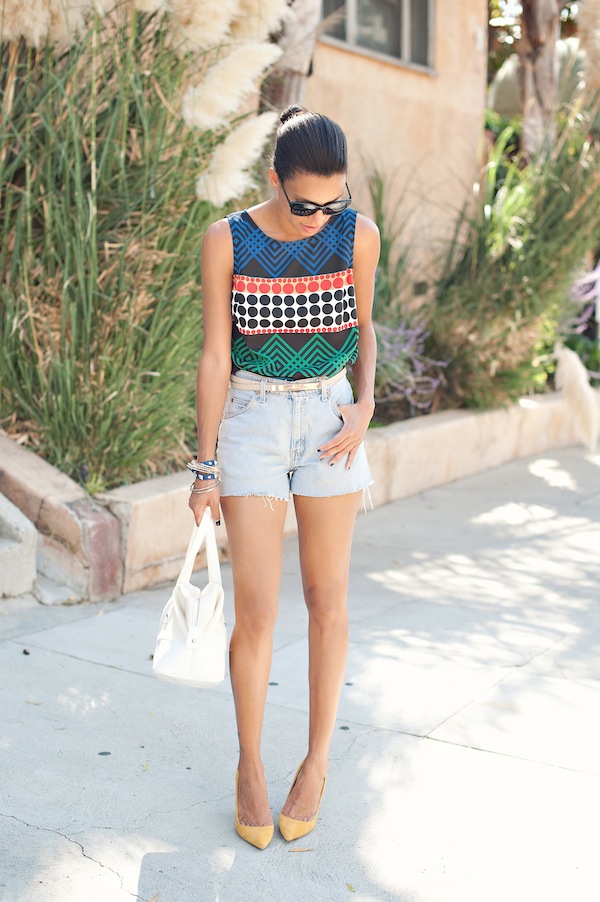 "These shorts are very '70s and '80s retro; which are the decades I was born and raised in," reveals Mercedes. Like most L.A. girls, Mercedes loves incorporating her denim cut-offs into her daily looks. "I go for shorts because they make my legs look extra long!" But she prefers to stick to a high-rise.  "High-waisted work best for my body. I have a high butt, as silly as that sounds, so high-waisted jeans prevent the terrible butt crack action, that would happen often, if I wore a regular rise."
-Alexandra Phanor-Faury
images by Sylvia G Photography

Latest posts by Alexandra Phanor-Faury
(see all)