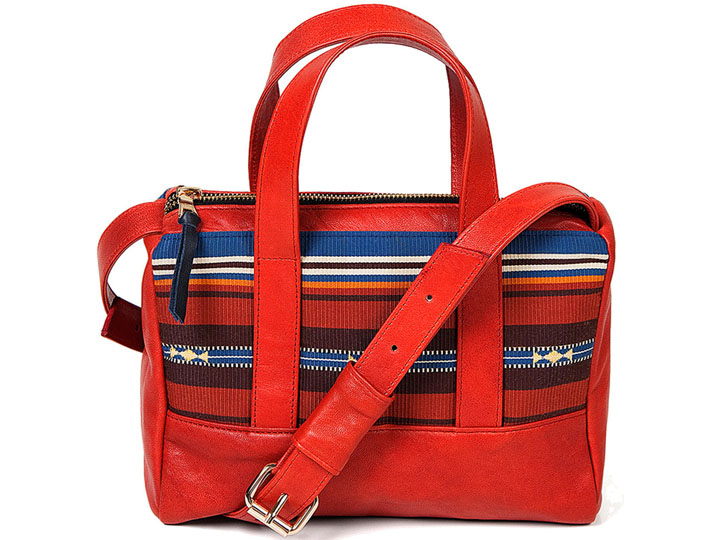 Lia Cinquegrano launched her distinctively printed line of handbags,Thomas IV, to rave reviews back in Spring of 2011. The line's eye-catching textural mash-up and functional styles were a much needed respite from the sea of tough girl accessories dripping in studs on the market then. Cool girl boutiques Barney's Co-op, Jumelle, Bird and Steven Alan all placed orders and Cinquegrano's bags were flying off the shelves. Her eclectic Thomas IV bags even popped up on an episode of the Gossip Girls.
Cinquegrano, who also works as a full-time designer at Nanette Lepore, is expanding on her unique construction techniques for next fall, playing with trompe-l'œil and experimenting with new materials like an embossed leather with a twill pattern that closely resembles denim. Nevertheless, one thing you can you can be sure to expect for seasons to come with Thomas IV is a symphony of colors and textures. "What can I say? I'm a girlie girl who will always love color, prints and patterns," Cinquegrano says.
Fringueuse stopped by her Greenpoint, Brooklyn studio to check Thomas IV's fall collection and to get a sneak peek at what's in store for Spring 2013!
BAG LADY
"I always wanted to design clothes and I studied fashion at the Rhode Island School of Design. I was taking old '80s printed leather jackets and turning them into bags. I was taking pre-existing details and re-appropriating those seam lines or pockets. I was making them because I couldn't find what I wanted. I thought there was a lack of nice casual bags out there. I saved up my money and I wanted to spend it on a nice Chanel bag, but I just couldn't find anything that I felt was my vibe. I wanted a bag with mixed prints, lots of personality, colorful and interesting in a utilitarian way. I did not want a lot of unnecessary hardware, studs or grommets. I designed three styles, shot a lookbook with my brother in his studio apartment and sent it out to everyone. I got picked up by some great stores. I think my bags are quirky and I do get into colorful materials. I don't like to adhere to one style. I like to do what feels right."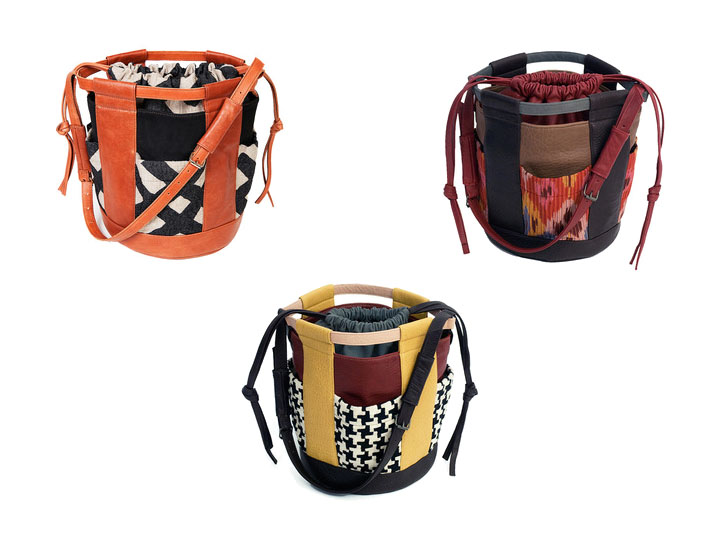 JOANIE BUCKET BAG 
"It's a very popular style and one of the first I designed. I still make them in different fabrics. The concept was to have this drawstring cinch closure that appeared to be like the lining coming out from inside your bag and it has this caged detail at the top. There are four outside pockets and the way the strap is connected to the bag is an interesting detail. I really wanted it to look integral to the design of the bag. I think a lot about construction and I like to use details that are a unique play on trends."
FASHION DREAMS
"For the last six years, I've been designing at Nanette Lepore. I've also done some styling for music videos (Bjork), so I got into bags as another way to be creative. I always wanted to be a fashion designer, so at first designing a successful bag line wasn't so important to me. I just thought I'm gonna put it out there and not care if it gets totally rejected. I'm not going to take it personally. Sometimes when you have a dream for a long time, we tend to put too much weight on it, and then you don't end up trying as hard because you're scared of failing. I have much bigger dreams for this than where it is now. I really want to make a diaper bag that looks really cool. I love shoes! I've been designing shoes at Nanette Lepore for the last year now. Shoes are sculptural and fantastical. I can sketch shoes all day."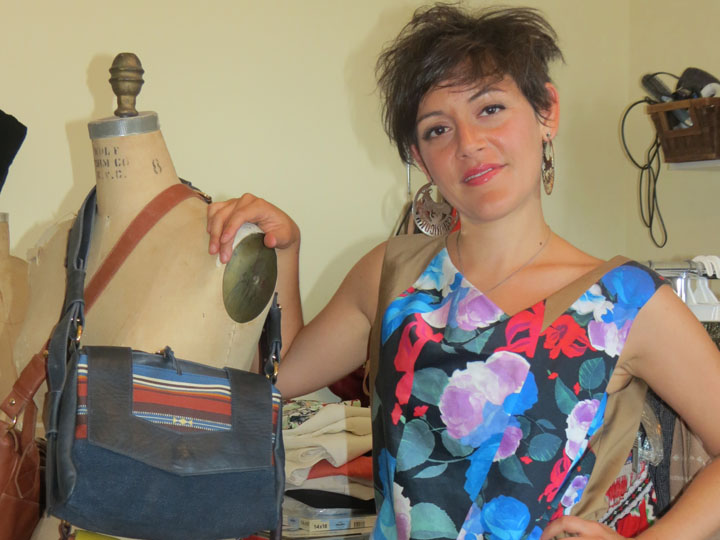 Thomas IV designer Lia Cinquegrano
SPRING 2013
"I've got this great canvas printed rainbow woven linen and zebra print I'm working with. I'm feeling mixing colors and stripes for spring. I'm also using some shiny finishes to play off rustic suede and black matte."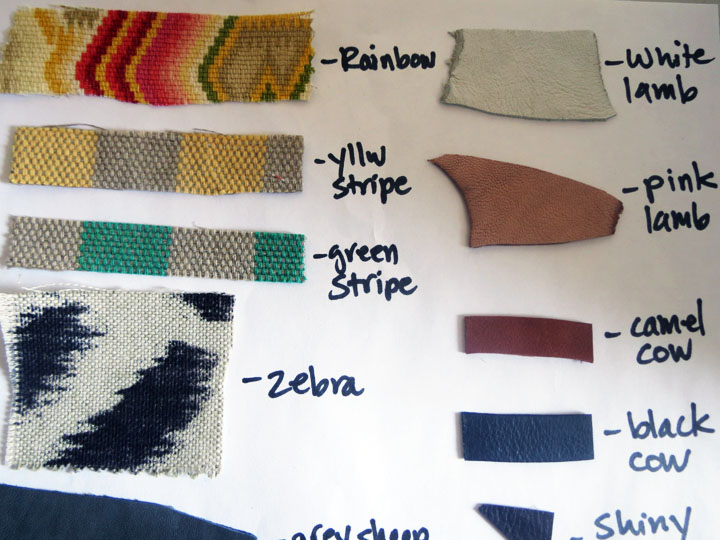 Keeping It Local
"Every day at lunch, I leave my job and go work with my factories or have a store meeting. Nanette (Lepore) is fully aware I'm working on this and she is really supportive. I use all local manufacturing and it's all within ten blocks of the office. It is so important for me to manufacture my bags in New York. I can go to my factory any day and see what they are doing. I learn about every aspect of the process. I like the closeness and intimacy of working locally. It's also so wasteful and expensive to ship stuff back and forth. Of course, it's a great way to support the city's economy."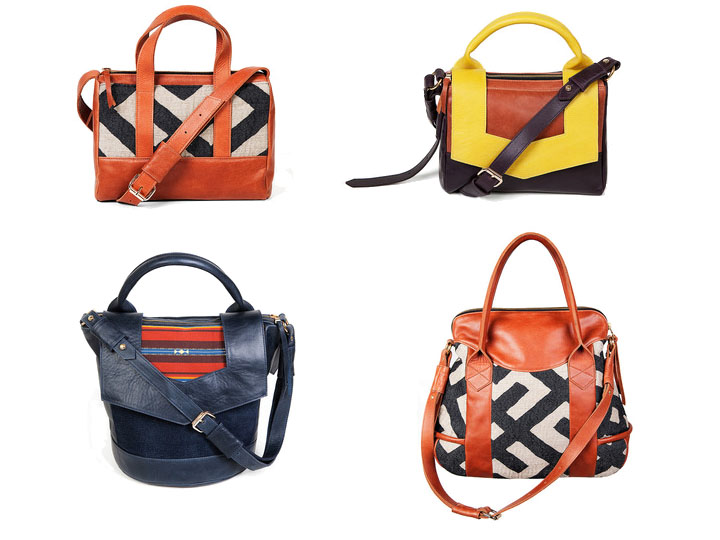 -Alexandra Phanor-Faury
Images of bags via thomasthefourth, portrait of Lia Cinquegrano & swatches by fringueuse

Alexandra Phanor-Faury is a married, Haitian-American journalist living in Brooklyn, NY. Alexandra has reported and written about music, fashion, art and celebrities for websites and publications such as i-D, Nylon & NylonGuy, People Magazine & People.com, Courrier International, BlackBook.com, Trace, Giant, Teen Vogue, Page Six Magazine and Bloomingdales' Little Brown Book.

Latest posts by Alexandra Phanor-Faury (see all)