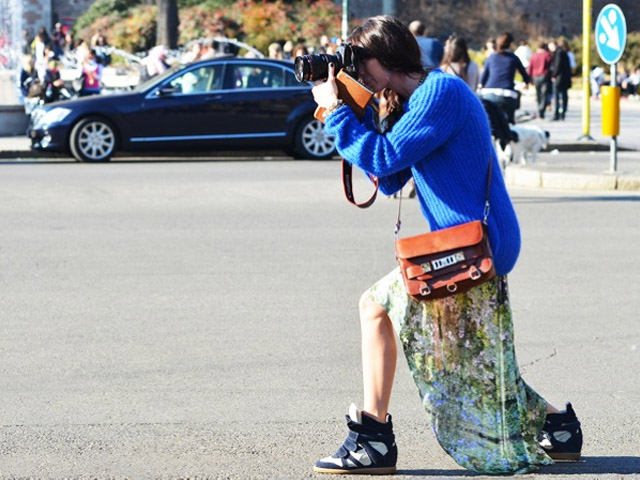 Remember when street-style blogs were in their infancy and how exciting it was to get an occasional peek into the sartorial choices of some of our favorite behind-the-scenes fashion folks sprinkled among several no-name stylish pedestrians? Fast-forward to today, and it's clear that editors and fashion insiders have become the real stars of most street-style blogs. The 'real' people that many street-style photographers once vowed to highlight are now rarely featured. But weren't street-style blogs supposed to be a respite from the insular fashion industry and proof that the shot-callers didn't hold the key to great style? Apparently judging from the number of editors that routinely pop up on these sites, they still do and the more designer clad, and model-esque an editor is, the more likely you'll see her image plastered on fashion blogs around the world.
Many fashion editors have adopted a new role as pseudo models making the leap from behind-the-scenes to the front of the camera. Street-style blogs have made style an essential component in these editors' self-promotion and jobs. Most of the very popular street-style photographers keep their lens focused on the same group of editors. I touched on this current fascination with Scott Schuman of The Sartorialist in an interview for Blackbookmag.com. You can read what he had to say about this annoying trend here.While everyone can appreciate Anna Dello Russo's fun and over-the-top looks, the novelty of seeing her posing for yet another picture outside the shows is beginning to wear off.
We need new faces and new perspectives, like Azza Yousif, a Vogue Hommes International fashion editor who is hardly photographed ( we featured Yousif in our Style DNA.) Many street-style blogs have sadly become similar to flipping through glossies and seeing the same models, It-bags or shoes of the season in constant rotation. Unfortunately, many of them are propagating the very same notion of style and beauty magazines have been peddling forever.
What about those editors that don't moonlight as models and choose not to outfit themselves in every hot trend borrowed from every of-the-moment designers, where do they fit into this street-style world?  Well they don't. Three of our favorite and most proficient fashion editors and critics in the business almost never show up on street-style blogs. Teri Agins of The Wall Street Journal, Sally Singer former editor-in-chief of T: The New York Times Style Magazine and Daily Beast fashion correspondent and Pulitzer Prize winner for fashion criticism Robin Givhan are some of the leading voices in fashion journalism, yet we seldom get to witness their personal interpretations of the subject they've spent a better part of their careers covering.
These are the editors we'd love to see much more of (please!) this NYFW, regardless if their style choices aren't as flashy, editorial or trendsetting as their peers. A dose of looks from these ladies could add a fresh perspective to the ubiquitous editor style round-ups and prove that you don't have to be a fashion victim to get ahead in fashion.
-Alexandra Phanor-Faury

Latest posts by Alexandra Phanor-Faury
(see all)