Back when we first launched Fringueuse, we introduced you to blogger Aliya Armorer. Her blog, of which we are big fans, the marant philes is a love letter to the French designers' aesthetic and a look into her own personal collection of Isabel Marant ready-to-wear and accessories. Check out our post on her here.
We enlisted Armorer to give us her take on Isabel Marant's latest Americana influenced Spring'13 collection.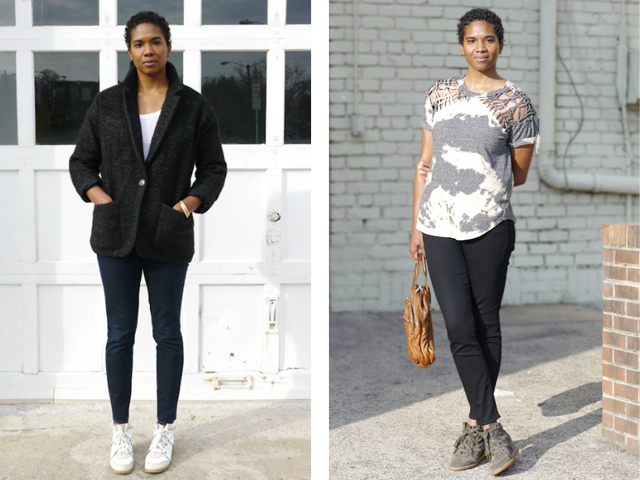 Left: Aliya in an Isabel Marant Xavier coat and Betty sneakers, Right: Aliya in an Isabel Marant Tizy Top and Bobby sneakers
What did you think of the collection?
Overall, I think Isabel stayed true to her vision of how women should casually dress day to day: feminine, confident, and sexy from a woman's point of view. I think she was able to infuse Hawaiian and Elvis inspiration in the fabrics in a way that stripped away the touristy nature of both elements.
What looks stood-out to you? 
Looks 8, 12, 30, and 43 ( see below) stood out to me (first from the point of view that I want to wear them) for taking these very casual silhouettes and elevating them with print on print. The last look was the strongest in my opinion with the embroidery on the flared pants and top, I could stare at it for days.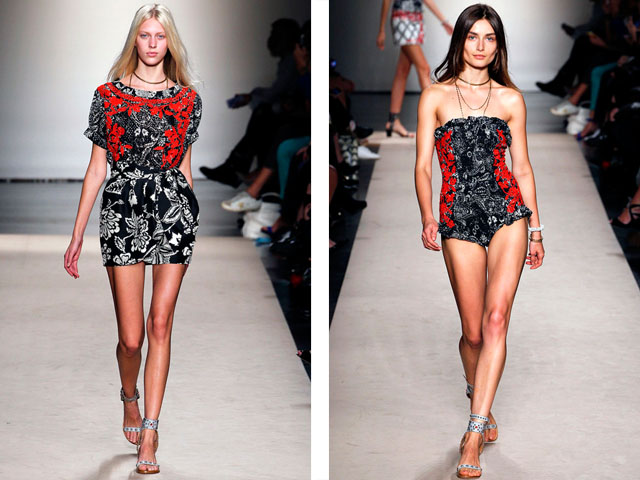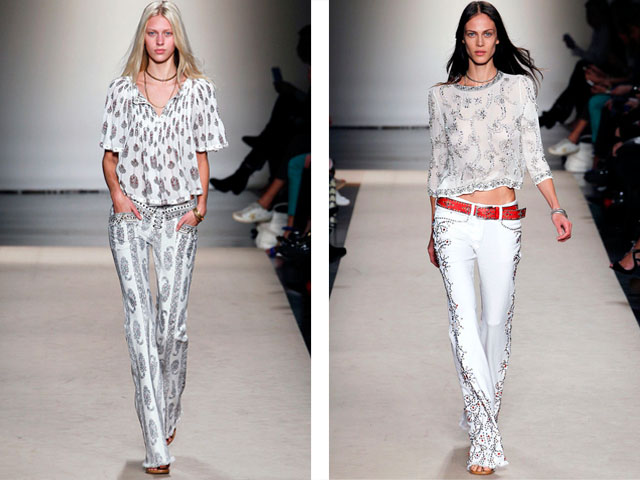 Isabel Marant is known for her must-haves each season. Are you  coveting anything from the show?
Isabel's take on the gladiator sandal, which we've seen a lot of on the runways, was my favorite, particularly in the practicality of them. I read an interview where Isabel stated that she looks at shoes first from a pragmatic point of view, and that spoke to me with these sandals because they looked comfortable, but still had this level of glitz that I'd want.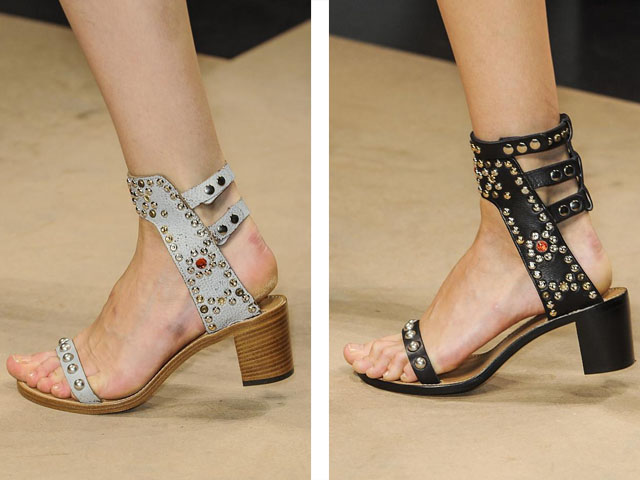 Her accessories (jewelry wise) tend to be more understated, but the embellishment on the footwear was really strong for me. I could easily wear her Spring'13 footwear with any and everything (solids, prints, pants, skirts… short and long).
Picked up any trends from her collection for next spring?
I think the main trend I picked up was "short." I don't know if that's really a trend per se, but it was definitely a wake up call that I should start doing more lunges and cardio if I want to wear those shorts and skirts for Spring!
-Alexandra Phanor-Faury

Latest posts by Alexandra Phanor-Faury
(see all)