Sweatshirts are having a big fashion moment and none more than the sold out '80s airbrushed Balenciaga galactic  iteration. During this recent Fashion Week season, you couldn't click through a street-style blog without spotting everyone from celebrities, models, fashion bloggers to editors donning this boxy Sci-Fi-inspired sweatshirt with a whopping price tag of $3,150!  While the sought-after top is taking the fashion world by storm, we couldn't help but wonder what men, outside of the fashion industry bubble, think about the revival of this geek chic top. For this installment of 'That's What He Said', Fringueuse enlisted Antoine B. to give us his point-of-view on this latest fashion craze along with the fundamental ingredients to his clean and simple personal style.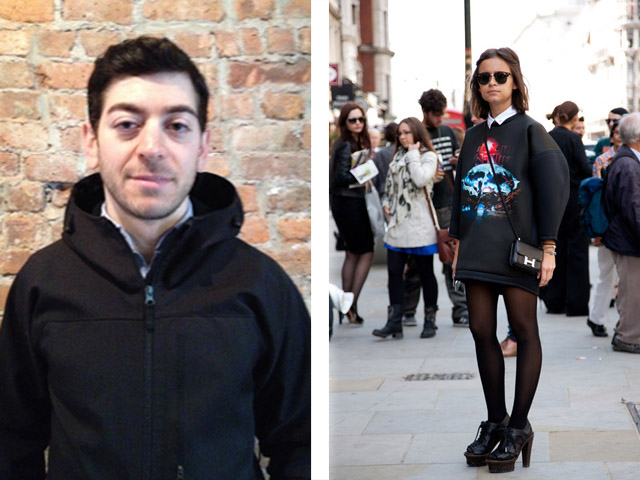 Left: Antoine B., Right: Balenciaga sweatshirt
I pay attention to style by trying to keep things simple. I don't like prints or cuts of the 'moment', and I believe that items should appropriately fit your body. The real challenge is making smart, sleek and simple look well thought out, which I think comes down to execution. I would describe my style as a graduated skater, peppered with a sense of comfort, functionality, tailoring and with an added splash of snobbery.
I look around at a lot of places, although I find that some brands are more reliable than others in their offerings. My favorite pieces depend on what I'm doing; they are all clean, classic and have some personality: Hugo Boss micro stripe suit, Ferragamo shoes and Charvet ties. I gravitate towards APC jeans, Vans Authentic, black/cement Jordan 3 (when I feel like flossing), a basic heather grey or white Polo t-shirt from a 3-pack for basic weekend 'off-time' and  running errands, and Persol sunglasses.
Fashion Faux Pas:
I've had several. There was the parachute pants in the early '80s and Girbaud Jeans in the late '80s. In the early '90s, it was pleats (I don't give a fuck what Issey Miyake thinks, pleats are bullshit) and cargo pants. The first decade of 2000 is a blur, and now it's been thick glasses. I always seem to arrive late to the party.
What do you hate or love about this sweatshirt?
The sleazy sweatshirt look works for me on a lot of levels – I think I got into it with Flashdance – but the way it's presented here just looks stupid and unflattering. It's baggy, so the cut isn't flattering; the bonded fleece gives it a cheap polyester matted finish. It doesn't seem to go well with anything they're wearing. When will people understand that it's never been cool, whether back then or now, to wear '80s glam rock art. Essentially, it's a cheesy pregnancy sweatshirt that is dressed to look 'down-market' chic. When it goes out of style next month (it already is, isn't it?), perhaps they can wear it again a decade from now when they're out drinking with the girls during their third trimester.
Is there any way this piece can look appealing to you?
Yes, when it ignites like a 'Devils Night' building in Detroit, because some dumb girl let the open flame from her cigarette lighter get too close to the material.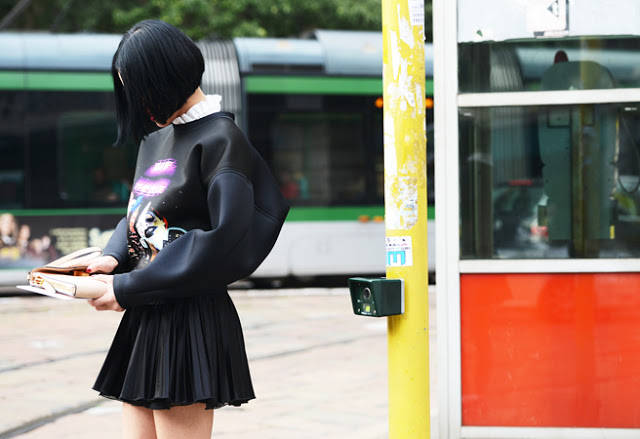 What do you think this sweatshirt says about the women wearing them? 
These girls look as though they're trying too hard, but isn't that everyone in fashion? I lament, however, considering that I see both men and women do it daily. Just head to the ACE Hotel lobby in the evening, or go to Williamsburg and see people attempt to look like their struggling wearing $300 jeans, $200 shirts, $600 shoes, $1,000 jackets and living in $2 million dollar apartments by being a 'graphic designer.'
Would you like to see your girlfriend wearing this?
Yes, during her third trimester.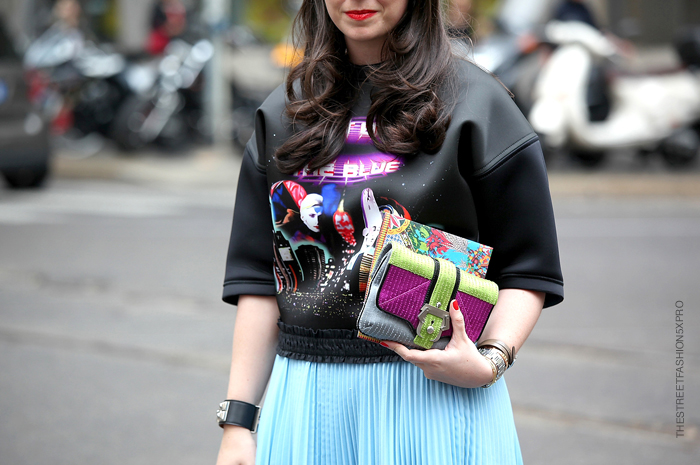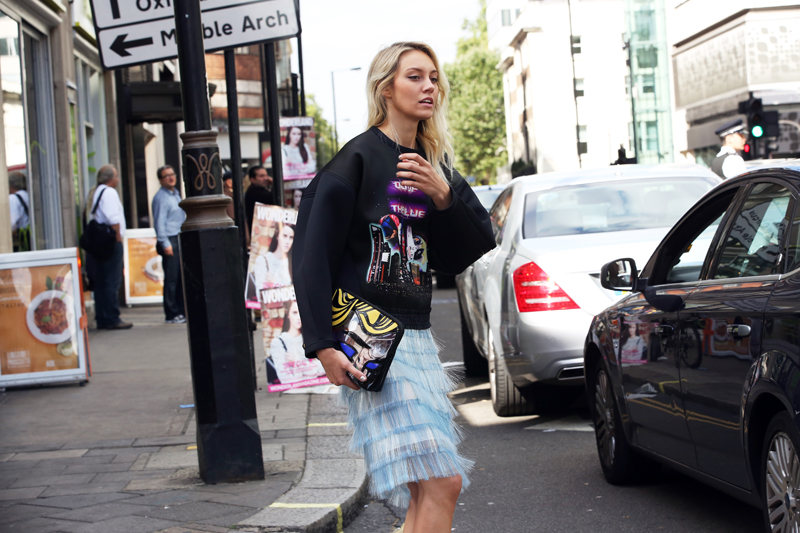 -Alexandra Phanor-Faury

Latest posts by Alexandra Phanor-Faury
(see all)