Streetwear labels re-styling high-fashion brand logos to reflect street culture swag can be dated back to legendary hip-hop designer Dapper Dan in the '80s, who would feature recognizable high-end logos like Gucci and Louis Vuitton on everything from bomber jackets to velour sweatsuits. Today high-end logos are once again serving as inspiration for today's streetwear labels with a number of parody t-shirts poking fun at status logos.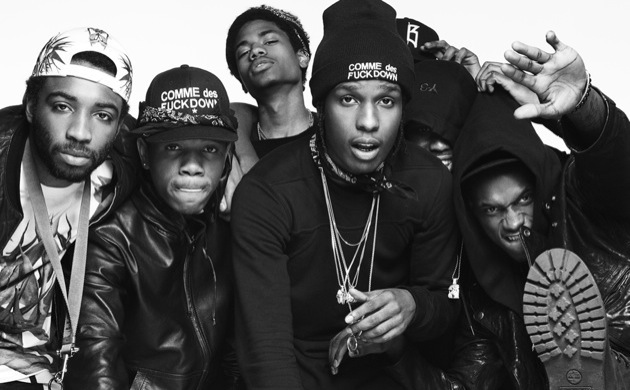 Leading the charge is the highly buzzed about COMME des FUCKDOWN designed by veteran streetwear designer Russ Karablin of SSUR and Caviar Cartel fame.  Although Karablin's  wordplay on designer  Rei Kawakubo's  fashion forward line Comme des Garcons was first born almost 10 years ago, the checky logo is experiencing a massive revival  thanks to the poster boy of street-fashion meets high-fashion A$AP Rocky. Demand for the line skyrocketed when the Harlem MC was spotted wearing CDFD, most notably in his video for "Goldie" where he mixed in CDFD with a wardrobe of mostly Alexander Wang.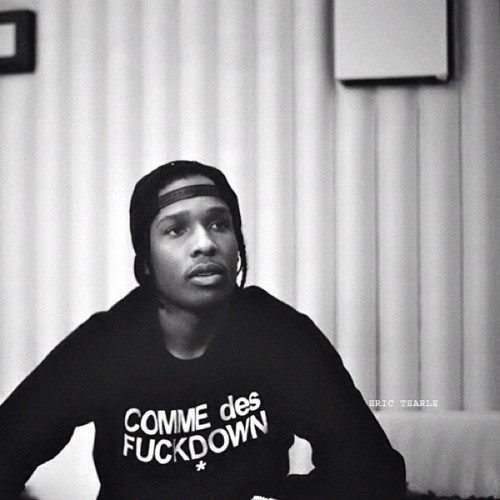 "The A$AP crew would come to the shop in NYC on Elizabeth Street," says Karablin, who forecasted the high-fashion and street culture mix early on in his designs. Another oldie but goodie Karablin design is SSUR's Public Enemy slash Chanel inspired CHANNEL zero line of t-shirts and sweatshirts.  "These two worlds have always been together. I believe this mix of street and high fashion and good music has definitely breathed new life into street culture." says Karablin. "I didn't realize how on the money my timing really was with bringing CDFD back."
The line is re-igniting interest in streetwear fashion thanks to a growing fan club that is expanding beyond the streets with the likes of model Erin Wasson, singer Brandi and fashion blogger Leandra Medine of ManReppeller sporting the line. There's even a tumblr dedicated to CDFD with fans posting images of themselves wearing their favorite pieces. "It's just about trying to tell everyone to calm the fuck down. It (fashion) ain't that serious. I knew it (CDFD) was a great graphic but not that it would explode worldwide as it has."
Is he worried about  Kawakubo shutting down the line? "A little." Nevertheless, he would still love nothing more than to have the Japanese designer rocking CDFD.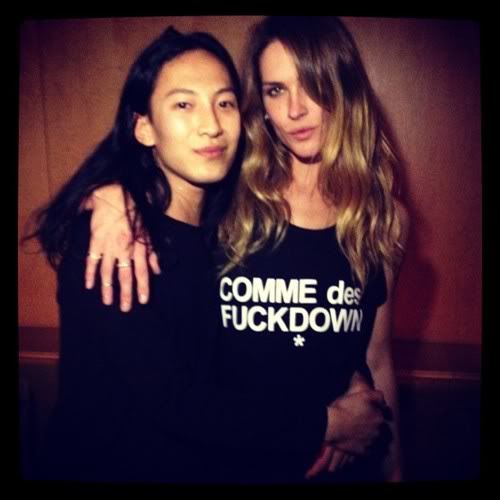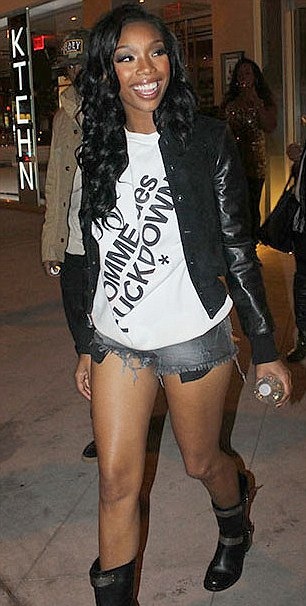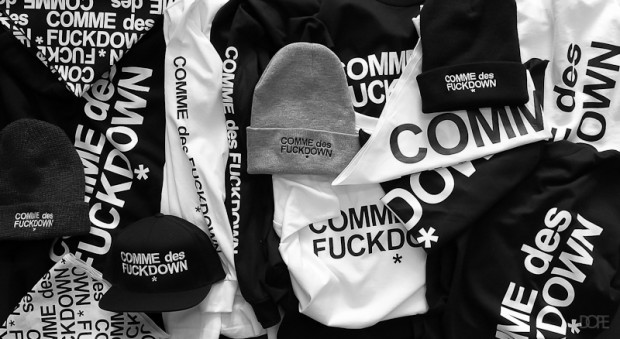 A$AP Rocky – Goldie:

Latest posts by Alexandra Phanor-Faury
(see all)