Whether it's a period piece with highly elaborate costumes that are hard to ignore or a contemporary tale in which the wardrobe is so familiar it can go unobserved, clothes in films help us flesh out and decode a character even before we know the what, when and where and hows to the narrative. For those of us who are both cinephiles and style junkies, on-screen style has the capacity to inspire fashion trends or reignite old ones. In our Clothes on Film column, we'll be taking a look at all the big screen costumes we've loved over the years. For our first installment of Clothes on Film, we are thrilled to bring you an  interview with the talented Karyn Wagner, the costume designer responsible for the ahh-ma-zing looks in one of our favorite movies of all time: Eve's Bayou.
Released in 1997, the indie favorite (1997 Independent Spirit Award winner for Best Feature) written and directed by Kasi Lemmons and outstandingly performed by an impressive female cast including Jurnee Smolette, Lynn Whitfield and Debbie Morgan, is a poetically haunting film that takes a look at deep family secrets, the thin line between dreams and reality and the ripple effect of denial in the muggy, sticky south. No matter how many times we watch this movie, it's impossible not to be taken in by the wardrobe and just how elegant and beautiful the women in this movie come across. Wagner, who has an extensive resume which includes serving as a costume designer for the wildly popular The Notebook and most recently the Linda Lovelace biopic, Lovelace, does a phenomenal job capturing the sartorial essence of this affluent black family in rural Louisiana in the early '60s.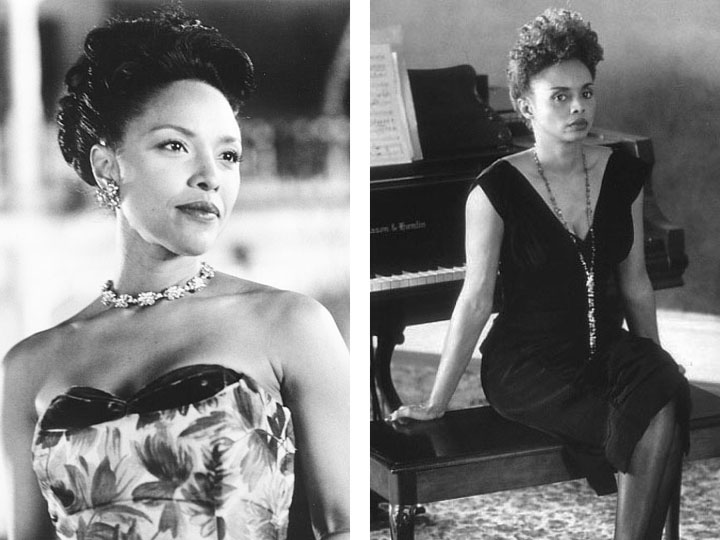 How did you land this job?
I had just signed with a new agent and they got me an interview over the phone with the designer who already had somebody else in mind, but because I was so passionate about the project and had such distinct ideas that just so happen to match with her own, she gave me the job on the spot. We did not even meet in person before I got the job.
What did you make of the script? The issues of racism that usually come to define the lives of African-American characters in the south in the '60s in Hollywood don't take center stage here. This is solely about their intricate relationships with one another…
I really loved the material and had always envisioned this script as a Bayou slash Camelot. I saw Samuel L. Jackson and Lynn Whitfield's characters as sort of a king and queen of the small town they lived in. I was so excited to get this script about an African-American family. There are two themes that drive me crazy in cinema that closely correlate and that is the poor African-American family and the idea that some well-meaning white person has to come in and save them. Those two things drive me absolutely nuts and I have a really hard time with those themes.
How did you approach styling the actors?
There was a fine line that black women had to walk. So many women at that time were in house help, so you had to be beautifully presented or you'd get fired but not so much that you'd in any way show the mistress of the house up. You did not want to attract the wrong kind of attention with your clothes. There were so many divisions of what was appropriate and not to wear as a black women. There were women who purposely would wear hats that were years old to work and then put on current beautiful hats to go to church on Sundays. One of the wonderfully freeing things about making Eve's Bayou was putting all those things aside and just saying this is an African-American community.  It was about them saying this is our community and this is how we live when we don't have to deal with that outside bullshit called racism. It gave us a chance to create something really beautiful. We were building an all African-American world. I don't think there was one white person in the whole movie and that was on purpose.
As a costume designer, I believe that you should know everything about a character before they even open their mouths and say anything just by looking at what they are wearing and their environment. In Eve's Bayou, I wanted the elegance of their lifestyle to be another character in the movie. They were surprised to see a white woman, but once the fitting started, they saw what I had to work with and my ideas about who these women were. I understood these characters inside and out. I worked hard to earn their respect. It's one of the movies I'm most proud of in my entire career.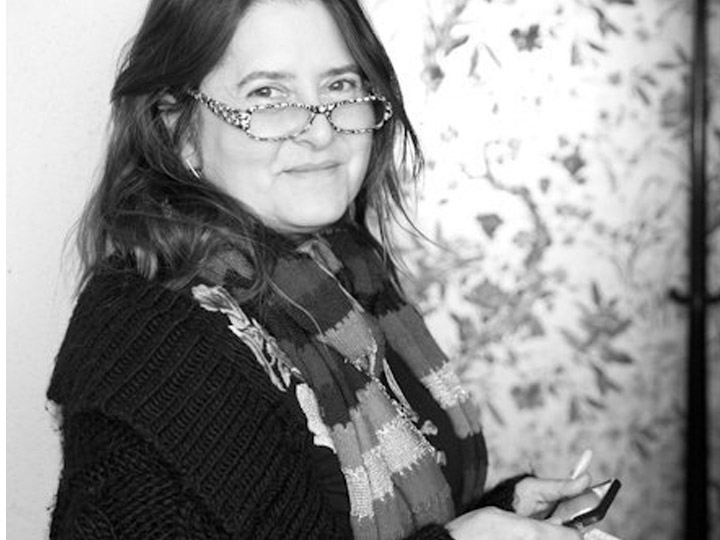 Karyn Wagner on the set of Lovelace.
How did you to start your research ?
I'll start out with a concept for a character and then I'll do research and look at images. I'll start to build the other characters around that image. Sometimes, I'll realize some images  I was holding on to for my main character actually  is the singular image for another character. Then I take a trip to the costume store to find the pieces we need in real life. A lot of times you find the character in the fitting room with the actor, and you build from that piece. It comes down to not finding a piece per say but in finding those specific items that will help the actors find the character. I'm very circular in the way I do research. It was about finding that suit that's gonna make Samuel L. Jackson walk with the biggest swagger you have ever seen.
What images or other sources did you look to for inspiration?
A Thousand Days of Magic: Dressing Jacqueline Kennedy for the White House by Oleg Cassini was a beautiful book I remember starting with and finding the wife persona in some classic pictures of Jackie. I was also looking at images of black actresses of that day. Dorothy Dandridge, Lena Horne, Eartha Kitt, Billie Holliday and Coretta Scott King were inspirations. Black women took such pride in how they dressed. All you have to do is go to a church on Sunday morning in the south. The hat, the shoes and the bag is dyed to match the shoes. They are not leaving the house until it is perfect. I have tremendous respect for that, and I think it's a dying art. It was very important that this idea was not lost on everyone on the set of Eve's Bayou.  The look is definitely upper middle class and beautifully tailored. There was something  in the aesthetics in that movie about fighting dirt and not acknowledging the existence of dirt.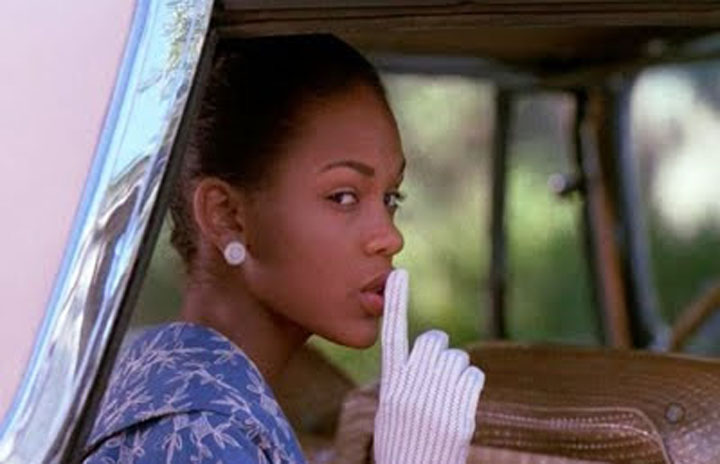 The existence of secrets. I've always thought how exceptionally dressed they are in the middle of a swamp town. In Hollywood, black women of that era are hardly seen in an elegant light..

The family is living in a place that's classically dirty and sweaty. It's pretty hard to walk down a country road in the bayou and not get dirty but yet I was insistent on keeping the shoes and hems clean at all times. There was something about rising above the environment that defined these women for me.
Where did you source the pieces?
I had originally started with a slightly more '60s look and in working with the actresses it evolved  more into a late '50s look with the fuller skirts which probably worked better for us because of the movement in the garments. Sam's (Samuel L. Jackson) clothing were a little more '60s.  I wanted to keep the innocence of the little girl. I wanted to nod to the fact that children were still children then. Now children are dressed like mini adults. Most of the clothes came from a fabulous costume house in L.A. A lot of Lynn Whitfield's clothing were made from scratch. We were incredibly lucky with a small budget to find a very talented tailor and draper in New Orleans.
I've done big budget pictures where I can do what I and the director want and in some cases when I work on smaller films, I don't have the budget I need,  so it becomes about figuring out how to deliver the look for the money I actually have. I had 15,000 dollars. My mother was still alive at the time, and I would call her weekly to ask her for the cute bolero sweaters she knitted or her vintage handbags from the early '60s and '50s. She would send it to me, bless her heart. That beautiful white beaded dress that Debbie (Morgan) wore  belonged to one of the producers who had saved it 'cause it belonged to his mother, and he did not want to give it to give it away. It fit Debbie (Morgan) like a glove.  The great thing about very small budget films is you have a lot more creative leeway.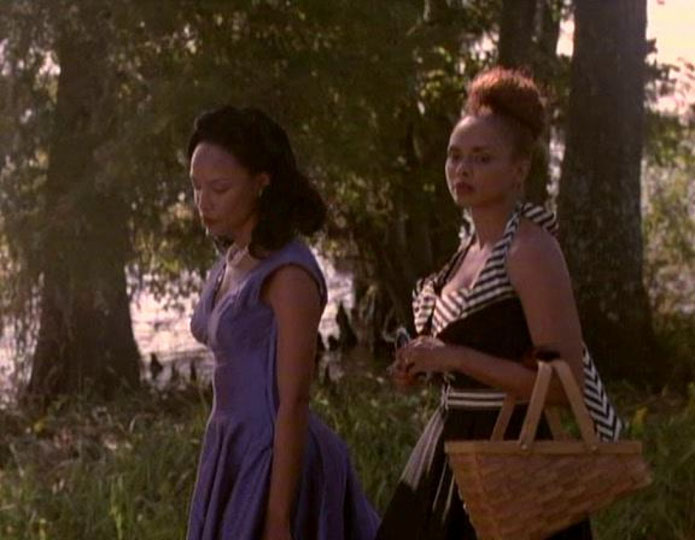 How can we recreate the retro look of Eve's Bayou ?
So many years later and having done so many movies after that when I think back the key piece that represents this movie, I think of Debbie's (Morgan) black and white dress (above). I think of the purple dress (above) Lynn (Whitfield) wore in the same scene where they are walking down the road. If you are recreating the Eve's Bayou look it's not about stuffing yourself in the dress that best denotes that period as much as it is about finding that dress that makes you feel special.  For a woman who is very curvy like myself '60s dresses are not it. I would look for a '50s dress that has a waist and accentuates my bust line and has beautiful twirling skirt. When I find a dress like that, I'm like damn, Lynn (Whitfield) move over it's all about me!
For somebody who is more straight up and down that '60s sweet shift will work. You should find a great dress in good condition that really sets off your skin and hair in a shape that makes you feel good. But it's really also about the right undergarments. Our bras today are shaped completely different. And all the women back then wore girdles. One of the biggest adjustments for these actresses was putting on all these foundations garments they'd never worn in their life. It changes the way the actors find their characters. These dresses are made for those foundation garments. I don't blame you if you don't want to wear the girdle, but you should definitely find the right shaped bra. You can absolutely find these bras, depending on where you live. In L.A., I go to an area where predominantly Hispanic women shop for their lingerie, and they're still wearing those shaped bras with the cones. I'll go there and buy a hundred for a movie. You can find them on eBay or vintage stores too. It's a bit of a hunt.
-Alexandra Phanor-Faury
Karyn Wagner image by Dale Robinette

Latest posts by Alexandra Phanor-Faury
(see all)