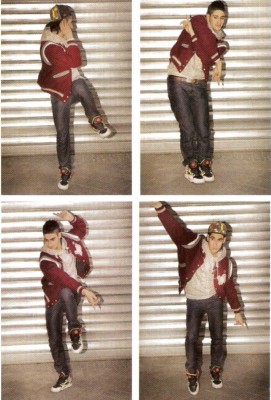 Paris may be revered most often for its culinary delicacies, haute fashion and now its supermodel First Lady, but thanks to Parisian party promoters Alexandre Barouzdin and Cyril Blanc's latest dance phenomenon, Tecktonik, the spotlight is now turning to the city's dance floors.
"Cyril and I wanted to do parties where different styles of music like electro, jump-style, hard-style and techno were played," says Barouzdin, who, seven years ago, along with partner Blanc, started throwing Tecktonik parties at Metropolis, the 8,000-person-capacity mega-nightclub just outside Paris. "People would stare at us dancing because we weren't moving like anyone else," Barouzdin adds. Their freestyle dance-offs gave way to an array of movements—from vogueing to African dance focused primarily on stretching and flailing your arms to the rhythm of the beat at warp speed. "Most dances are only for good dancers, but Tecktonik is for everyone, and nobody judges," says Barouzdin.
 "Most dances are only for good dancers, but Tecktonik is for everyone, and nobody judges,"
That appealing free-for-all attitude has generated a Tecktonik outbreak in France (it's also starting to spread throughout Europe and was seen in the U.S. at the 2008 Winter Music Conference in Miami last month), with young people battling on the streets and posting videos all over the Internet. A subculture similar to the rave scene of the '90s has very clearly emerged, featuring hard bodies, slim jeans, futuristic Mohawks, mullets, face painting, neon colors and mostly metrosexual followers.
Barouzdin says, "Tecktonik has become a way of life," and it would appear that he is not wrong: The dance has its own energy drink, clothing line, CD compilations and hair gel. Meanwhile, Barouzdin and Blanc have even copyrighted the Tecktonik name. "The dance is free and anyone can do it," explains Barouzdin, "but nobody can use the name Tecktonik, I mean, this is seven years of hard labor."
Photo credit: Jenny Lexander
Magazine Preview

Alexandra Phanor-Faury is a married, Haitian-American journalist living in Brooklyn, NY. Alexandra has reported and written about music, fashion, art and celebrities for websites and publications such as i-D, Nylon & NylonGuy, People Magazine & People.com, Courrier International, BlackBook.com, Trace, Giant, Teen Vogue, Page Six Magazine and Bloomingdales' Little Brown Book.

Latest posts by Alexandra Phanor-Faury (see all)