This column is all about what guys really think about the looks and trends we love. For our first installment, we turn to Miles Marshall Lewis.  The author, columnist and blogger, who has written for Dazed & Confused, Wax Poetics, The Huffington Post and more, spent the past seven years in Paris shopping at Paul & Joe, BHV and the Galeries Lafayette. A stickler for a tailored fit and an admirer of Sean Lennon's style pedigree, MML shares his thoughts on two of the season's biggest trends: The peplum and floral prints.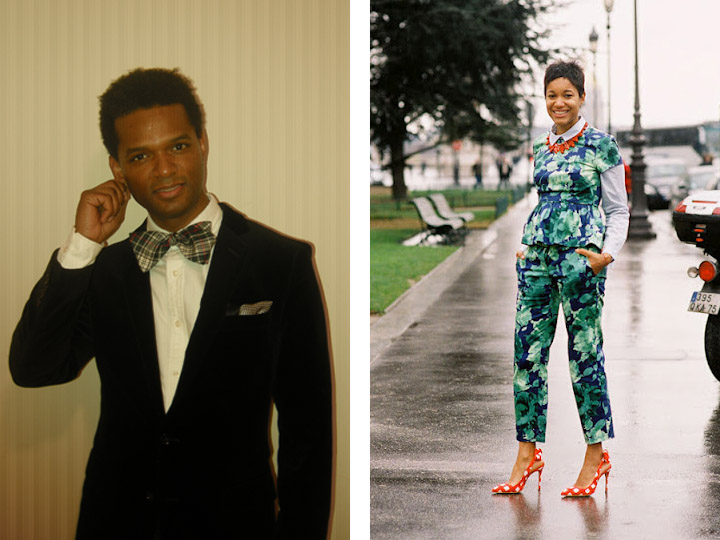 Left: Miles Marshall Lewis, Right: J.Crew floral peplum top and cropped pants
It's hard to describe my style, but there's definitely stuff I stay away from. I'm not a fan of polo shirts or cargo pants. Years ago when I launched my Furthermucker blog, I coined the phrase "bohemian B-boy." That probably applies to my style and my lifestyle. Last year I started getting my suits and jackets fitted at a tailor called Bhambi's, right across the street from Barneys (in New York). One of my favorites now is a grey plaid suit I lucked up on at H&M last fall. Bhambi's took it to another level. The right fit became 10 times as important to me in 2011. I think Sean Lennon dresses real interesting, actually. His suits look bespoke, and his wide ties always have a '70s look, like they come from his father. As a writer I do a lot of public readings, and I'm starting to like the idea of being an artist who dresses like a banker. And there's always Chef Marcus Samuelsson too.
What is your initial reaction to this look?
My first take was, no. I get it, but if we passed each other walking down the block, I wouldn't do a double-take.
What do you like or hate about this look?
Hate is strong, but I'm not a fan of matching prints.
Which trend – peplum, matching prints, pointy toe pumps – stand out more to you? Which one of these trends need to die?
The matching prints thing needs to bite it. Pointy toes are sexy on high heels, and the peplum is fine. But the matching prints is too Garanimals for me.
What could possibly improve this look for you?
A skirt might look better with the peplum top, and without the shirt underneath. Assuming that's a shirt. It's not all one piece, is it?
Would this be a look you'd like to see your wife wearing?
No, although I've been pushing Christine to wear more heels in the past few years.
How important is it for you to like your partner's style?
I don't think about it because I love my wife's style. Christine is French, she's got another aesthetic going on. Her style tends to be Moroccan inspired. She wears a lot of stylish black in a typical Paris Fashion Week-type way. She never wears sneakers. She's bought, like, two pairs in the past 15 years. I love it.
Female style icon you'd like your wife to take styling tips from and why?
Will I get in trouble for saying this? Maybe Solange Knowles, if only because I like the way she mixes colorful looks with classic pieces.
What do you think this outfit says about the woman wearing it?
This look might say, "I just read Lucky magazine and decided to try it." Or that she values looking fashion-forward above dressing sexy, which is fine.
-Alexandra Phanor Faury
Images via miles marshall lewis and vanessajackman

Latest posts by Alexandra Phanor-Faury
(see all)