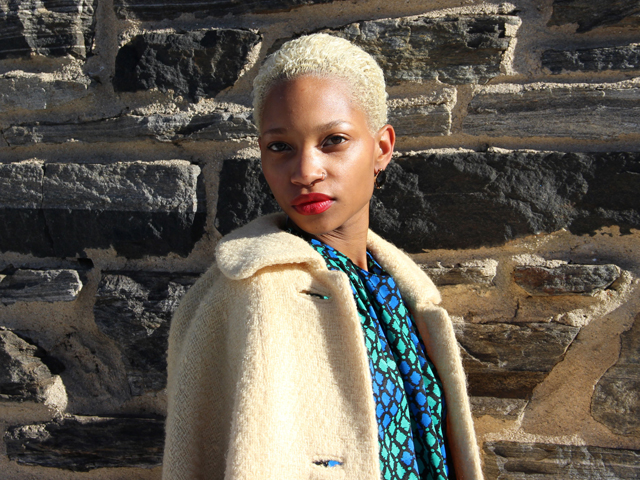 "I love getting dressed! I really do consider it an art form," reveals stylist and model Ni'ma Ford. The name may not ring an instant bell but if you're a fan of street-style blogs, like The Sartorialist, then you've seen her picture. And similar to Scott Schuman, you've been enamored by her style pedigree. Schuman has been such a fan of Ford that he put her on the cover of his latest book, Closer. I interviewed Schuman a while back about his book for Blackbookmag.com and he had nothing but praise for Ford:
"The young lady has such calmness to her in the photograph and such a direct gaze. What she was wearing looked beautiful and the way she has her hands looks very calm. Using this image for the cover was almost a no-brainer. It is such a strong image and she's very beautiful, but I think there's that beautiful ease that I love. I like the colors she is wearing and the darkness of the background. I knew right way this was the cover."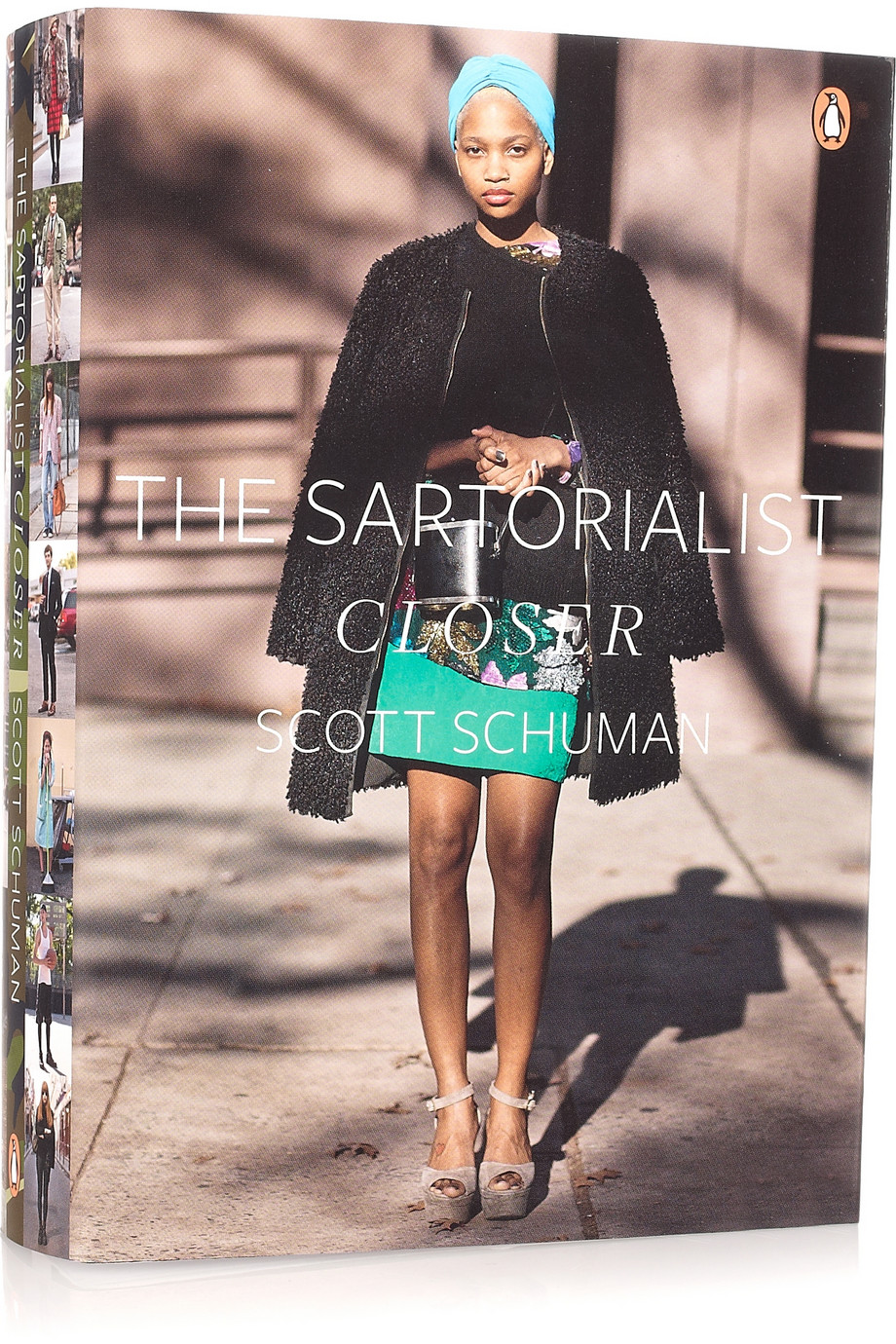 When it comes to street-style, Ford's vintage and thrift store picture-perfect wardrobe sets her apart from the designer clad set. "I don't ever like to wear something that is recognizable. It's just too boring. That's why I love shopping for one-of-a-kind pieces at thrift stores. I know I won't see an army of people with the same look," explains Ford. This NYFW, Ford has been spotted in her signature mélange of '80s, '50s and '60s inspired pieces and accessories. The chances of catching this put together White Plains, NY native donning casual off-duty staples are far and few. Although Ford stresses that she does own a pair of jeans. "People are always so surprised to hear that. It's true!"
She's always been very hands on with her style choices, but with her modeling career taking off she's learning to trust fellow stylists with her look. Recently Ford worked with a stylist for the first time on a shoot for Dazed & Confused featuring cool New York City girls (and that she most certainly is…and sweet). "It was awesome. Even stylists want to be styled sometimes. I was wearing Fendi, so I really can't be mad at that! Even though I was out of my element, it was really fun to let go and have someone else style me."
We caught up with Ni'ma to chat about her Style DNA and shoot some of the prize pieces in her closet.
THRIFTING:
I shop in White Plains at a secret thrift spot. I don't share it with anyone 'cause it's really, really small and if I tell people, I won't find anything there. Hunting is the best part about shopping in thrift stores. You never know what you are going find and discover. If you find something, you have no clue if it's gonna work until you go home and play around with it.  Since you only paid three dollars for it, it's not like it's going to kill your wallet. It's a fun adventure for me. I can't shop the way I wish I could but shopping thrift lets me be very creative and not spend a lot of money. I also wear a lot of vintage stuff my grandmother or mother wore when they were young.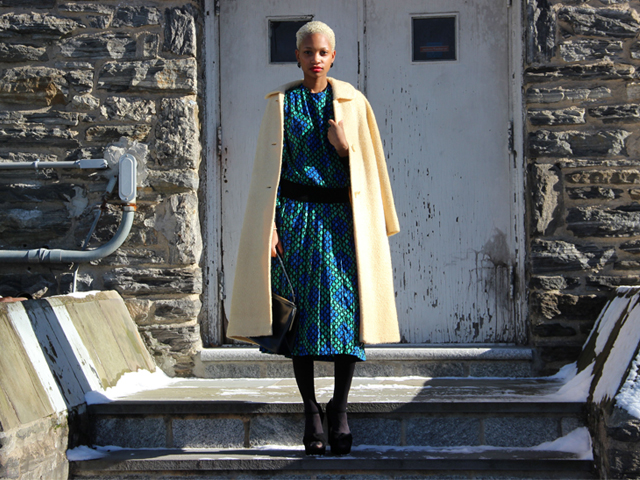 "I really like the '50s look. I got this two piece set for under five dollars. Sometimes I get my decades confused, but I want to say this is from the '80s because the shoulder pads are so thick. Since the print is kinda busy, I wanted to wear a simple shoe. These heels also elongate my legs. The coat is my mom's and it's vintage. I have so many coats that have been in the family and I just pick from them. I got this bag for three dollars at the same thrift store. I really like the shape and I think it complements the look."
STYLE DNA:
My style is very eclectic and there is always some form of color in there, and something that is thrift or vintage. Sometimes I'll go for a grungy, pin-up or a Dynasty '80s look. I like to mix it up so that way I never get bored. When I'm looking for that basic piece to complete a look, that's when I'll shop at H&M or Forever 21. Basic pieces are hard to find in thrift stores. I probably wouldn't get a whole look from H&M – since you know you'll see it on someone else. Everyone is gonna have that H&M best seller, right?  As a stylist, I do feel there's always pressure to look the part. You are basically representing what you do.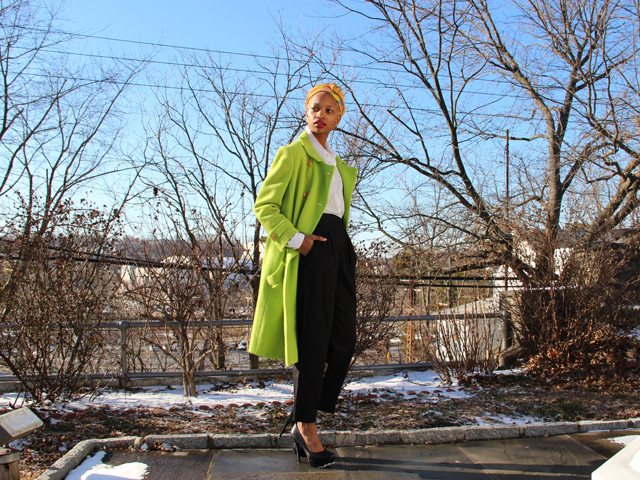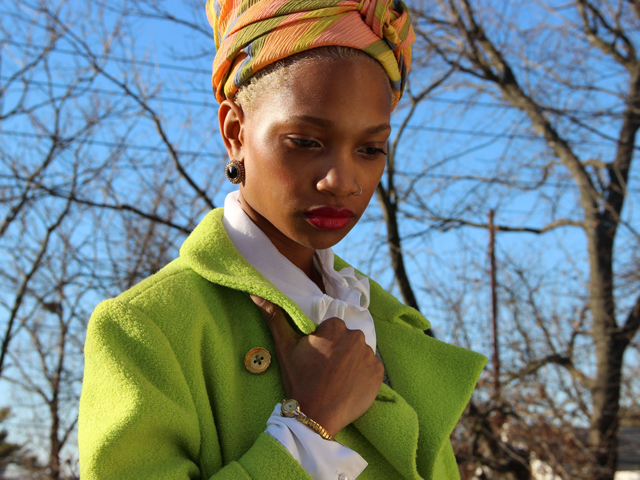 "I always wear my grandmother's watch. It inspires me and it always ties everything together. It makes me happy."
HATS:
I just can't do hair! There are girls who can do funky hairstyle but that's not me. I don't spend the time on that. I really like pulling my looks together with headwear. When I had longer hair, I used to wear a lot of headbands. After I cut my hair, I started messing with hats and experimenting with different shapes. I have a box full of hats I love playing with.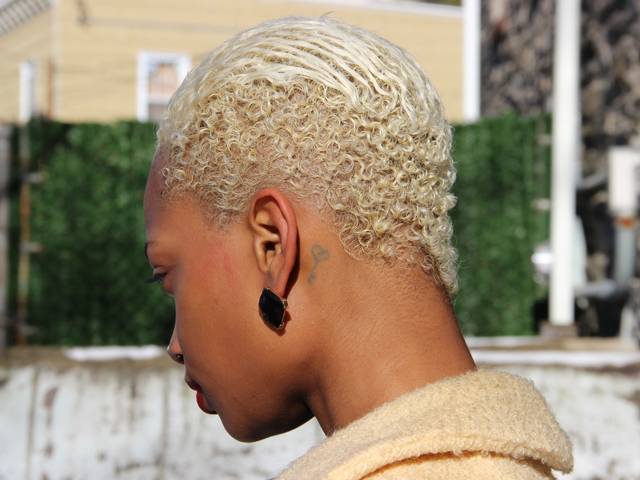 "I was interested in going blond but I wasn't sure. I was joking around with friends telling them I was gonna go blond, and everyone was really into it. I decided to do it with my longer hair but it wasn't where I wanted it to be. I chopped my hair off and that's when  I really loved it. It just worked perfectly."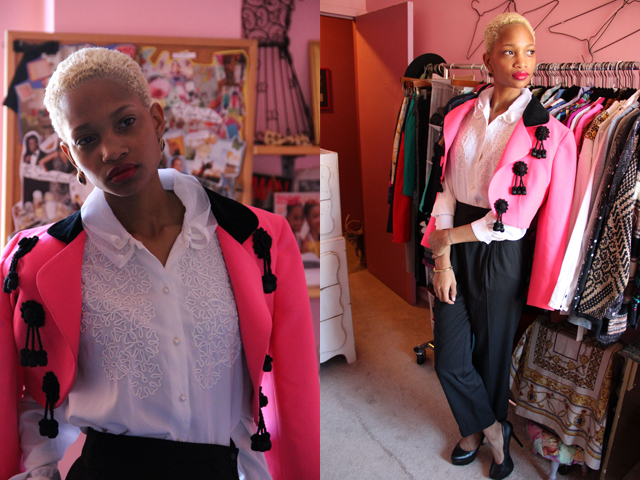 " I got this jacket from The Salvation Army. It's Christian Lacroix and that was a great find. White and black is just not me, I always need color. The hot pink with the tassels add something more to the look."

Latest posts by Alexandra Phanor-Faury
(see all)