Isabel Marant's collection of hidden wedge sneakers have single-handedly catapulted the casual shoe back to the forefront of our fashion consciousness; while inspiring a bevy of replicas. Although sneakers may be experiencing a huge boost in fashion circles at the moment, for some like sneaker head, collector and author Lori Lobenstine, kicks have always been her go-to fashionable footwear choice, long before the athletic shoes' recent trendy makeover. "I was a little tomboy growing up, so I've always loved sneakers," reveals Lobenstine who as a little girl loved spending time drawing sneakers on paper. "I wear sneakers every single day!" As her love and knowledge of sneakers evolved over the years, Lobenstine noticed that female sneaker heads were very much underrepresented in this male dominated sub-culture, despite having come across a number of women with kick ass collections and encyclopedic knowledge of sneakers.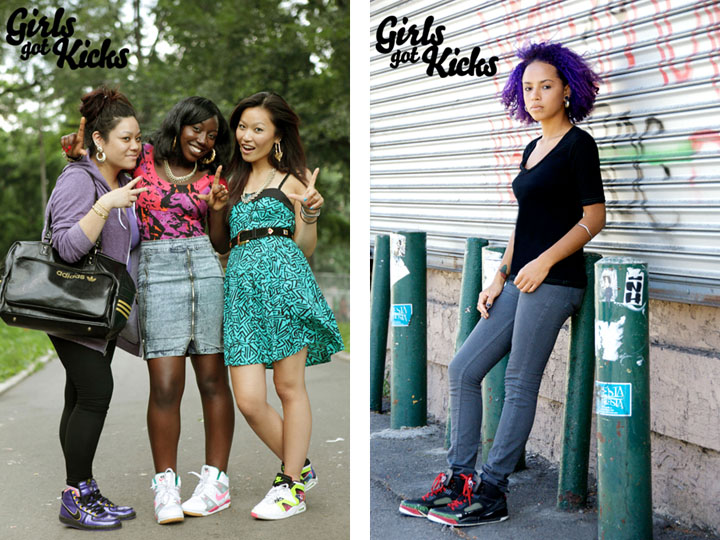 "I've been a youth worker and basketball coach all my life and I would always connect with the girls over sneakers. I realized there were so many girls who were really into their sneakers, and you would never know it since they were never highlighted as part of the culture. It was like a hidden identity." So back in 2005, the Boston native took the initiative to build a community around females that would use their obsession with kicks to boost their self-esteem. FemaleSneakerFiend.com would become the first ever meeting place for female sneaker fans around the world to wax poetic on everything from the latest styles to tips on locating hard to find rare kicks. "I knew if there was a place for us to go to be able to find each other, people would have to recognize us. We've done workshops that connect young girls with women sneaker designers who volunteer their time mentoring the girls about getting into the industry. If I had access to that growing up, I know that would have been my path." In 2011 she released, Girls Got Kicks, a book that documents sneaker culture around the world from a decidedly female point of view through interviews with artists, designers, athletes and images of sneaker enthusiasts from tomboys to girlie girls. "I really wanted to have a record of us. It's an interesting and exciting community."
Ironically spearheading this movement has Lobenstine focusing more on supporting the women collectors than on her personal collection. Nevertheless, Lobenstine, whose collections is close to over 100 pairs, still finds time to swoon over some styles. Just recently, she finally got her hands on a pair she had been coveting on eBay, the Ewing Swatts. "I have a real love for the '80s basketball sneakers. It took me some time to even look at low tops." Suede, mesh, and the colors gray and orange are some of the details that tend to catch her eye when shopping. While for many collectors the thrill of the hunt is addictive, she isn't too keen on stalking rare articles. "This whole sort of manufactured scarcity; while I think it's fun and challenging, it's not my game. I'd rather find a pair that anyone could of found but they didn't. I'm not so much into the whole getting my hands on the hottest style that Nike made only a hundred pairs off and that I have to get someone in Japan to send to me. Although, it's great that people around the world are connecting, swapping, buying and trading."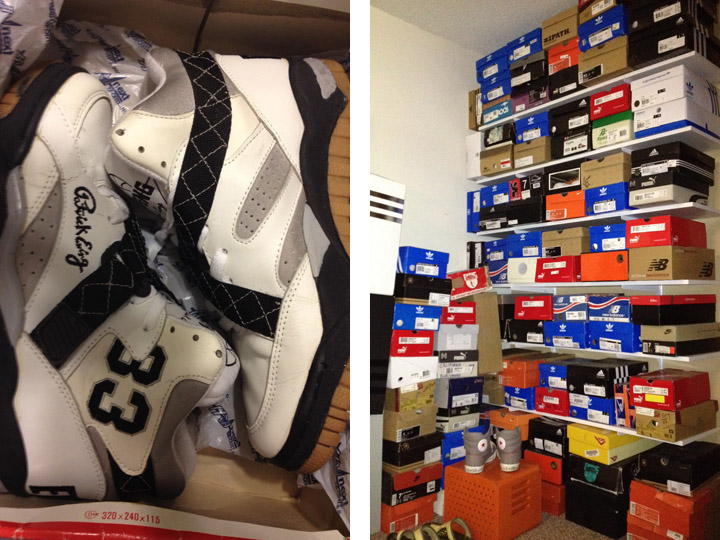 Right: Ewings Swatts, Left: Lori Lobenstine's collection
But copping the perfect pair isn't always an easy feat for some women who tend to wear much smaller sizes than men. This forces women to turn to boys sizes or sadly miss out on a specific style altogether, if the brand opted out of releasing boy sizes. "You see a lot of women into Jordan's because they come in small sizes. It's really a challenge and unfair that we have to deal with it." With the rise in designer sneakers, brands like Nike are going after women who wouldn't have been caught dead in kicks before designers like Isabel Marant or Martin Margiela turned out their interpretations. "I feel conflicted about that," reveals Lobenstine. "I'm not a hater, but I do want Nike to respect that there are women who just want sneakers, and we've always been here. Why not cater to us? Don't think 'cause I'm a female I want some skinny dunks or high heel Jordan's," she says laughing, "I want real sneakers!" Spoken like a true fiend in need of her fix.
-Alexandra Phanor-Faury
Images via lori lobenstine and girls got kicks

Latest posts by Alexandra Phanor-Faury
(see all)