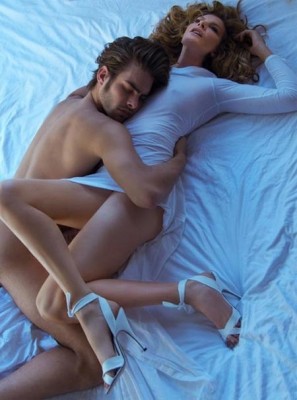 Shoe maestro Brian Atwood's come-hither skyscraper heels in elaborate skins and blinding jewels are always the stars of the show. Nevertheless, at last night's fete at the OpenHouse Gallery for the designer's exclusive new book — Role Play Rene, featuring his candy-hued Spring 09 collection — his killer heels played their first supporting role. A seductive, barely clothed Rene Russo modeling the footwear line was the main attraction. You couldn't help but be fixated on Russo's tight bod (If only we could all look this good at 55), and it's just how Atwood and famed celeb/ fashion photographer Tony Duran wanted it. "Tony and I love Rene. We wanted to make her look very sexy; hence the title of the book. The shoes are all about the attitude that she gives off in these photos," says Atwood.
Published personally by Atwood, the 1000 copies of his homage to the veteran Hollywood starlet were given out to the invite-only guests. Dying to see a wet Russo in risqué poses involving younger naked male models, hair pulling, blindfolds, and of course sexy shoes? Check out those photos, and you won't be disappointed. You're welcome.
Links
Blackbookmag.com – Rene Russo in Brian Atwood's Foot Fetish Fantasy

Alexandra Phanor-Faury is a married, Haitian-American journalist living in Brooklyn, NY. Alexandra has reported and written about music, fashion, art and celebrities for websites and publications such as i-D, Nylon & NylonGuy, People Magazine & People.com, Courrier International, BlackBook.com, Trace, Giant, Teen Vogue, Page Six Magazine and Bloomingdales' Little Brown Book.

Latest posts by Alexandra Phanor-Faury (see all)