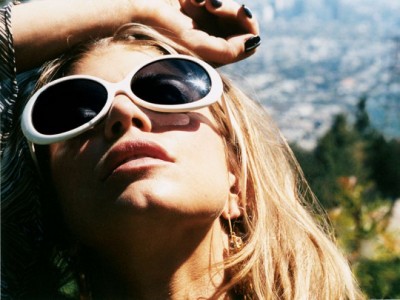 Fergie is tired. Frankly, she's exhausted. For three years straight, her group, The Black Eyed Peas, has been touring the world, performing nearly every night and recording albums during the day —often following grueling, 10-hour transcontinental flights.
"My world is all mixed up," she says. "My body doesn't know what's going on. The Peas just keep going, going, going, like a machine."
The group recently returned from a concert tour of Moscow, Thailand, Korea, Japan and India, and now, finally hack in the States, Fergie's body is paying the price. Today is her first day off in what seems like forever, and she's spending it in bed under the covers, naked, cozy and fiending for some greasy food. Her boyfriend of two years, actor Josh Duhamel, from NBC's Las Vegas, has come over to take care of his lady, and she's not complaining. "I can't say no to all these opportunities right now," she says. "I know they could go away in a second."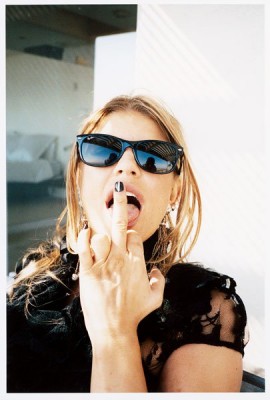 Fergie's inability to turn down life's chances has served her well in a career that began as the voice of Sally for Charlie Brown TV specials and as a child star in the musical Kids Incorporated. But ever since the 31-year-old parted ways with one-hit-wonder trio Wild Orchid in 2002, she's had plans to record a solo album. Desperate to expand her musical talents beyond the confines of the stale pop material Wild Orchid performed, Fergie tried focusing on creating her own record. But things kept blowing her off track. One of those interruptions was a stint singing backup for an LA-based, multicultural hip-hop outfit called The Black Eyed Peas, a gig that quickly evolved into a permanent spot as the band's lone female member on 2003's Elephunk. Propelled by singles "Where Is the Love" and "Let's Gel It Started," the album was a massive commercial success, selling more than eight and a half million records worldwide. Needless to say, Fergie's solo project, which began in 2002, was put on indefinite hold. Four years later, after a second monster BEP album (Monkey Business, 2005), Fergie is finally achieving her dream.
"'I've been excited about making this album my whole life," she says. "It's time to show who I am in a deeper and more honest level."
"'I've been excited about making this album my whole life," she says. "It's time to show who I am in a deeper and more honest level." But even though the September 19 release date is closing in, the record she's called
The Dutchess
isn't finished. She's recorded 21 songs and has been unable to narrow them down. "I'm not done, and I'm such a perfectionist."' she says. "It's never gonna he fully ready for my taste, but what can you do?"
With her lead single —the UK grime-sounding '"London Bridge," produced by Atlanta's Polow Da Don —causing a commotion on radio and the wonderfully sleazy new video on heavy rotation, it's time to win.
"She's grown so much since the day we met in 2002," says Fergie's bandleader, will.i.am, whose label, under A&M Records, is releasing The Dutchess. "In Wild Orchid she was just someone in a group. She wasn't an artist. .Now she knows how to rock a stage. All these girls have been doing the solo thing for years, and Fergie is holding her own."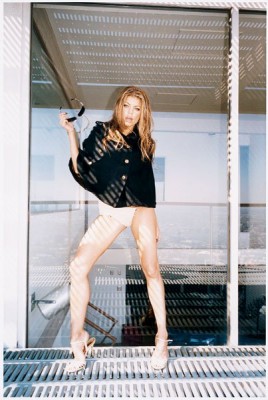 Growing up in a two-parent home in the working-class LA suburb of Hacienda Heights, Stacy Ann Ferguson was drawn to a myriad of musical styles, including hip-hop, rock, punk and R&B, and her album will likely represent that breadth. "The songs come from a six-year period in my life." Fergie says. "There are some, like 'Wake Up' from when I was doing my solo record before the Peas, that have more of an Orange County punk-rock sound. Then there's a more jazzy-like ballad called 'Close To You.'"
Fergie takes on reggae (in "Mary Jane Shoes," with the legendary I-Threes on backup), rock ("Big Girls Don't Cry") and ballads ("Finally," with John Legend on keys), but the signature BEP "hip-pop" sound punctuates her songs. BEP has mastered the recipe for combining the lyrics and sensibility of hip-hop with upbeat pop tunes. Although it might feel brand new to the raving MTV tweens, a precedent exists. Artists from the Beastie Boys to Will Smith, beck to Neneh Cherry, Ja Rule, Nelly and even Missy Elliott have all blended hip-bop with pop to further propel the genre to hill chart dominance alongside 50 Cent and Jay-Z's harder hip-hop aesthetics. But even though less than 10 years ago a "hip-pop" label would have completely undermined an artist's credibility (just as "crossing over" was seen as sacrilegious among purists),The Black Eyed Peas have perfected the game. Their success has opened the doors for nontraditional hip-hop and pop artists such as Fergie to appropriate elements of hip-hop into their music without backlash, even though they pledge little allegiance to the genre.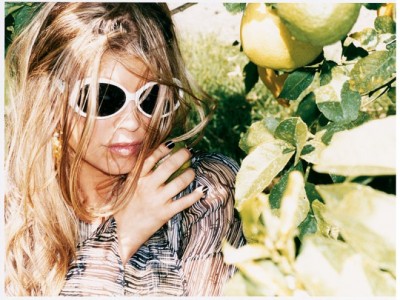 "I am in no way claiming that I am the queen MC," Fergie says. "Hip-hop is a form of music that I love and I grew up listening to, so I'm just paying homage. We are in a different era of music today where people are more open-minded."
"Hip-hop was born out of mixing different genres, so it doesn't make sense when people say [The Black Eyed Peas] are selling out," says will.i.am. "We're just doing us."
BEP's multiplatinum success and ethnically diverse fanbase are unarguable representations of such public endorsement. Which isn't to say Fergie and the BEP have not found themselves at the receiving end of strong criticism. Their cartoonish lyrics, United Colors of Benetton-style musical cross-hatching and focus on the sexy white female who straddles the line between pseudo-homegirl and suburban skater girl (an explosive mix that ignites pan-racial sexual lust) has been interpreted as nothing short of a marketing ploy.
"Fergie is a fly chick, and who doesn't like a fly chick?" says Ebro, the assistant program director at New York's hip-hop and R&B radio station HOT 97. "But BEP added Fergie as a move to garner mainstream interest. Will.i.am is a great writer, producer and… businessman."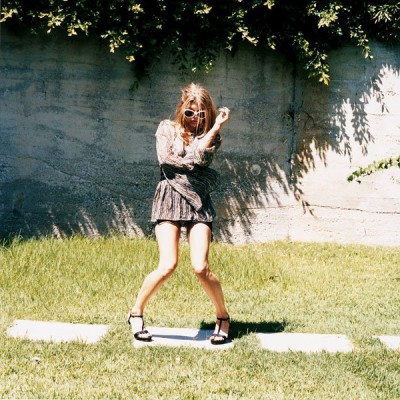 According to Romeo, the music director at New York's full-time Top 40 station Z100, Fergie's inclusion into BEP had everything to do with "her unique flavor and melodic contributions that helped them stand apart from other hip-hop groups." At press time, "London Bridge" was the station's second most-requested song. Pre-Fergie, BEP was not featured on Z100's playlist.
"We started playing Gwen Stefani's 'Hollaback Girl' after it was killing the clubs," says Ebro," and Fergie wouldn't be doing what she's doing if Gwen hadn't had so much success with it. The label just wouldn't have taken the chance."
This isn't the first time Fergie has been accused of piggybacking on Stefani's style. Both share an affinity for magpie fashion choices that include hip-hop, Mexican Chola girls and skater references. Similar to Stefani's posse of Harajuku girls who shadow her every move, Fergie has a crew of Chola girls in the "London Bridge" video.
"But this is all so ridiculous to me," Fergie says. "I'm not one-sided. The Peas and I make music we love, and for others to speculate [on me copying Stefani or anyone else] is their problem…"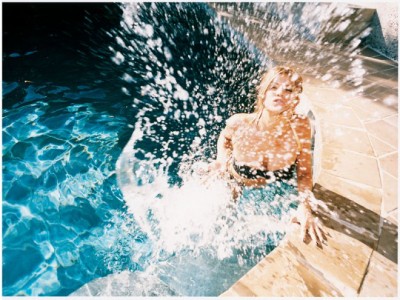 During her career with Wild Orchid, Fergie developed a chronic addiction to crystal methamphetamine, aka meth, a highly addictive, psychoactive drug that produces high doses of euphoria and manic behavior.
"It got to a point where I was doing meth day and night and had no more money," she admits. "I was hearing voices. I thought people were after me. I wasn't talking to any of my friends or family. I actually lost so much weight that my friends did an intervention. So I lied and said I was bulimic, just making stuff up."
Eventually, with the aid of a hypnotherapist, Fergie quit crystal meth and hasn't looked back. She still indulges in alcohol ("I enjoy having a glass of wine here and there"), but she says her hardcore drug ways are a thing of the past. "I could have written a whole album about my struggle with drugs, but I'm not sure if I'm gonna feel comfortable with people knowing my dirty secrets."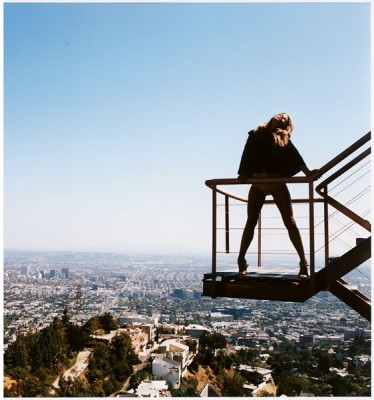 Now she meets with her therapist regularly. "My therapist and I talk about how I nourish myself and how 1 can deal with life in a healthy way. At the end of the session, I lean back on the chair, the lights go down, and she puts on meditative music. I get into a calming stale, and she just puts the power of suggestion into my head.
"I recommend [therapy] to everyone. Life isn't perfect, and I don't ever want to go back to where I was."
What's keeping her clean and motivated?
"This album is my destiny," she says. "It's finally here, and hopefully, these songs will touch people… All I'm doing is airing out my struggles." And then she adds, finally, "Because I'm not the poster girl for perfection."
Photo credit: Kenneth Cappello
Magazine Preview

Latest posts by Alexandra Phanor-Faury
(see all)