JADEtribe's accessory designer Kimberly Hartman spends a lot of her time traveling. This summer alone the New York based and Texas-born Hartman was in Marrakesh working on her first ready-to-wear collection, attended market meetings in L.A., spent weekends in Montauk, Long Island, stayed in Thailand for a month working with her weavers and sewers to fabricate her signature boho handbags, and she also managed to squeeze in a trip to visit friends in Spain and Ibiza. "Traveling is my passion. Seeing the world is really what inspires me," says Hartman, who also lived in Paris.
It was during a four month trip in India, Vietnam, Laos, Cambodia and Thailand back in 2008 that she decided to start her own business following years as a fashion sales executive running showrooms working with designers such as Phillip Lim before he went 3.1 and was a rising talent at his now defunct line, Development, and Rachel Roy, whom she helped launch her namesake line. "I needed to have some quiet time to refocus my life. I wasn't happy doing my job anymore. It was a crazy leap of faith to quit my job and just get up and go, but it felt right and I was able to discover my other passion," remembers Hartman, who pulled together her frequent flyer miles to fund her life-changing trip.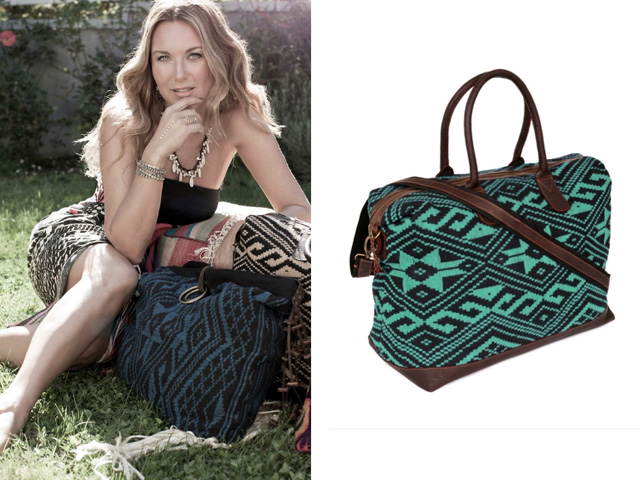 Left: Kimberly Hartman, Right: Weekender bag
The JADEtribe line came to fruition in Laos after witnessing the local skillful women weavers at work. "I took a class on organic dyeing and hand weaving.  It was an eye-opening experience. The craftsmanship was just amazing. I was in awe of everything I was learning. I wanted to use their traditional weave pattern for my bags," says Hartman. The first bag she designed was the Nicole tote. Hartman then traveled to Thailand where she found a pattern maker and sewers. "I always knew I wanted a green company and I wanted to find a way to empower women. We give these women artisans in these different tribes and villages the financial means to better their lives. It's very important that we all do our part."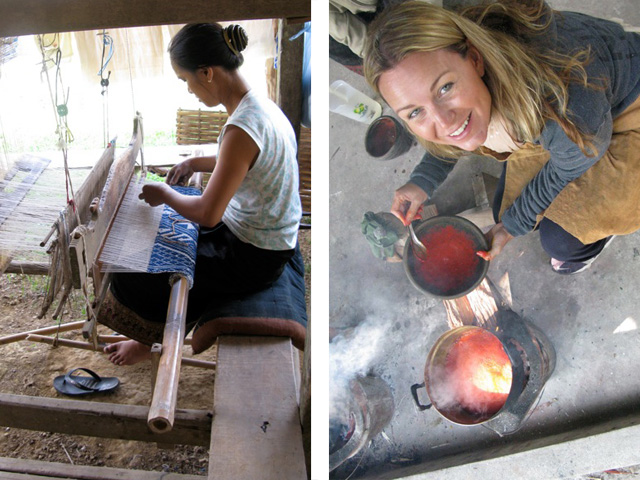 Left: A weaver in Laos hard at work, Right: Kimberly Hartman working with the organic dye in Laos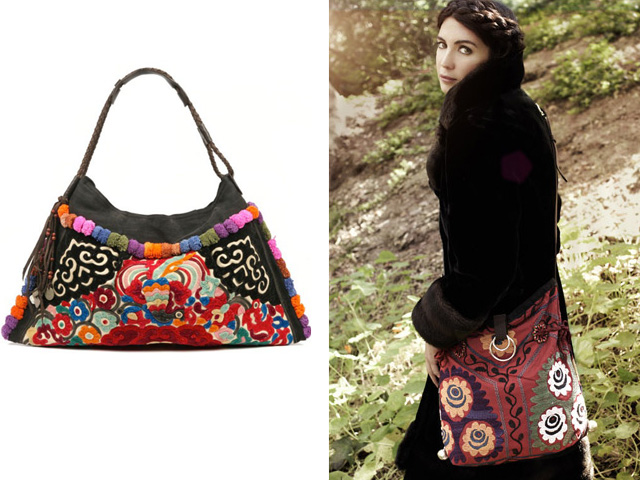 Left: Nali Antique, Right: Fall 2012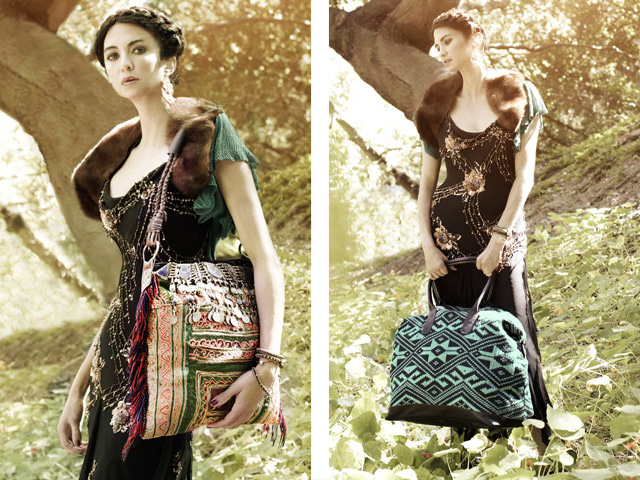 Fall 2012
Following her trip, Hartman came back to NY with a sampling of South Asian organically dyed handmade totes, clutches and messenger bags that characterized the designer's boho, laid-back Cali wardrobe ("I love the beach!"). " I had friends who asked me who I thought would buy such bright bags in the city, but I got a great response. My bags are a fun extra." The Nali Antique bag adorned with fun colorful pom poms and a braided handle, the very popular Nicole messenger and the Weekender are some of our favorite styles. While her embroidered bags look at home swinging from your arm paired with beach dresses and colorful kaftans, they also stand-out beautifully contrasted with dark or neutral utilitarian pieces.
Running JADEtribe requires that Hartman make several trips to Thailand and Laos through-out the year to work on the collections and research new textiles. She has now added a new work destination to her yearly travels. "I love Marrakesh and I hadn't been in years when I decided to go back with a friend recently. The have amazing fabrication there. I found the perfect person to produce my clothing line for me," says Hartman, who also expanded her line since its launch to include home accessories and beaded jewelry. "I started out designing four dresses, pants and a hooded top for the ready-to-wear collection." The debut range of understated and luxurious beach-ready pieces cut in super-soft cotton, which was designed in 10 short days, come in white, indigo, orange and are surprisingly void of prints. "I wanted to first focus on the fit and get that right. I would like to use some of my signature prints in the future." The collection is a clean canvas that highlights her amplified bags. Look for these pieces to be available in November for Resort 2013.
Traveling incessantly for work can be draining, but it's a dream come true for this globe-trotter, who craves new experiences and loathes predictability. "Mixing traveling for business, pleasure and learning about new people, things and places is the kind of life I want to live. This is a daily goal I'm always striving for."
Kimberly Hartman Shares Her 10 Must-Haves For Fall In NY:
[slider_pro id="4″]
-Alexandra Phanor-Faury

Latest posts by Alexandra Phanor-Faury
(see all)