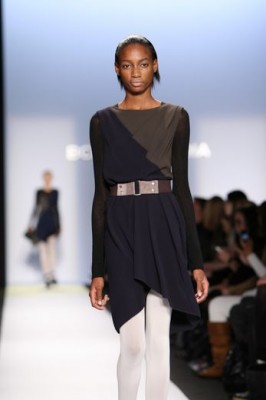 February 11, 2010 While Marc Jacobs announced he no longer cares for celebrities at his fashion shows, over at the BCBG Max Azria show yesterday it was business as usual with PYTs like Keke Palmer and Michelle Williams sitting in the front row surrounded by photographers snapping away. Max Azria, along with his wife Lubov, knows what young, contemporary gals with busy social calendars want to wear. For Fall 2010, BCBG tones down the fantasy and focuses on practical and modern pieces with a collection of lightweight dresses and separates. In a sober but tres chic palette of color block black and grey and later in the show shots of blue, yellow and tan, the Azrias sent numerous interpretations of clean geometric dresses down the runway. These were the kind of sleeveless wrap and tunic silk dresses that can rival your favorite T-shirt when it comes to ease. The beautiful draping, tucks and folds on the billowy dresses were made more accessible with an elastic belt cinched at the waist for a more flattering silhouette. We think this asymmetric hemmed dress here on model Shena Moulton would look great on Keke or Michelle. The other stars of the BCBG show were the platform, ankle strap booties that brought weight to the light clothes. This collection was as much about ease as it was a study in the fine art of layering. Dresses were thrown over a uniform of slim, knit, black and grey long sleeve tops and thick cream tights. Peel off the under layers and you've got season-less pieces for your wardrobe. For a less casual look, the final dresses down the runway were dressed up with touches of sequins and sheer pleats for an effortless, after-dark look.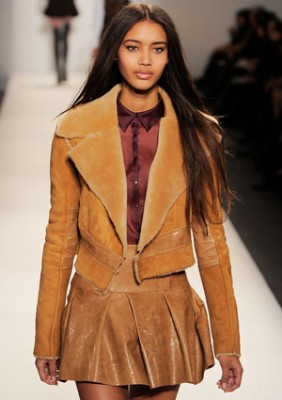 February 12, 2010 CYNTHIA STEFFE is not the place you turn to for edge, but judging from their Fall 2010 collection, the brand is stepping up its cool factor with their Fall 2010 collection. That's not to say they've pulled away from their sweet silhouettes. The show was awash in school-girl references: pleated short skirts, berets, and knee-high socks (an essential for next fall.) This isn't a cheesy Britney circa 1998, this school girl is much cooler. Cynthia Steffe updates the collegiate aesthetic by mixing in military details, tweed, buttery soft leather bombers and faux-fur with ruffles, silk and overall dresses to create a modern look that's far from underage.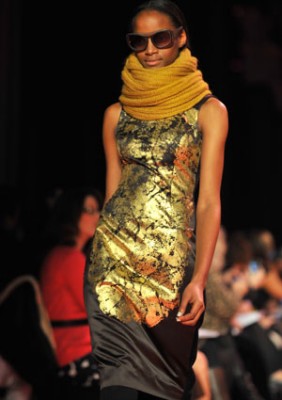 February 12, 2010 JASON WU continues to live up to the hype that has surrounded the designer since winning the heart of our First Lady, Michelle Obama. For his Fall/Winter 2010 collections reaffirms all the buzz by expanding his repertoire to include a wardrobe of winter pieces like oversized cashmere coats, mohair sweater and chunky knitwear. Although, we applaud the new direction, we must admit the showstoppers were his luxurious dresses full of lace, silk drapes, tulle and organza. We especially were smitten with the gold paint-splatter, brown sheath worn by model to watch Sedene Blake. The richly designed dress will be a must-have fall look for women who long for sophisticated, wearable pieces in their wardrobe.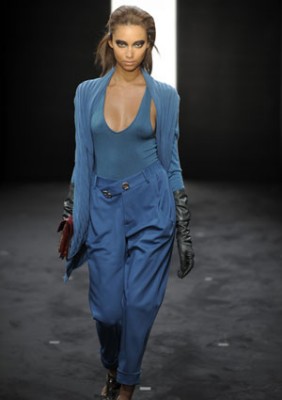 February 13, 2010 RACHEL ROY's Fall 2010 runway show was a play on texture and lightness. Known for her ability to create elaborate, structures drapes with rich, luxurious fabrics, this collection the designer tones down the intricate detail work and decided to streamline her pieces. This Fall 2010 Rachel Roy is all about felling effortlessly sexy in trousers, shirts and dresses that are fluid and non-restrictive. We've got dibs on the chic silk jumpsuits that look easy enough to wear to bed. Through on some killer heels and layer on one of Rachel Roy's luxurious cashmere cardigans and you're ready to approach next fall with style confidence.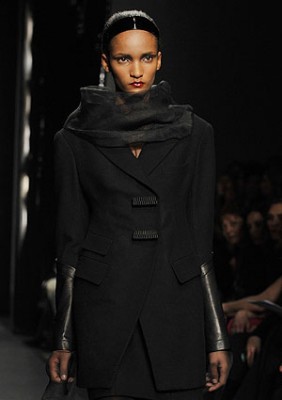 February 15, 2010 DONNA KARAN's Fall 2010 show was a celebration of the influential designers 25 years in the business. Unlike most retrospective, this show wasn't littered with past interpretations, instead the collection hinted to Donna Karan's signature pieces from the past (bodysuits and leggings). The collection was mostly focused on the future. So what is in store for Donna Karan Fall 2010? Expect to see softer drapes and more structural silhouettes that are way more forgiving on the body this season like the satin blue, strapless, bubble mini-dress. Nevertheless, apart from some Oscar-worthy, satin, cowl-neck gowns, the spotlight was definitely on the amazing outerwear we've come to expect from Donna Karan. We wanted every one of those sophisticated coats now! There were the cocoon coats with dramatic, portrait collars and sack coats in fur. The sleek, zip-up hourglass, tweed number, which would be so divine on Beyonce, and the shearling version treated to look like lace (!) took the concept of outwear to a whole new level. These are statement pieces worth investing in for fall/winter-especially since your coat is the one piece that you'll wear with absolutely everything in your closet. Donna Karan's got us daydreaming about the myriad of ways we'll be sporting her coats come next fall.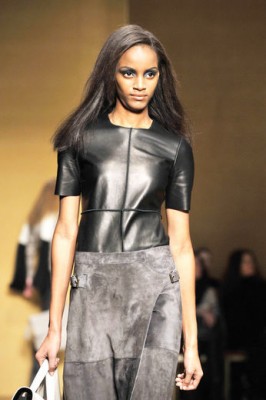 February 16, 2010 DEREK LAM's amazing Fall 2010 show was chock-full of sophisticated separates for fall every city gal dreams off. From the slim-cut, leather T-shirt, black and white fox cardigan to the gray, suede wrap skirt and moleskin coat with leather sleeves, these pieces are cut from the finest fabrics and tailored with refined precision. Sedene Blake looks so chic here in this pairing of contrasting textures. The leather and suede elevate two basic separates from ordinary to elegant.With the big leather trend of 2009 showing no signs of retiring, Lam's recent collection is sure to be hit.
Links
Essence.com New York Fashion Week Fall 2010 Reviews: Day Three
Essence.com New York Fashion Week Fall 2010 Reviews: Day Four
Essence.com New York Fashion Week Fall 2010 Reviews: Day Five
Essence.com New York Fashion Week Fall 2010 Reviews: Day Six

Latest posts by Alexandra Phanor-Faury
(see all)